Liv vs. The Horizontal Wrap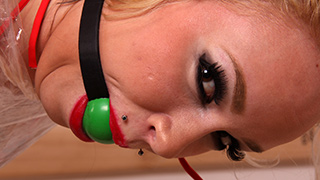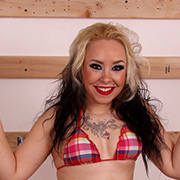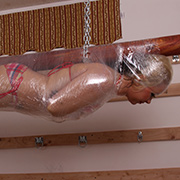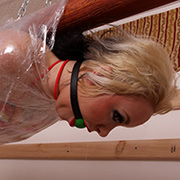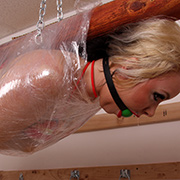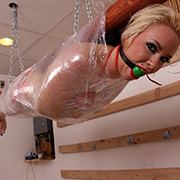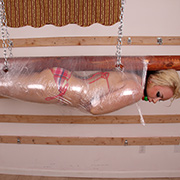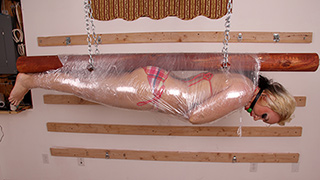 This wasn't the first time Liv had been wrapped by my hand. Unlike before when she had some ability to squirm on the floor, this time she found herself several feet in the air. Her plastic wrap the only thing keeping her aloft, but also from going anywhere else. Once the ballgag was pulled tight Liv couldn't help but drool like a faucet as she struggled. More plastic is used to keep her head firm against the pole as well as keep her gag tightly in place. With her feet exposed it was time to test how secure the plastic was. Thrashing in place things look good to start, but as always, further testing is required.

Jamie & Serene vs. Black & Clear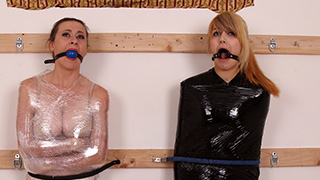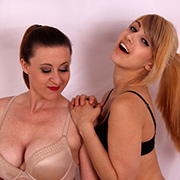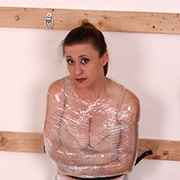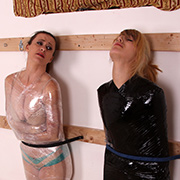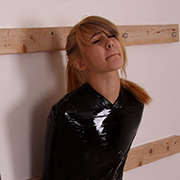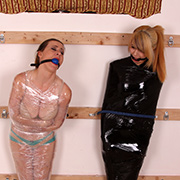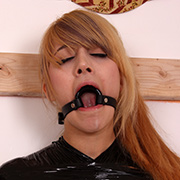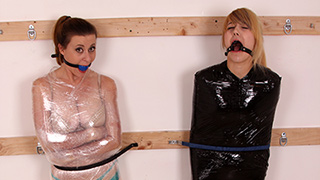 What could be better than one girl mummified in a secluded basement? Two of course! Jamie in tight black pallet wrap and Serene in an equally secure situation. Just to be sure neither worm away anywhere, both are bolted to the wall with metal straps. Frantically struggling it's obvious there's no possible escape but that doesn't stop them from trying. The dancing really begins when their sides and feet start to be tickled. The drool really starts to fly.

Bella vs. Her First Mummy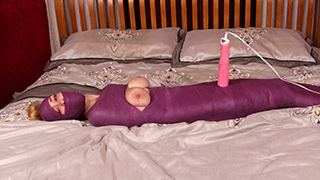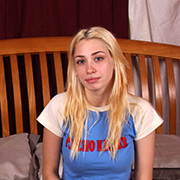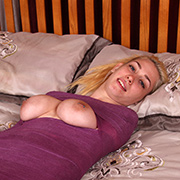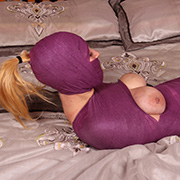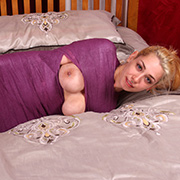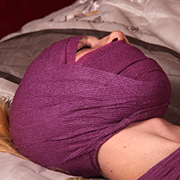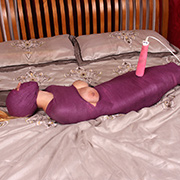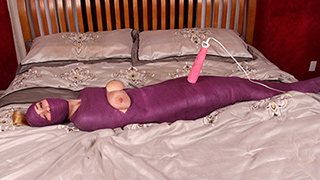 When I discovered that in Bella's extensive list of bondage escapades that mummification wasn't one of them, it was a travesty that needed to be resolved. Excited Bella was all too willing to get wrapped for the first time. By the time the vetwrap reached her waist she was already having some second thoughts. Continuing to coil her arms were next and the time to change her mind long over. As the vetwarp continued to shrink and tighten around her small frame, the reality of how stuck she was now obvious. With even her fingers wrapped into little balls, there was no possible way to escape. Ever.

Gianna vs. The Mummy Chains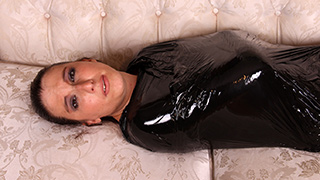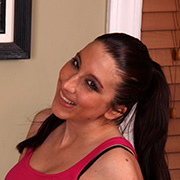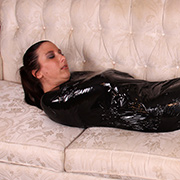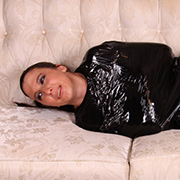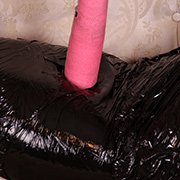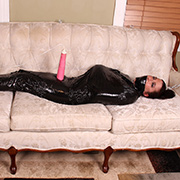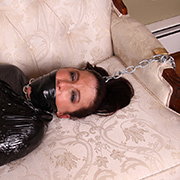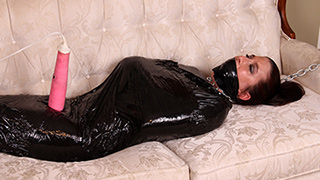 For most girls, having several layers of pallet wrap encase them would be enough to admit defeat. Even after filling her mouth with panties and taping them in Gianna was determined to get free and squirm away. Tossing her back onto the couch two chains are added around her feet and neck. If Gianna thought she was immobile before, every struggle or squirm would now cause the chains to go taught. To help encourage plenty of squirming, a magic wand is secured against her pussy and set on high. In her strict position there's no escape, and certainly no reprieve from the many orgasms to come.

Lexi vs. Her Clear Wrap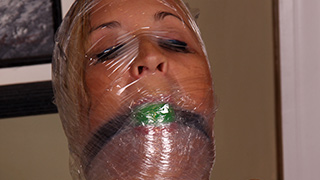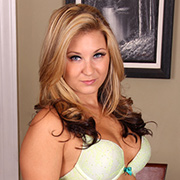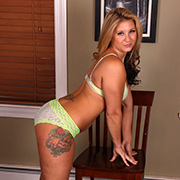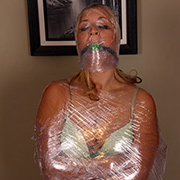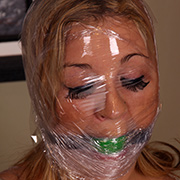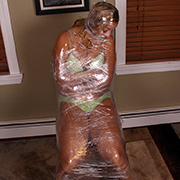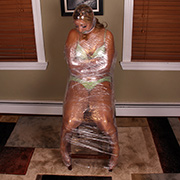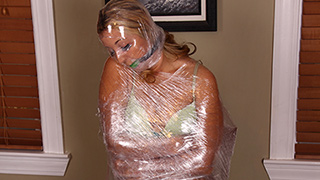 Hope as she might, there were no breaks for Lexi today. Right down to her wrapped fists and toes, every inch of her body is covered in unforgiving pallet wrap. Pulling and struggling, the wrapping only seemed to sap her strength with each attempt. Just when Lexi thought it couldn't get any worse she sees another roll held in front of her face. Layer upon layer is added, pressing her ballgag deeper into her mouth and sealing her eyes shut. Lexi was going to be there for quite a while.