TripSix vs. A Little Motivation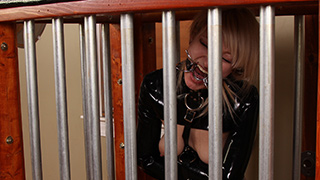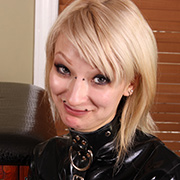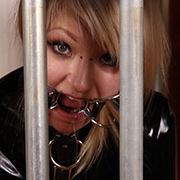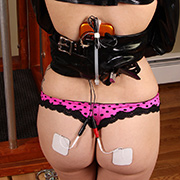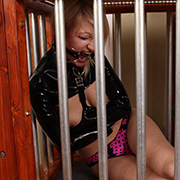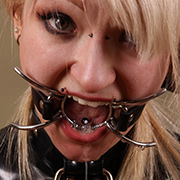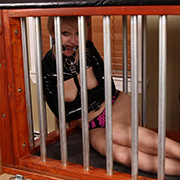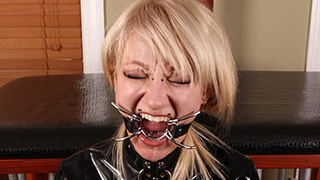 It's hard to punish someone who enjoys it far too much. Still, it's fun to try. Failing to clean up her toys from the previous day TripSix was due for more than a reprimand. Outfitting her in a latex straitjacket and spider gag she was set to spend some quality time in the cage. To keep her entertained her cellphone is attached to a TENS unit on her back. Setting the volume to max she was soon going to regret having so many notifications setup. As calls, text messages, and tweets keep her hopping in the cage she doesn't realize this is just a warmup. A few clicks and the real fun begins. Her afternoon is just getting started.

Hannah vs. The Stock Test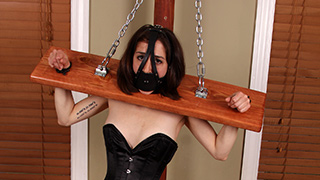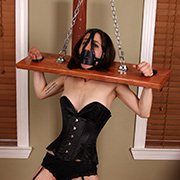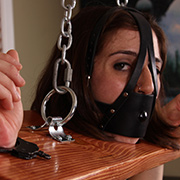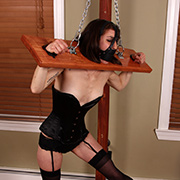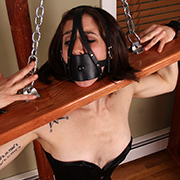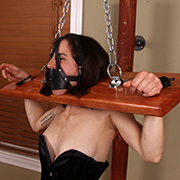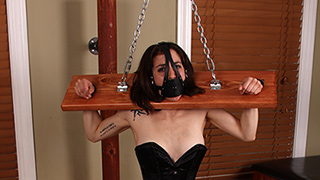 Fresh from the woodshop my new magnetic stocks were ready for the first test. Lucky for Hannah she gets to be the first to make sure they work. Once the multiple neodymium magnets connected she was stuck. Without leverage, she wouldn't be able to get out without help. As a backup, the stocks have holes pre-drilled for attachment rings. They not only ensure there is no way to separate them, the rings ensure Hannah doesn't wander off. Adding a couple ropes to spread her feet apart Hannah is forced to keep on her toes while the stocks are chained above. While struggling in her predicament the magic wand makes for a pleasant distraction as she's edged to a much-deserved orgasm.

Lucy vs. Ball Chained Orgasms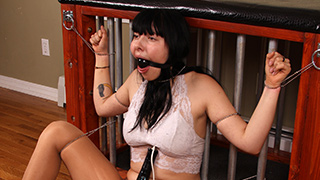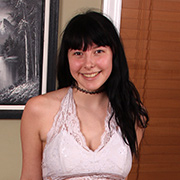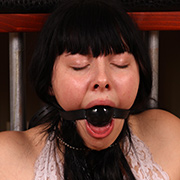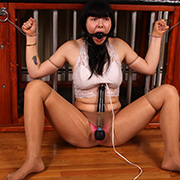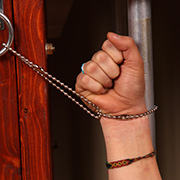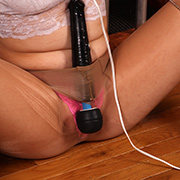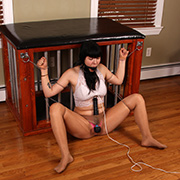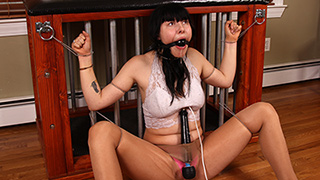 Unlike most activities that require special gear, bondage has no rules. Almost anything can work as a restraint. With a spool of heavy gauge ball chain handy, it was short work to immobilize Lucy against the cage. Easy to cut but hard to break Lucy doesn't stand a chance when she tries to get free of the chains. As she starts to tire from her struggles Lucy discovers that her pantyhose is perfect for holding a magicwand perfectly on that special spot. Without any warm up, it's set to high leaving her bursting with energy. The first of many orgasms soon follow as the thin chains hold her tight. Drool flows freely from her gagged mouth knowing she there for the long haul.

Piper vs. The Stick Mummy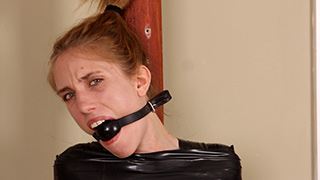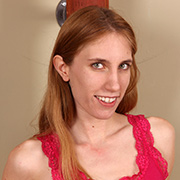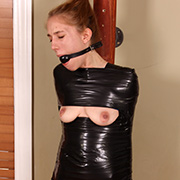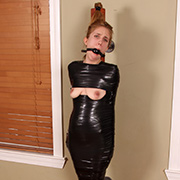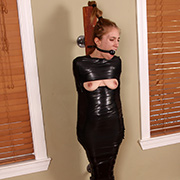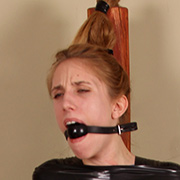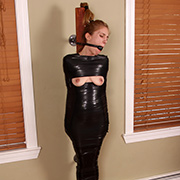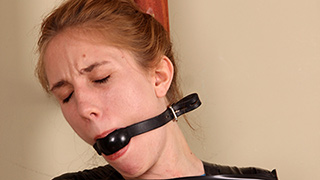 Noticing the boxes of plastic wrap Piper couldn't help but ask what they were all for. Explaining it was for mummification she was interested in giving it a try. Wrapping her arms, legs and body in plastic wrap Piper couldn't see why it could be considered bondage. While she puzzled on that I stood her next to a wood beam and wrapped vinyl tape around her legs. It continued up over her waist and chest sealing in her arms. Her upper arms and shoulders are finished up leaving only her tits exposed. As the vinyl compressed her body Piper no longer had any illusions of escaping on her own, only how long I would keep her there. With a large ballgag filling her mouth, her muffled query continued to be ignored.

Krystal vs. Black & Tan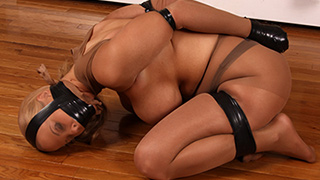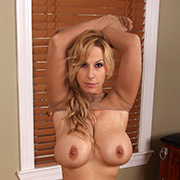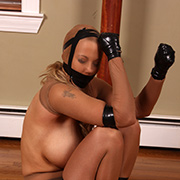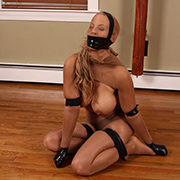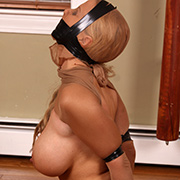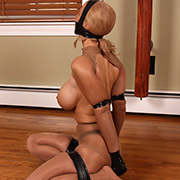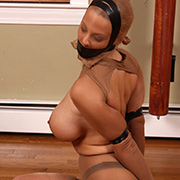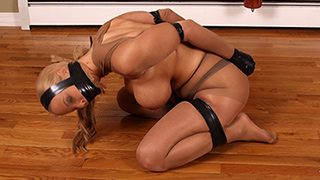 It's not that Krystal doesn't look incredible wearing just a pair of pantyhose. It's just that bondage makes everything better. So with vinyl tape in hand, I set to making her look perfect. Her legs are frogtied first with her hands taped into tight fists afterward. There won't be any prying fingers trying to grant her any escape. More follows around her head silencing any protests and ensuring the nylon on her head stays in place. Finally, several wraps are put around her elbows with more cinching it tighter. Moments later she's covered in pantyhose bound tightly with tape. Perfection.