Kaylee vs. Her Indoctrination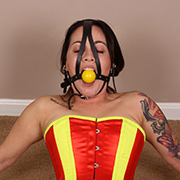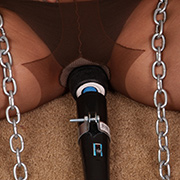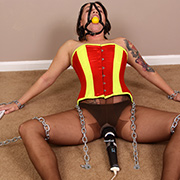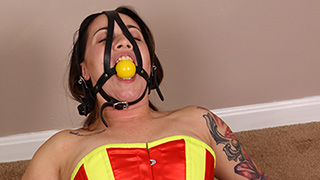 When you have to bind a girl like Raven you can never make it tight enough. She is a true escapologist and if you're not careful, she'll be free in no time. Having never been bound with rubber bands she happily put her elbows together behind her. One by one the bands went on her arms forcing her elbows tighter and tighter. After the first dozen things didn't seem to easy anymore, but Raven is never a quitter. Impressively after ten minutes she makes some good headway with confidence running high. She managed to find a way to slide the bands down her arms only to get them caught up in her hair. With her hair entwined with a number of bands still around her elbows the regret was obvious on her face. There would be no escaping today, if fact she only made it worse for herself.

Michal vs. Her Aftershocks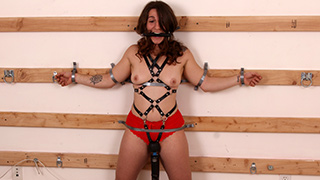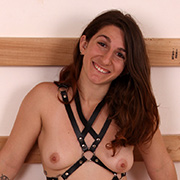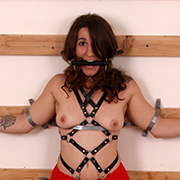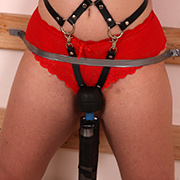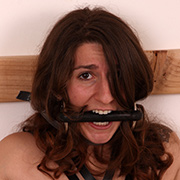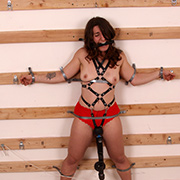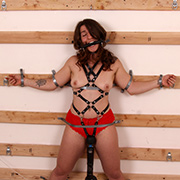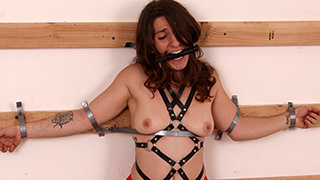 When Michal was bolted to the wall the intention was simply to keep her immobile. The metal strips did their job admirably. Where they were really put to the test was the introduction of the magicwand. Mix a love of bondage and a powerful vibrator and Michal was a powder keg of orgasms, primed to go off. Only taking 30 seconds before the first one hit her, several more quickly follow. This, of course, is only on low. Switching to high really sent her thrashing against the restraints. After losing count twice the magicwand is eventually turned off. Her orgasmic aftershocks continued one, causing her to involuntarily twitch in her restraints.

Hannah vs. The Stock Test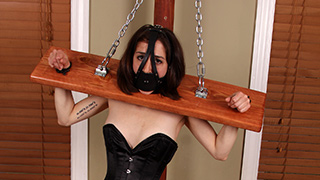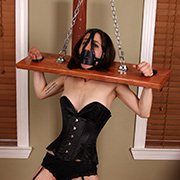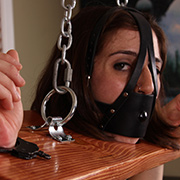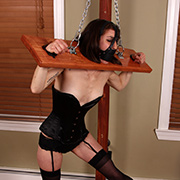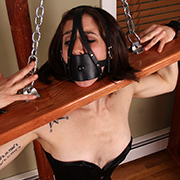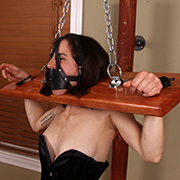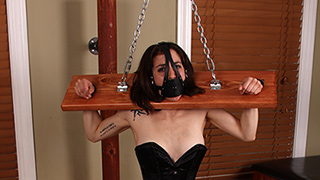 Fresh from the woodshop my new magnetic stocks were ready for the first test. Lucky for Hannah she gets to be the first to make sure they work. Once the multiple neodymium magnets connected she was stuck. Without leverage, she wouldn't be able to get out without help. As a backup, the stocks have holes pre-drilled for attachment rings. They not only ensure there is no way to separate them, the rings ensure Hannah doesn't wander off. Adding a couple ropes to spread her feet apart Hannah is forced to keep on her toes while the stocks are chained above. While struggling in her predicament the magic wand makes for a pleasant distraction as she's edged to a much-deserved orgasm.

Lucy vs. Ball Chained Orgasms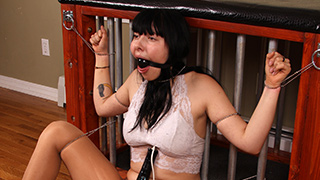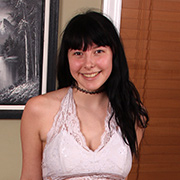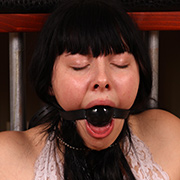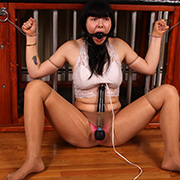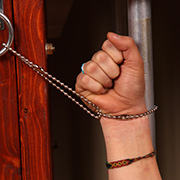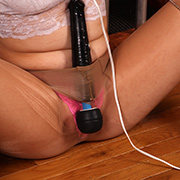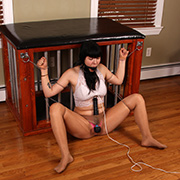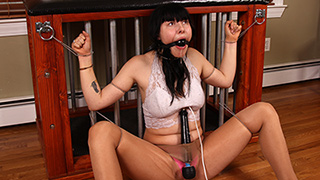 Unlike most activities that require special gear, bondage has no rules. Almost anything can work as a restraint. With a spool of heavy gauge ball chain handy, it was short work to immobilize Lucy against the cage. Easy to cut but hard to break Lucy doesn't stand a chance when she tries to get free of the chains. As she starts to tire from her struggles Lucy discovers that her pantyhose is perfect for holding a magicwand perfectly on that special spot. Without any warm up, it's set to high leaving her bursting with energy. The first of many orgasms soon follow as the thin chains hold her tight. Drool flows freely from her gagged mouth knowing she there for the long haul.

Abby vs. An Afternoon Spread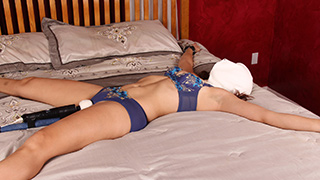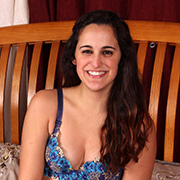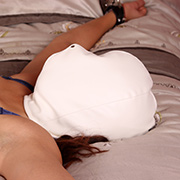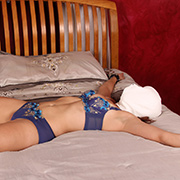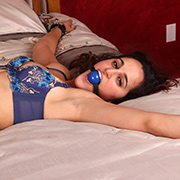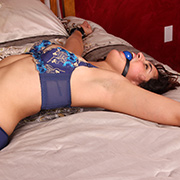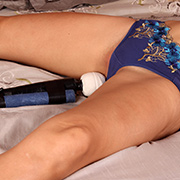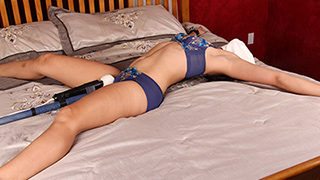 Sometimes all you need is a few pairs of handcuffs and a sexy girl like Abby writhing in anticipation. As I secured each of her limbs to the bed corners, I could see her glancing at the wand nearby. She knew full well that she'd have to wait a while; there wouldn't be any instant gratification today. A white insect hood was then put over her head and a ballgag in her mouth, leaving her one thing to focus us. When the Hitachi was eventually pressed against her pussy, her reaction was immediate with the first of many orgasms soon to follow. From the muffled moans under her hood it was hard to tell at first if she wanted more, or wanted out. I'll just have to assume more is always better and keep her cumming.