Sky vs. A Little Challenge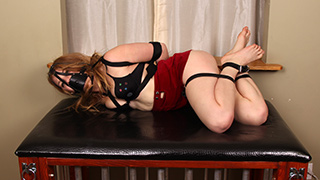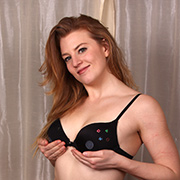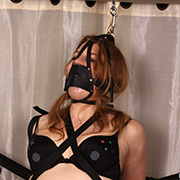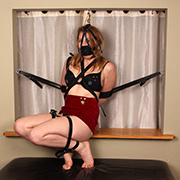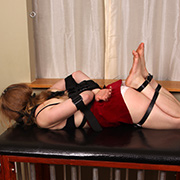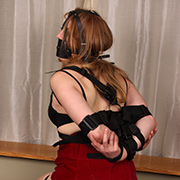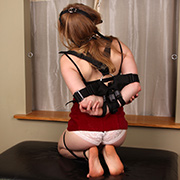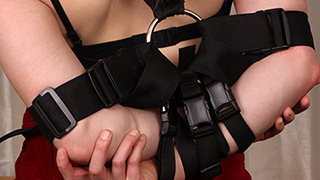 Sky is always fearless. So when I showed her a new harness I had she was happy to give it a try. Confident in her ability to escape, what did she have to lose? When the final strap is pulled tight however, you can hear the confidence fade away. A few belts to frogtie her legs and, of course, a proper gag to keep her pleas for release stifled. Sky knows she's stuck but gives it her all to try an escape.

Stasha vs. A Harsh Lesson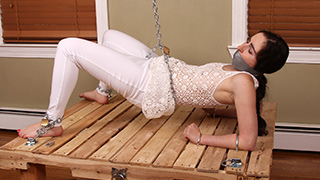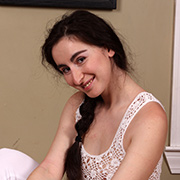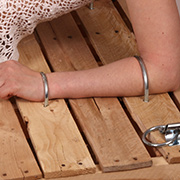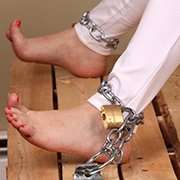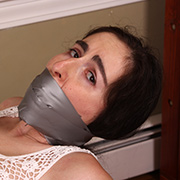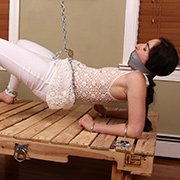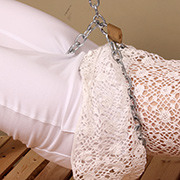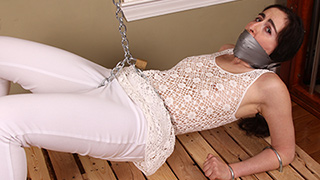 Stasha had promised to come over to help with a project, but after 3 hours of waiting she finally showed up. No longer needing her help, it seemed only fair to teach her a lesson about keeping promises. Begrudgingly she is locked with chains and U-bolts to the pallet table. A nice wad of cloth is stuffed in her mouth and taped in place. A handy silencer as I know she won't like what's next. Last, a crotch chain in locked in place and secured high above her. Almost completely immobile now Stasha tries her best to keep the pressure off the chain with little success. This won't be a lesson she soon forgets.

Merula vs. The Single Chain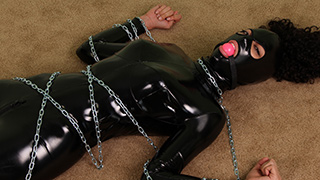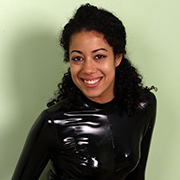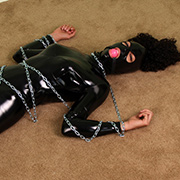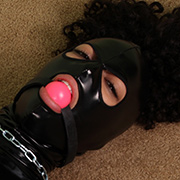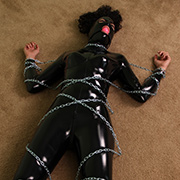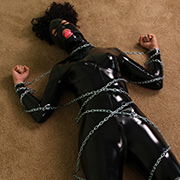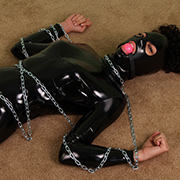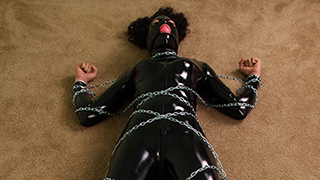 Just a single chain, that's all it took to not only render Merula completely helpless but immobile as well. From the hood on her head to the ballet boots of her feet she's covered in form-fitting PVC. The perfect backdrop for the silver chain to snake itself around her body. Just to be sure escape is not an open a little tickling gave her a good struggle but not much else for her effort. All she can do is struggle in and hope that several screws decide to come free.

Sarah vs. Her Icy Predicament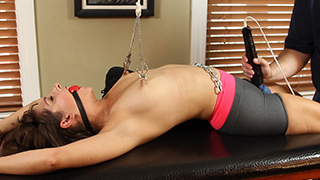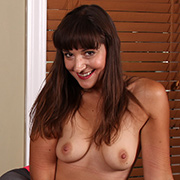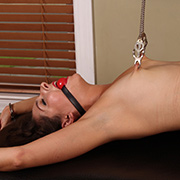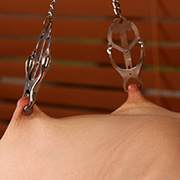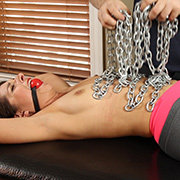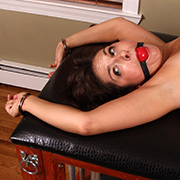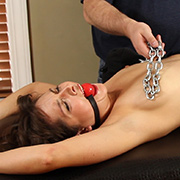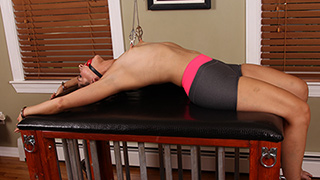 It only takes a few sets of handcuffs to immobilize Sarah on top of the cage. Nervously she tests her bonds knowing there is no hope for escape without a key. From the kitchen I return with a black bag; a close chill running up her sides as I set it down next to her. The humid summer air is already frosting the ice cold metal chains about to be laid over her body. The handcuffs do their job admirably as chain after chain is laid over and under her bare flesh. Sarah's torment is only just beginning as a pair of clover clamps are put on her sensitive nipples, brought to attention by the cold. Just when she doesn't think she can take anymore the magicwand instantly makes it all worthwhile; skyrocketing her to a massive orgasm.

Samantha vs. Amelia's Tight Wrap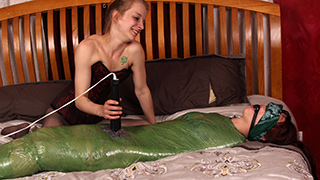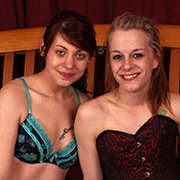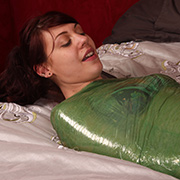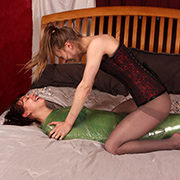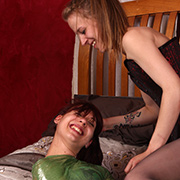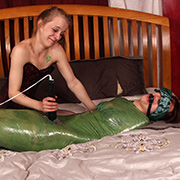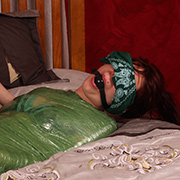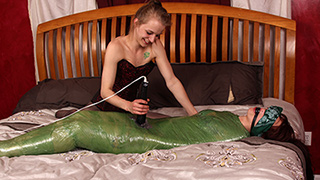 After Samantha caused her to get stuck in self-bondage a while back Amelia plotted her revenge. Finding a mummification video online she had her plan. Getting Samantha to agree was a simple offer of a hundred dollars if she could get free. Amelia planned too well and knew how to make sure she would never get out on her own. Like a mouse caught by a cat, Samantha was helpless in her paws. Amelia proves to be a merciful cat however as she positions a magicwand in place bringing her quickly to the edge of orgasm.