Jamie & Viorica vs. A Prisoner's Dilemma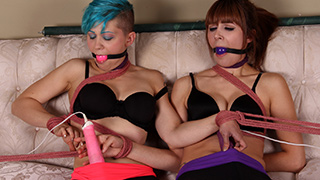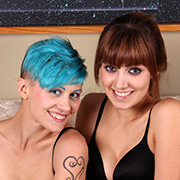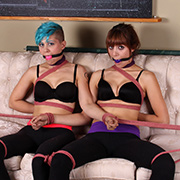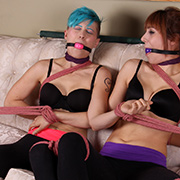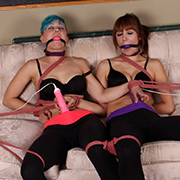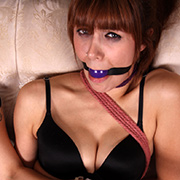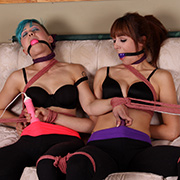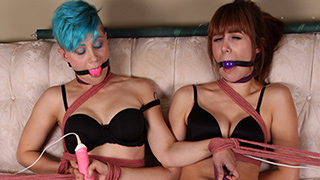 With both girls wanting to tie each other up and tease the other, neither wanted to go first. Eager to get what they wanted, Jamie and Viorica were eager to accept a compromise. After a bit of rope work both girls were well tied to the couch with all knots well out of reach. Each with a hand tied behind their back, the other was tied across the other girls body giving them full range to tease, tickle, or torment the other. It's not clear who attacked first, but soon both were tickling each other feverishly trying to get the other to relent. When magic wands were stuffed down each of their yoga pants Jamie and Viorica had some real power (and pleasure) over the other, neither willing to submit to the other no matter how much they wanted to.

Jamie vs. The Bannister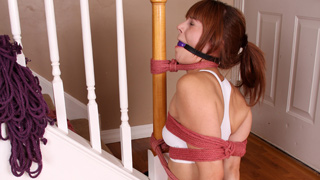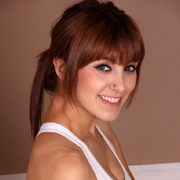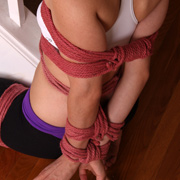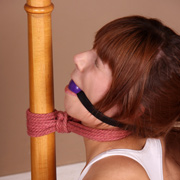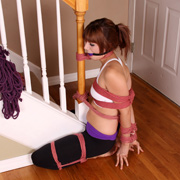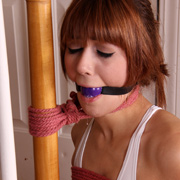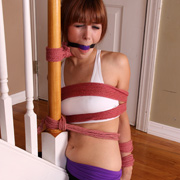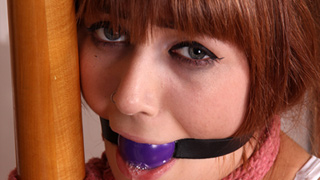 Ropes encircles Jamie's legs first, cinching them into a tight frogtie. More follows around her upper arms, elbows, forearms, and of course her wrists. All cinched and knotted with little room to even wiggle. Concern started to show as another cinched her waist to the bannister, especially when her neck was secured as well. A ballgag strapped tight in her mouth Jamie tries her best to twist and thrash against her bonds. The bannister holds with ease as she tries. Glancing around the room for any hope of rescue Jamie only see's her captor with a pile of rope in their hand.

Serene & Jamie vs. The Balance Act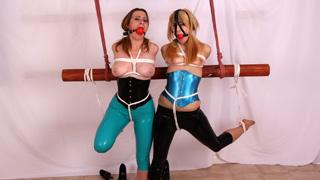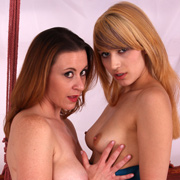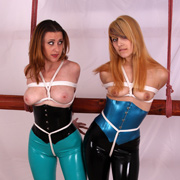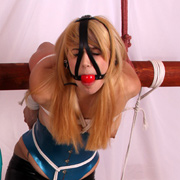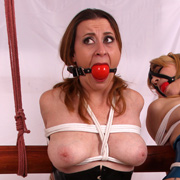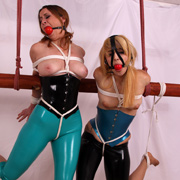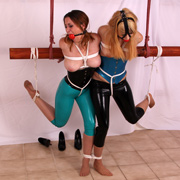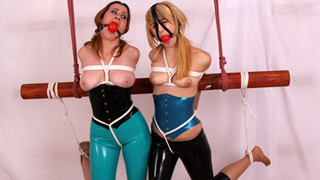 The plan was to take a few pictures in their shiny next latex outfits. I suggested little white rope for decoration and would be great for the pictures, or so I told Serene and Jamie. Lost in conversation with each other, they hardly paid attention as I cinched their elbows and wrists around a suspended pole. Finishing with a crotch rope connected to their wrists for good measure. The situation started to click when I tied their two center ankles together but they were well stuck by that point. The protests really kicked up when I strapped a 2" harness gag on Jamie and 3" monster gag on Serene. A couple final ropes pulled their free outer legs up into the air leaving them to balance between one foot and their cinched elbows. It certainly looked uncomfortable; but what do I know. I'm just there to take some pictures.

Jamie vs. The Endless Tickles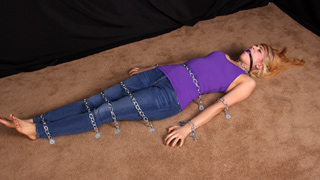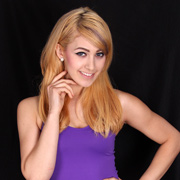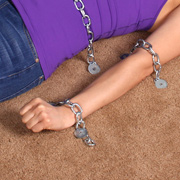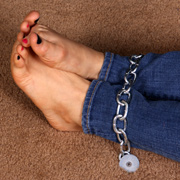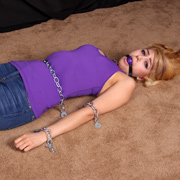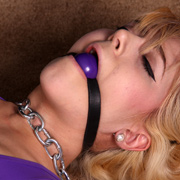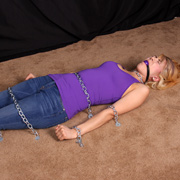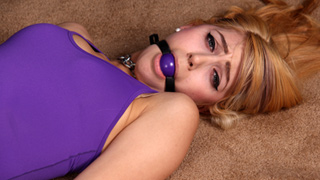 Knowing how ticklish Jamie is I felt a little guilty as I bolted each of the chains around her limbs. I could tell by her excited look behind the purple ballgag Jamie was expecting some quality time with a vibe; thrashing against her immovable chains. With nearly a dozen covering her body I started at her feet eliciting an immediate grunt of disapproval before breaking into hysterics. By the time my fingers were digging into her hips Jamie was putting the chains to the test. For my own safety I was glad they held as I relentlessly worked my fingers up and down her body leaving her breathless.

Jamie vs. Her Aching Toes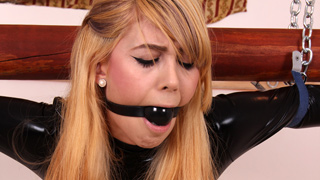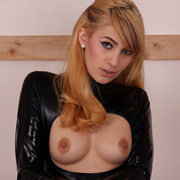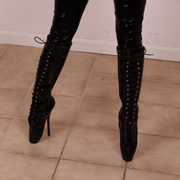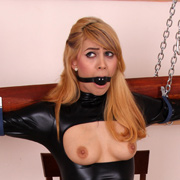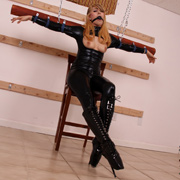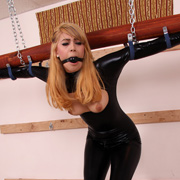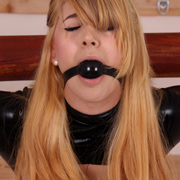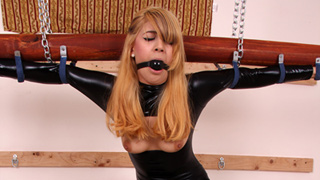 I could see that Jamie was regretting the terms of the bet already as she sits nervously in the chair. She could have the pick of any pair of shoes to keep, but has to stand for at least ten minutes in a pair of my choosing. To prevent any cheating her arms are bolted to a large wooden pole. With Jamie's mouth already gagged I lace up a new pair of ballet boots that go up to her knees forcing protests before I even hoist her to her feet. When the pole is finally raised and the timer started she's stuck between standing on her toes or hanging by her arms with both positions eliciting groans of discomfort. As the timer slowly ticks forward I remind her of the terms of our bet. That I can keep her there at least 10 minutes... but no upper limit was really ever agreed upon.