SB Challenge: Summer's Pantyhose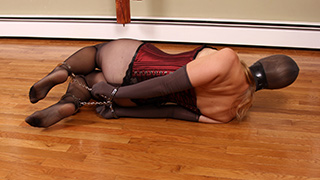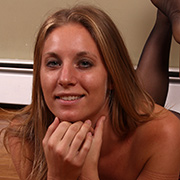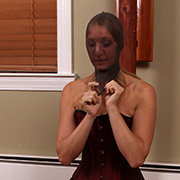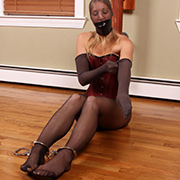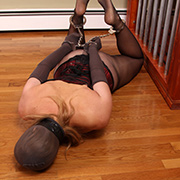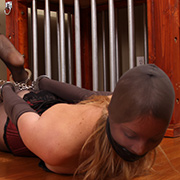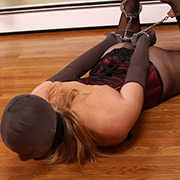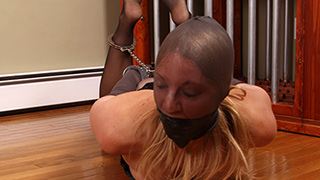 Summer was already excited to take on a self-bondage challenge, but she became truly elated when she found out it was a pantyhose challenge! Starting with pantyhose over her head, she stuffs her mouth with a rag and seals it with vinyl tape. Next, she puts her hands in a double layer of pantyhose before handcuffing herself into a hogtie. Knowing the key was only a few meters away, she was fairly confident escape would come easy... at least until she tried to move. While the hogtie was limiting her movement, the real challenge came from the satin corset and pantyhose supplying traction on hardwood floors. After 10 minutes she was only halfway there, but her woes were just beginning. Summer would be in for a surprise when she tried to unlock her cuffs behind her back wearing two layers of pantyhose.

Summer vs. Her Loan Request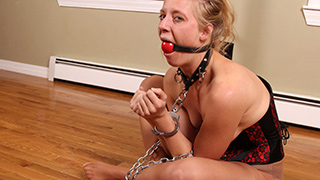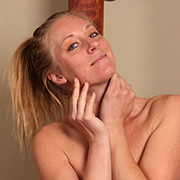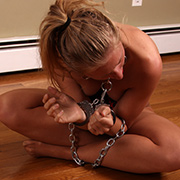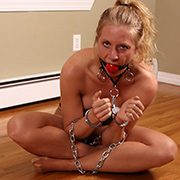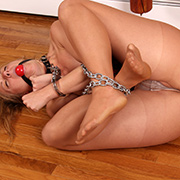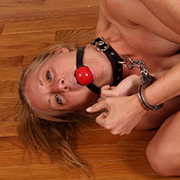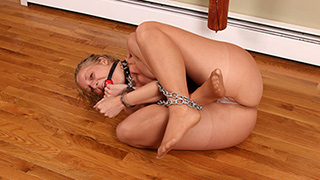 It wasn't the first time that Summer had come looking for a loan. While most look at the interest rate, my terms and conditions are a bit atypical. Summer came dressed to impress in a corset and pantyhose, knowing what would come next. After handing her a pile of gear, I gave her step by step instructions. After all, she's the one who wants the loan. Why should I do all the work? I have her start with the ballgag before looping chain around her legs. Using a collar and handcuffs, she creates a bind that is difficult to move in. From her grunts and protests, I guess it's not very comfortable either. Feeling a little pity for her situation, I offer to give her the money if she can reach the key on the other side of the room. Determined, she makes her way over - but it won't be easy.

Summer vs. The Conditions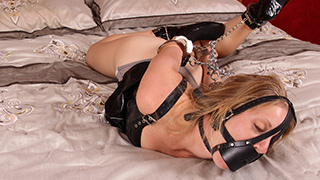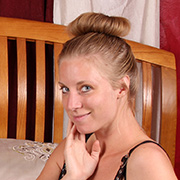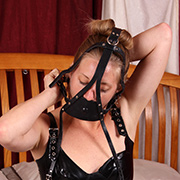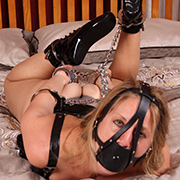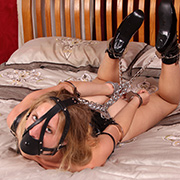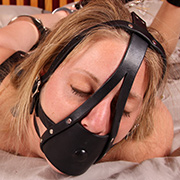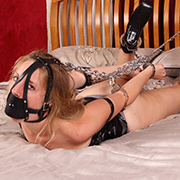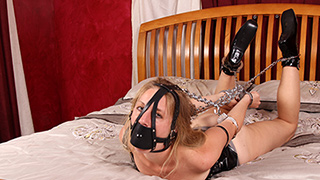 In requesting a loan, paying interest is not uncommon. What Summer wasn't expecting was the method by which she would be paying it back. She had hoped to pay it back before her first week was up, but instead here she was, tightly bound. Dressed in latex and ballet boots her ankles, wrists, and even elbows are all secured together. With some additional chain to tie even her harness gag into the mix, she already wanted out. Summer cursed herself for not paying back the money. Every week would bring a new hour of strict bondage and at her current rate, it would be at least a month before she had cleared her debt.

Summer vs. Weighted Attention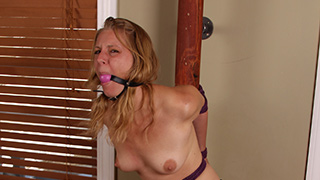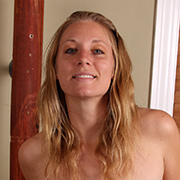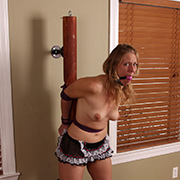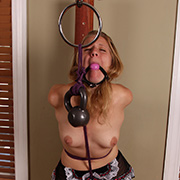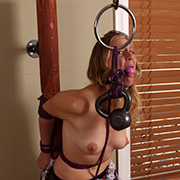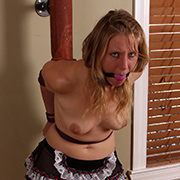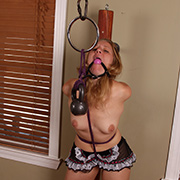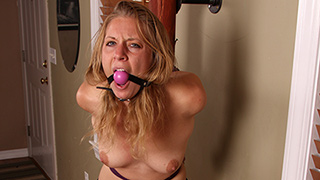 After Summer had been reminded more than once of the consequences for not doing her chores, her laziness caught up with her. Begrudgingly, she was tied to a pole, her legs spread with a bar. Gagged and struggling, I'm sure she thought this was her punishment, but I had other plans for her. Wrapping a rope around her waist, I pulled the slack between her legs and tied it off to a weight. Hung off a ring in front of her, the weight pulled her crotchrope tight and kept it tight. Each twist in her bonds only made the rope dig deeper. Maybe Summer would learn her lesson this time. One thing was for sure, I had her full attention.

Summer vs. Her Two Pigtails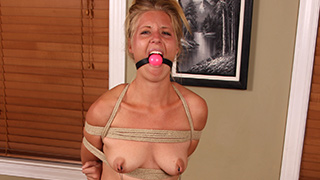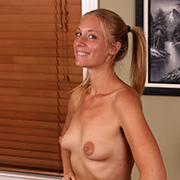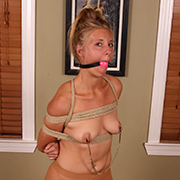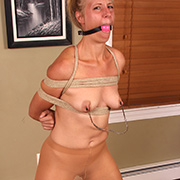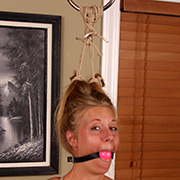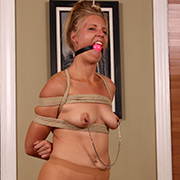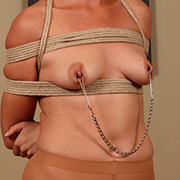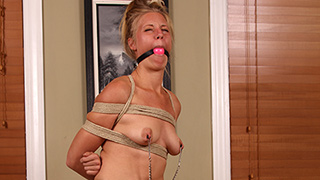 Summer knew better than to take the bet. What were the chances I could flip three heads in a row? If she'd inspected the coin she might have realized my chances were pretty good. Three heads later and she's nearly naked, awaiting her fate. Not thinking she could lose, the terms were left loosely defined and open to interpretation. If not for the ballgag in her mouth she might have debated the topic, but due to her gag, she could only struggle in vain. Two ropes tied to her pigtails made it nearly impossible to struggle; not that it would have helped her. Unfortunately for her, the lack of TV in the house makes her the only show to watch. I don't expect I'll be changing the channel for quite a while.