Rachel vs. A Key Too Far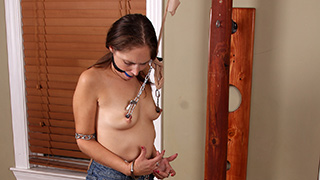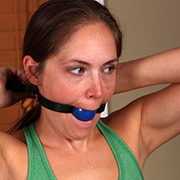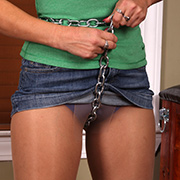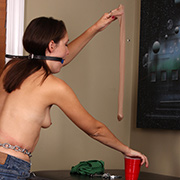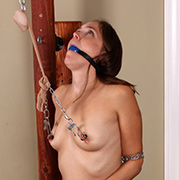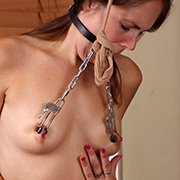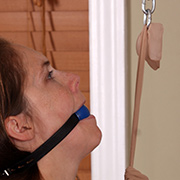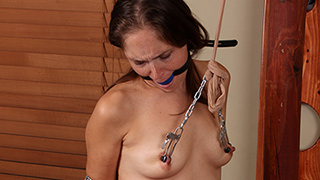 After spending the afternoon reading a number of self-bondage stories Rachel was more than a little turned on. With her boyfriend away the idea of making a video for him started to sound more and more appealing. Not wanting the fun to end too early she figured 3 cubes would be good enough to hold her for 15 minutes. With the camera setup and toys laid out Rachel went for it. The setup was simple. With her nipple clamps tied to the melting ice she'd be unable to reach her keys without the ice melting first. Pulling the clamps off was always an option as well or at least she assumed so. It doesn't take very long for her to get bored and feel the ache in her nipples and jaw. In all her reading it never occurred to her how long ice melts at room temperature. After 90 minutes she's getting a first-hand lesson with plenty more ice to go.

Rachel vs. Her Chastity Tryout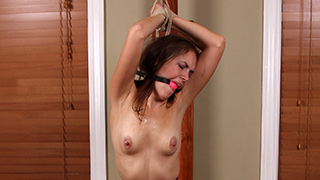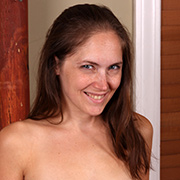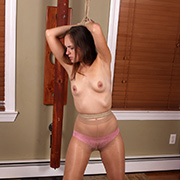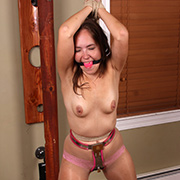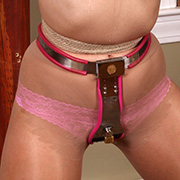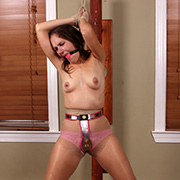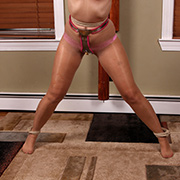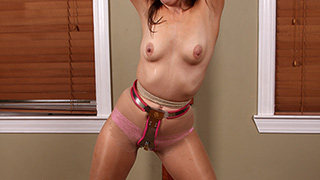 Like with many things in life it can always be worse. Struggling in rope it was clear from her struggling and noise that she wasn't happy with her situation. A ballgag easily took care of that problem but she was still persistent. To give her something to really complain about I brought out a chastity belt for her to wear. Immediately she twisted and turned to prevent it going on. A few tugs of the knots and her legs pulled wide severely limiting her movement and an easy target for the chastity belt. With it locked on she renews her fury to get free but it's no use. While sit back and watch her burn off her frustration I can't help but wonder how she'll react when I tell her how long the belt is staying on.

Rachel vs. A Difficult Arch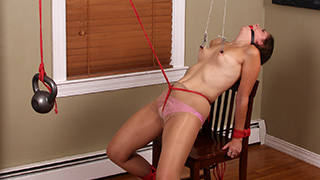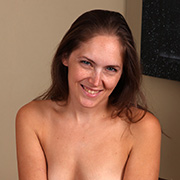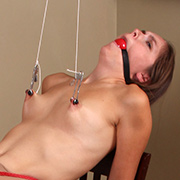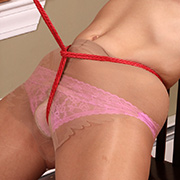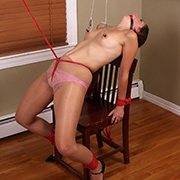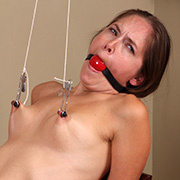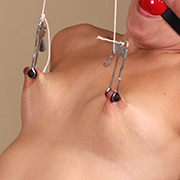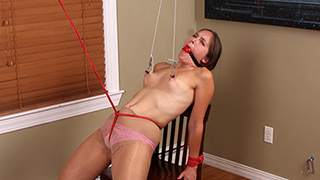 There's no point is wasting time with simple hogties or binds with Rachel. To keep that big grin on her face she needs a challenge. Luckily for her, she's come to the right place. She's not fooled by the basic chair tie I start her out with, and equally not surprised when the nipple clamps come out. It only takes a couple of strings to have her arched in the air, held up by her nipples. Of course, she can sit down anytime - for a price. When her legs begin to shake, Rachel is given a thoughtful crotchrope to help ease her predicament. It's now just a waiting game. Eventually gravity will win; it always does.

Rachel vs. Opposing Forces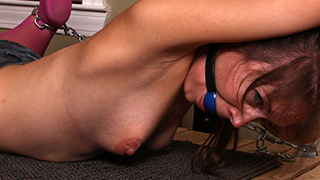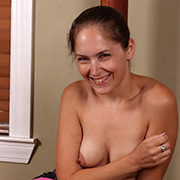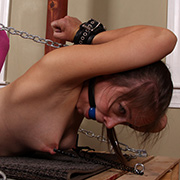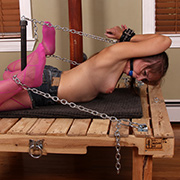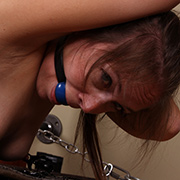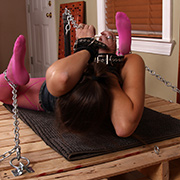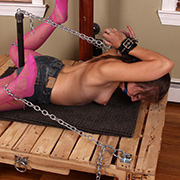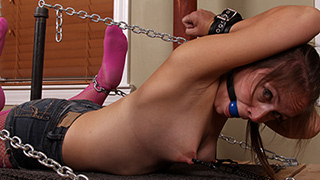 Her discomfort starts slowly, and is easily manageable at first. Rachel squirms to get comfortable knowing it will never come, but the ability to try is comforting at least. Then the nipple clamps come, and she's left with a choice: struggle to relieve the strain on her back, or stay still and relieve the pain in her nipples. It's a tough decision. Carefully she tests the waters, but every chain, clamp, and cuff works against her. Suddenly nothing is comfortable and Rachel wants to thrash to find relief, but those nipple clamps keep her tethered in more ways than one. Pulling them off is the only answer, but is it worth it?

Rachel vs. The HogStock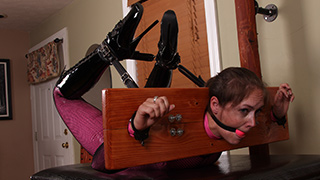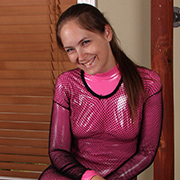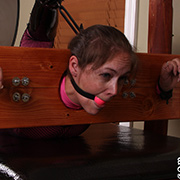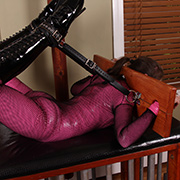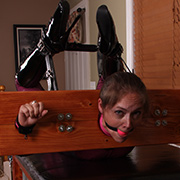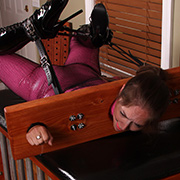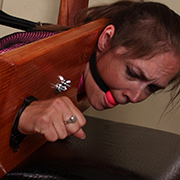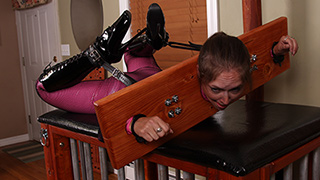 Decked out in a sexy pink catsuit, fishnets, and ballet boots, Rachel tries to escape her stocks. What she doesn't know is that I'm just getting started on her bondage. After putting a ballgag in her mouth first, she's moved to her stomach where belts attach her boots to her stocks. Simple at first, until they are pulled tight and every move takes effort. The position doesn't lend itself to comfort, so Rachel is forced to do anything she can to help her situation. Particularly those sexy hogtie arches. It's going to be a while before I grow tired of seeing her like this.