Joy vs. Pleasure Lockdown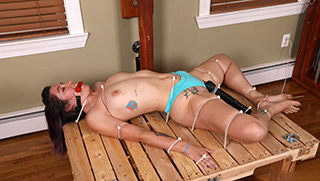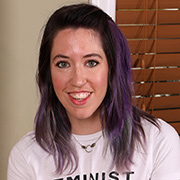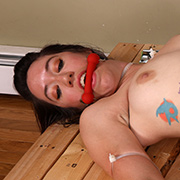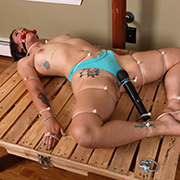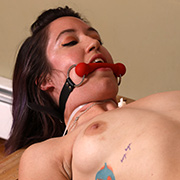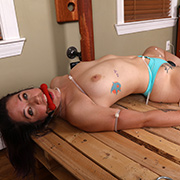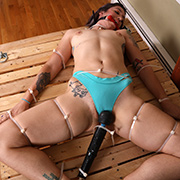 Joy couldn't even keep the smile off her face once she got a hit the magic wand might be used. Gag? No problem. Zip ties from neck to toes? The more the merrier. Once locked down to the pallet and unable to move the wand is secured to her special spot. Everything from that moment on is absolutes in her world. Joy would suffer all the pleasure it could dish out and there was nothing she could do about it. Uselessly squirming against the ties she feigns frustration with her situation but her expression tells the real story. She's loving every second.

Sammi vs. Her Boredom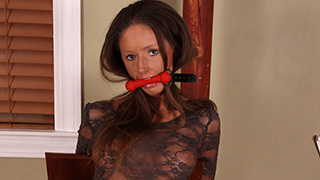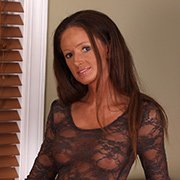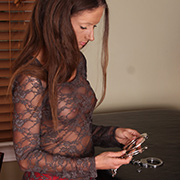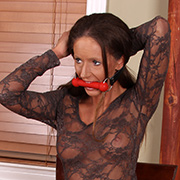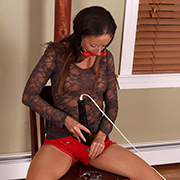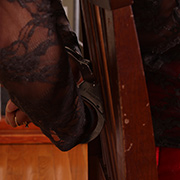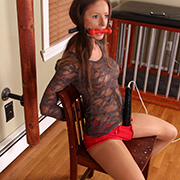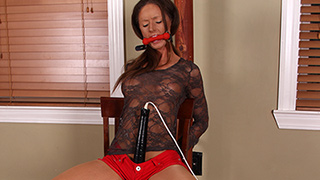 After discovering her friend wouldn't be showing up for a few hours Sammi wasn't happy. She was looking forward to getting tied up and not sitting around. Surrounded by bondage gear she couldn't help but take matters into her own hands. It all seemed so simple in her head. A magicwand stuffed in her shorts and a few handcuffs to make it interesting and Sammi was in heaven. She was enjoying herself so much that her first orgasm was on her in no time and then, having had her fun, was ready to get out. With the wand keeping her mind distracted she manages to knock her key on the floor. Instantly she sighed to herself knowing she is exactly what she wanted and terrified being stuck alone for hours. Sammi doesn't have long to think about it before her next orgasm takes her mind off her predicament.

Joy vs. A Rewarding Workout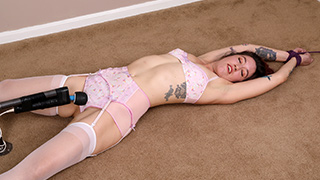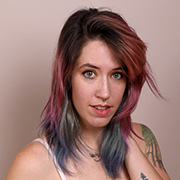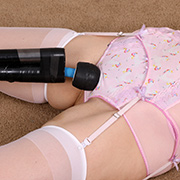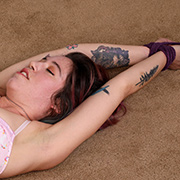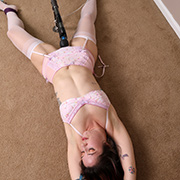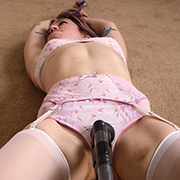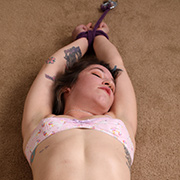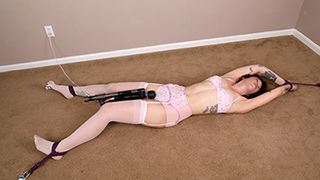 If there is one thing that Joy loves, it's a challenge. With the reward for success being an orgasm and you have a very determined girl. Bound to the floor in a semi-spreadeagle and magicwand hovering inches above her pussy she wastes no time. Putting her abs to work she reaches up for pleasure only for gravity to bring her back down moments later. In a matter of minutes, you can see her in the throes of frustration. Normally a simple task to orgasm is now a cliff to climb. Joy's a determined girl and won't let a little bondage get in the way of her fun. She'll get that orgasm, one way or another.

Piper vs. Promised Relaxation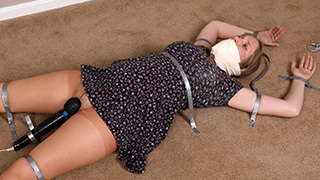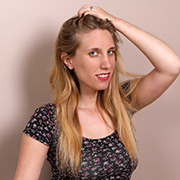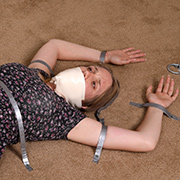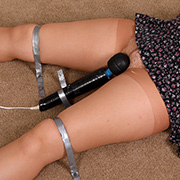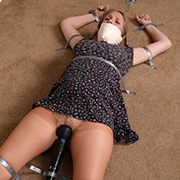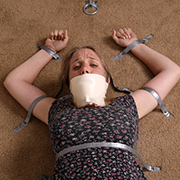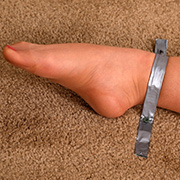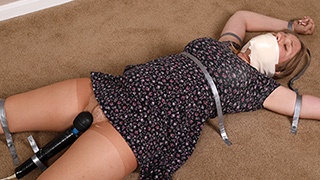 As she was asking only for a relaxing afternoon, I was happy to give it to her. While our definitions might be different, it's the end result that matters! Using metal strapping, Piper's limbs are screwed to the floor, one by one, her mobility washing away with each screw. Once the vibrator is in place all she can do is lie back and enjoy the sensation. It's hard to tell because of the tape wrapped around her face, but I'm fairly certain there's a smile under there.

Brooke vs. Her Full Circle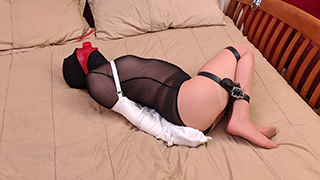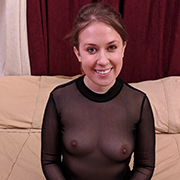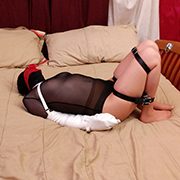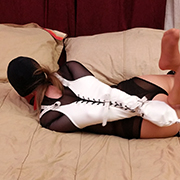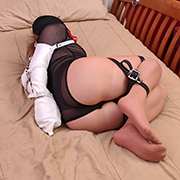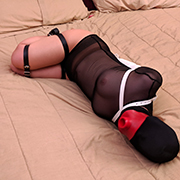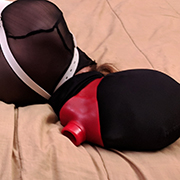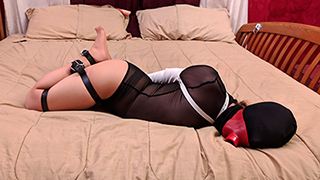 I always enjoy when girls humblebrag about how easily they can escape from certain bondage gear. Often they mistake gear which was improperly secured or too loose as an ability to get free. So, as I listened to Brooke's tale of shrugging off an armbinder what I actually heard was, be sure to make it tight! Grunts and stifled protests fill the room as the laces and straps tightened. Her shoulders shift to gain purchase but a leather strap keeps her elbows firmly together. The gag isn't even in her mouth and you can see the defeat in her posture. As I leave her to escape she twists and turns, trying to use anything for leverage, slowly moving around the bed. It's not long before she finds herself out of breath, and for all her effort Brooke is back where she started, a full circle.