JEM vs. Pink & Purple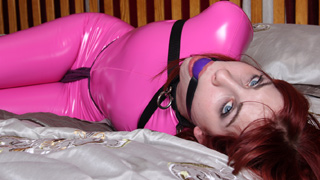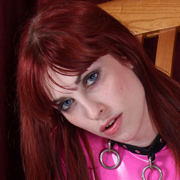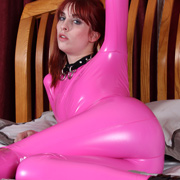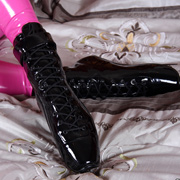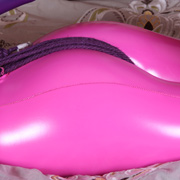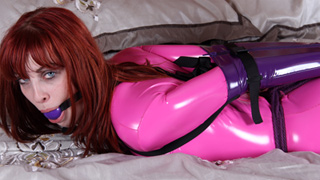 Social stigmas be damned, sometimes a guy just wants to play a little dress up. Being a bit old for toy dolls, JEM would make the perfect canvas for my fun. As soon as I get a pink body-hugging catsuit on her, on goes a pair of locking ballet boots. JEM already looks amazing but is lacking, well, accessories! A locking ringed collar is a good start followed by a super tight crotch rope and purple armbinder. Finishing off with a tight purple ballgag I stepped back to admire my struggling playmate. I can't wait to play dress up again!

Tracey vs. The Cold Floor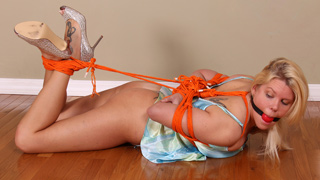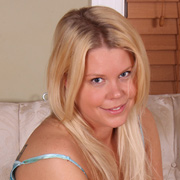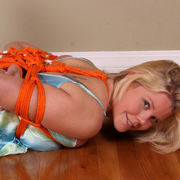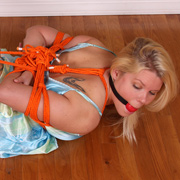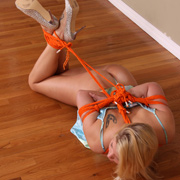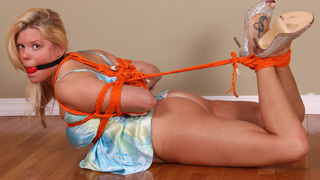 Dressed in some flimsy lingerie, Tracey sat eager for some rope. Today would be about predicaments as I looped the coils around her body leaving her tightly hogtied. With a quick hoist I had her on the cold floor causing her bound body to helplessly recoil. Protesting as I tightly buckled the 2" ballgag in her mouth, there was no escape now. Tracey was forced to choose between breathless struggling or freezing on the floor. Lucky for us, she wanted to stay warm!

Nyxon vs. The Crotch Rope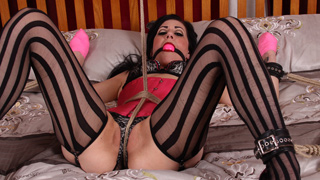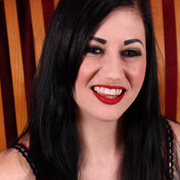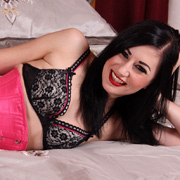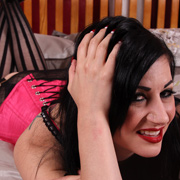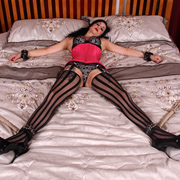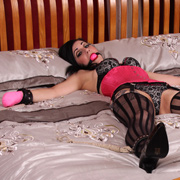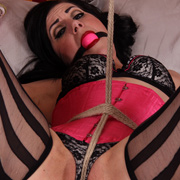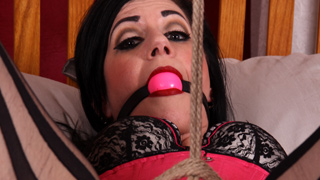 Things started so innocently. Some cuffs, a couple ropes, a ballgag and of course Nyxon in her hot pink corset. Then came the vetwrap to keep those pesky fingers from trouble. She suspected something was up though; it wasn't restrictive enough. I didn't leave her pondering long before adding a crotch rope to the mix. Nyxon renews her escape attempts but is eventually hoisted in the air by her crotch rope leaving the rope buried deep with her.

Alex vs. The Electric Table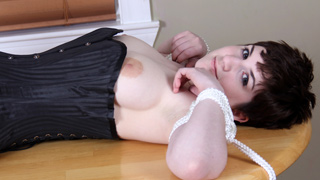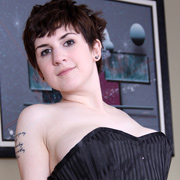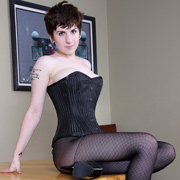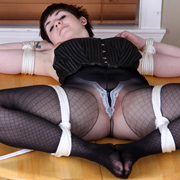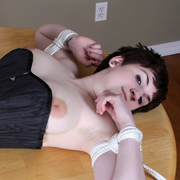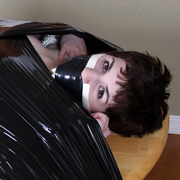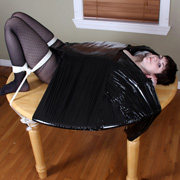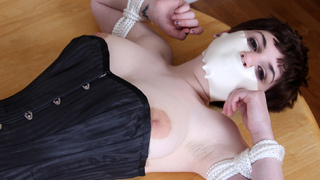 Electricity can be an amazingly versatile tool for both pleasure and pain. Of course it doesn't hurt when your playmate eats it up like candy. Spilling out of her overbust corset, I tie Alex in a frogtie spread-eagle with the knots well out of reach. A few layers of plastic wrap are wrapped around her to be 110% sure she stays put. I start things slow but as the setting goes up there is no turning back. When I asked what it felt like she laughed and responded, "It's like a vibrator... with spikes!"

Billie vs. The Window Decoration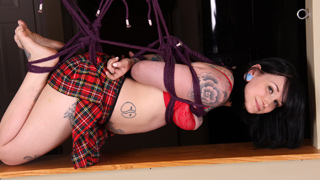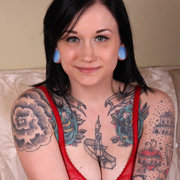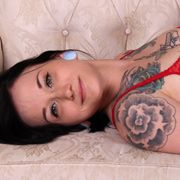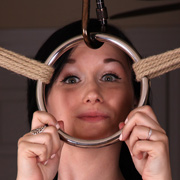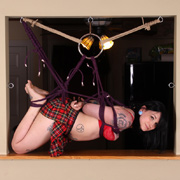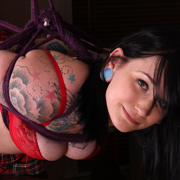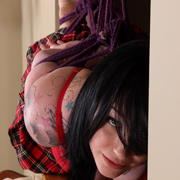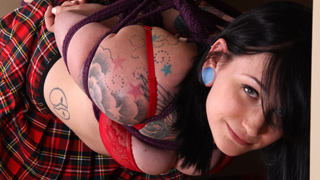 Decorating has never been a strong suit; too many colors and patterns to pick from. So sticking to what I know, I grabbed some rope and Billie for some project time. It wasn't long before she was swinging free and completely helpless. For being such a good sport, I reward her with some time with the Hitachi Magic Wand. Watching Billie sway in the ropes from the waves of pleasure I think I missed my calling. Maybe I should have been a decorator!