Sammi vs. Her Unusual Workout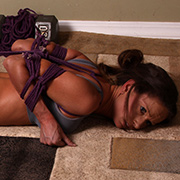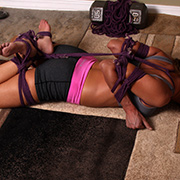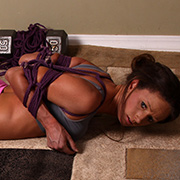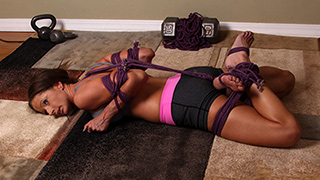 Being a fitness junky Sammi was intrigued when I mentioned a new workout I'd come up with. Once she was tied into a chicken wing / hogtie she wasn't nearly as enthused. Nevertheless, the beauty of this workout is there's no way to give up! With her hands technically free she can move an inch at a time but nothing more. With this in mind, her task is to move a 10lbs kettle weight across the room. A simple task unfettered but with rope limiting her to a few inches a minute, it's a different story. Will she be able to make it or spend an extended time struggling in ropes.

Stasha vs. Her Puppet Predicament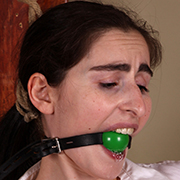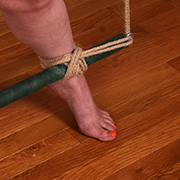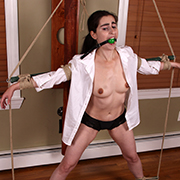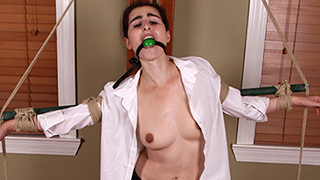 It's been a while since Stasha has visited and I wasted no time getting her tied up. Spreader bars keep her legs spread and arms held wide. What makes her predicament special is the two ropes connecting the two bars together and lifting her to her toes! The little bit of mobility she has doesn't spare her feet but only serves to frustrate her more. Within minutes her legs were shaking from exhaustion but her adventure was just starting. Another rope finds its way around her ponytail binding her head to the post behind her. On top of trying to keep on her toes, her hair constantly pulls her off balance. With all this attention being paid to her I'm sure she feels very welcome for her return.

Faith vs. Her Quick Chill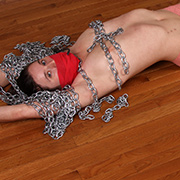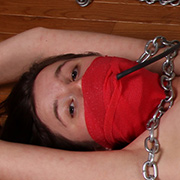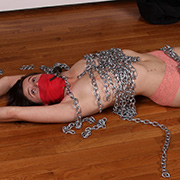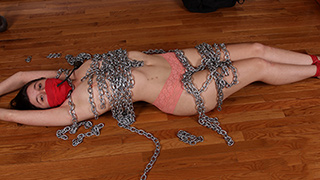 Faith may be as green as they come to bondage but came determined to challenge herself. With it being her first time in ropes, handcuffs, or well, any bondage she takes to it like a fish to water. Even with her arms and legs tied to opposite ends of the room, she's got a huge grin on her face. Her only complaint? Even stripped down to her panties it's still too hot. Near 100F/38C degree days with air conditioning will do that. Always a problem solver I pull a bag of chains from the freezer which instantly gets a reaction. Helpless and naked I lay them across her body forcing her to squirm but it's no use. One by one they crisscross her body, the cold metal making sure Faith get's her wish to escape the heat.

Kim vs. The Cheap Stuff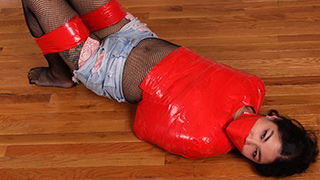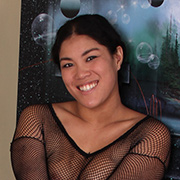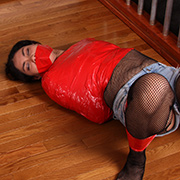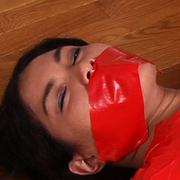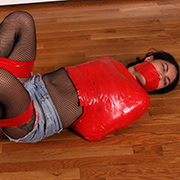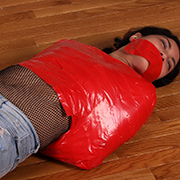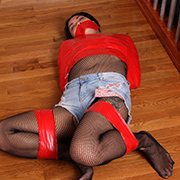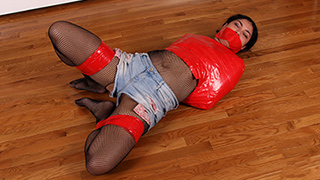 When fishing through the bargain bin for duct tape I came across an interesting red roll. At 3 inches wide it wasn't messing around and surprisingly wasn't paper thin. All this doesn't bode well for our newbie Kim. Wary of being mummified I assured her it would only cover her arms. Surely a few strips of tapes wasn't going to keep her bound for long right? Despite its cheap origins it managed to be stronger than its more expensive counterparts. By 5 minutes in, Kim was well aware that she wasn't getting free anytime soon. She didn't stand a chance against the tape.

Hannah vs. Heavy Lifting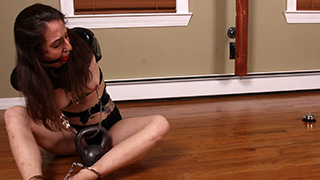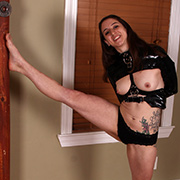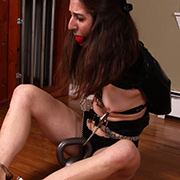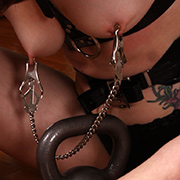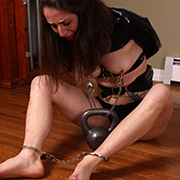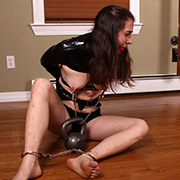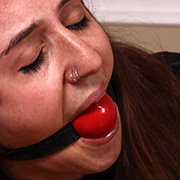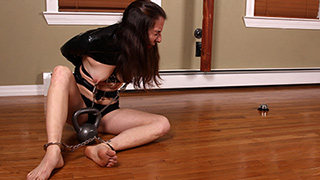 With Hannah looking amazing in a rubber straitjacket it stood to reason I wanted to be sure that she couldn't go anywhere. Using clover clamps I put them on her exposed breasts; looping the chain through a 10-pound weight. To torment her a bit I told her if she could ring the bell across the room I'd let her out. What I didn't expect was her to use her poor nipples to actually pull it across the floor. Grunting, wincing, and carefully pulling she inches across the floor. I should have known that any challenge she'd give it her all. Now we will see if she can trek the entire distance.