Stasha vs. A Touch of Orange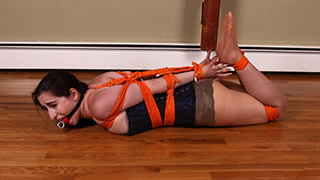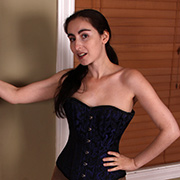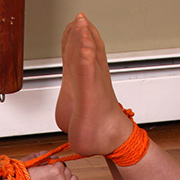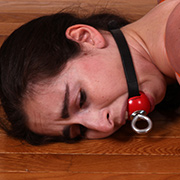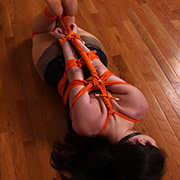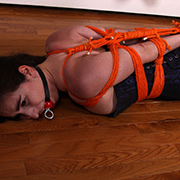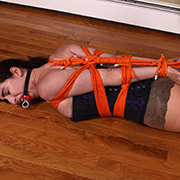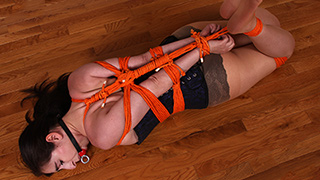 Sometimes simple is best. A few ropes, a corset, some pantyhose, and Stasha hogtied on the floor. While simple on the surface for poor Stasha it's a perfect storm. A not too distant bell waits to be rung to call for her release but try as she might, she can't move an inch. The corset and ropes are doing their job all too well. All the better for us as we can enjoy her try for as long as it takes. I'm sure eventually she'll make it, they all eventually get desperate enough.

Stasha vs. Magnetic Bonds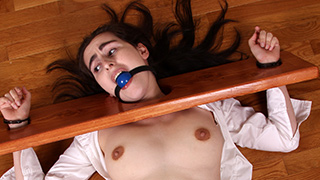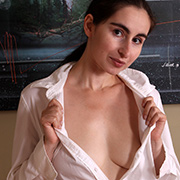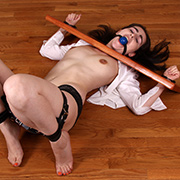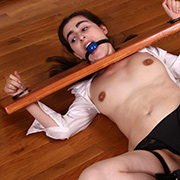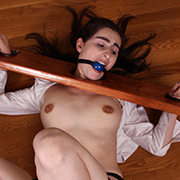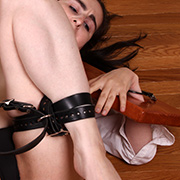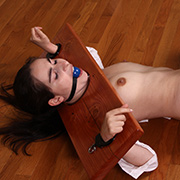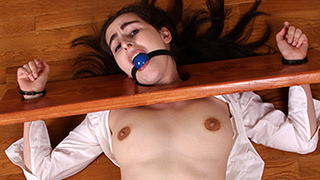 Being inescapably bound can be frustrating enough for a girl like Stasha. It becomes infuriating when escape is so close but you can't get the leverage you need to break free. The stocks that hold her secure only have a few 6mm magnets holding it together. Still, as she fights, struggles, and squirms to get free they hold with ease. The added belts on her legs certainly do not make her situation any easier. Of course, a big 2" ballgag keeps her protests unintelligible even if we know what she's trying to say. Then again there's always room to adjust her situation. Either to encourage silence or give her a real reason to protest.

Stasha vs. Her Puppet Predicament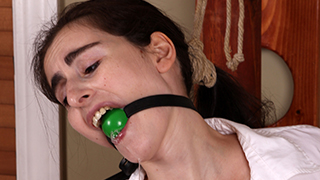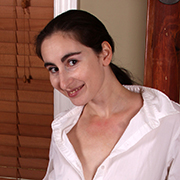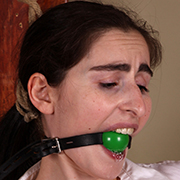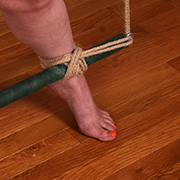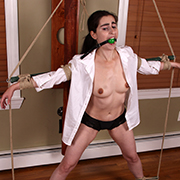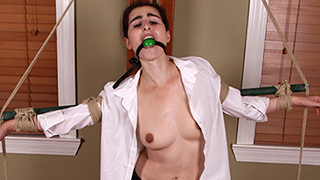 It's been a while since Stasha has visited and I wasted no time getting her tied up. Spreader bars keep her legs spread and arms held wide. What makes her predicament special is the two ropes connecting the two bars together and lifting her to her toes! The little bit of mobility she has doesn't spare her feet but only serves to frustrate her more. Within minutes her legs were shaking from exhaustion but her adventure was just starting. Another rope finds its way around her ponytail binding her head to the post behind her. On top of trying to keep on her toes, her hair constantly pulls her off balance. With all this attention being paid to her I'm sure she feels very welcome for her return.

SB Challenge: Stasha's Key Hunt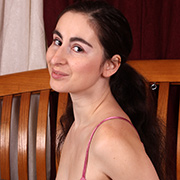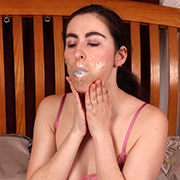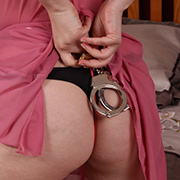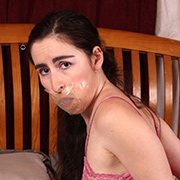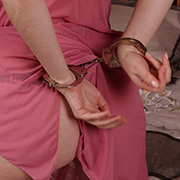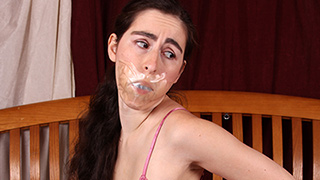 Stasha is given another self-bondage challenge to redeem herself. For this one, she stuffs her mouth with a rag before taping it closed. Keys, mostly dummies, are scattered around the house for her to find. Some are blindly tossed and end up hard to get to or reach. Once she is bound and can't escape, it doesn't take long to figure out that she might have overdone it again. With her feet hobbled, traveling up and down stairs and between rooms slows her escape considerably. Not remembering where she hid all of the keys is certainly not helping her situation either. After finding a half dozen decoy keys, it's obvious Stasha is getting pretty frustrated. That won't get her out any quicker, and she's got many more rooms to search.

Stasha vs. The Key Hunt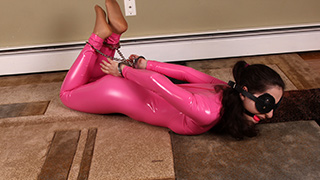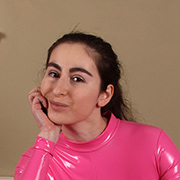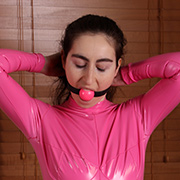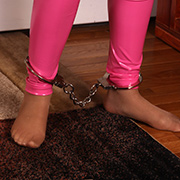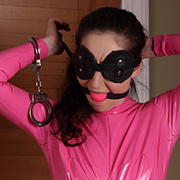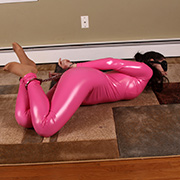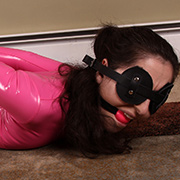 While Stasha played with a pair of handcuffs I explained how they're more difficult to escape than they let on. Putting them on and removing them seemed easy enough to her, at least without a blindfold. Before she could change her mind, I dared her to show me how easy it was. After putting in her gag and fastening her blindfold, she tossed her only key behind her. Lying down, Stasha then hogties herself with hand and leg cuffs. She soon finds out that without sight or even full mobility, things get quite a bit more difficult. Searching for her key, I can hear some regret in her grunts and moans as she squirms on the floor. She might have bitten off more she can chew, and one thing was for certain: Stasha's on her own.