Bella vs. The Job Offer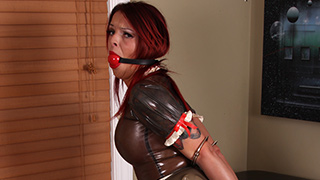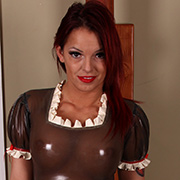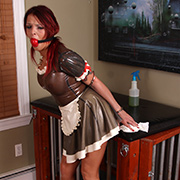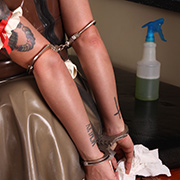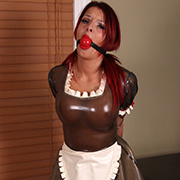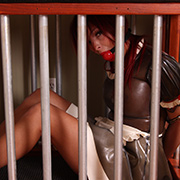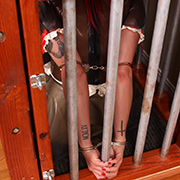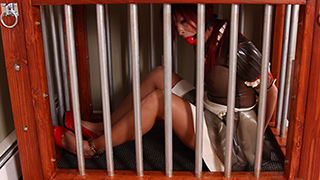 With everybody looking to make some extra cash Bella couldn't turn down a very lucrative job offer. So when she's told that the generous pay involved wearing latex and a bit of bondage she was, of course, reluctant but still willing to hear the details. Once she changed into her latex maid outfit she was still anxious but had to admit she loved how it looked on her. Hinged handcuffs started her interview along with a bit of window washing. The cuffs made it very difficult but making 10 times her normal rate was worth a little pain. Assured she was doing great a ballgag ensured she kept any thoughts to herself. Another set of cuffs on her elbows really made her helpless and start to doubt the money was worth it. Trying to appease her interviewer and captor she did her best to clean, even inside the cage as told. As the cage door locked behind her she knew it was all a ruse. How stupid could she be to fall for such an obvious trap. Worse, she wasn't sure she told anybody where she was going!

Summer vs. Bondage Bait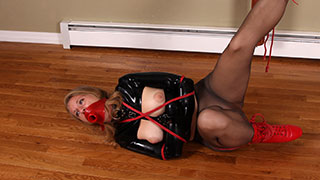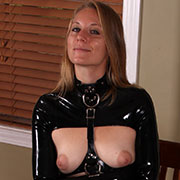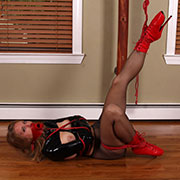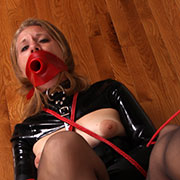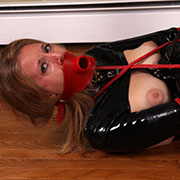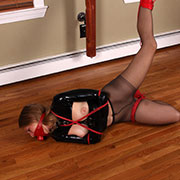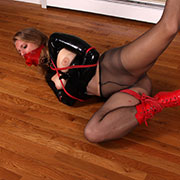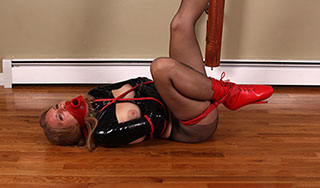 Struggling in her straitjacket, pantyhose, and ballet boots Summer looks as sexy as ever. More importantly, she has no chance of escaping, her inability to stand in her boots limiting her movement. Given such a helpless subject one has to wonder what you can capture with such tasty bait. Using a rope to frogtie one of her legs, another strings her other leg high in the air. Still helpless in her straitjacket there's no hope for escape now. Dangling on the end of a string and twisting under its hold one has to hope, will her friends come to help? My ropes will be ready if they do.

Hannah vs. Heavy Lifting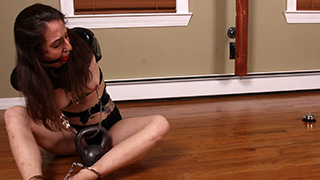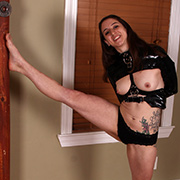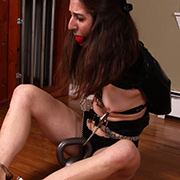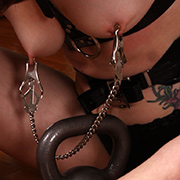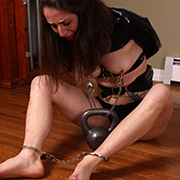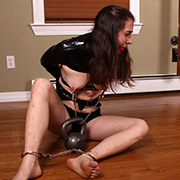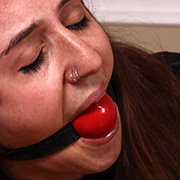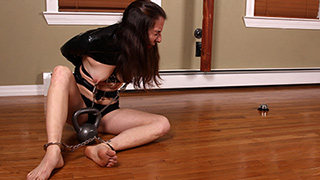 With Hannah looking amazing in a rubber straitjacket it stood to reason I wanted to be sure that she couldn't go anywhere. Using clover clamps I put them on her exposed breasts; looping the chain through a 10-pound weight. To torment her a bit I told her if she could ring the bell across the room I'd let her out. What I didn't expect was her to use her poor nipples to actually pull it across the floor. Grunting, wincing, and carefully pulling she inches across the floor. I should have known that any challenge she'd give it her all. Now we will see if she can trek the entire distance.

Summer vs. The Conditions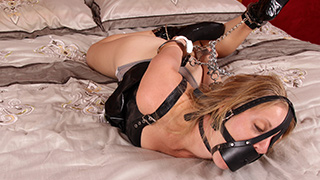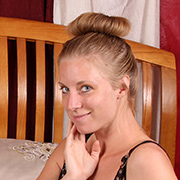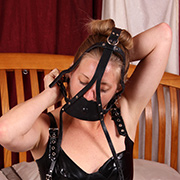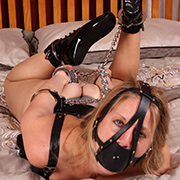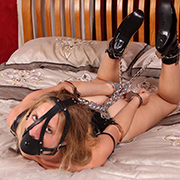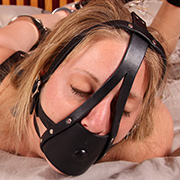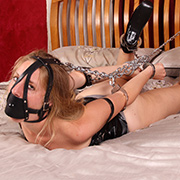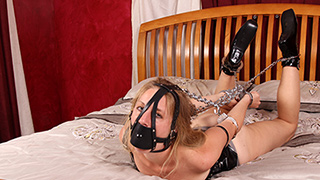 In requesting a loan, paying interest is not uncommon. What Summer wasn't expecting was the method by which she would be paying it back. She had hoped to pay it back before her first week was up, but instead here she was, tightly bound. Dressed in latex and ballet boots her ankles, wrists, and even elbows are all secured together. With some additional chain to tie even her harness gag into the mix, she already wanted out. Summer cursed herself for not paying back the money. Every week would bring a new hour of strict bondage and at her current rate, it would be at least a month before she had cleared her debt.

TripSix vs. A Little Motivation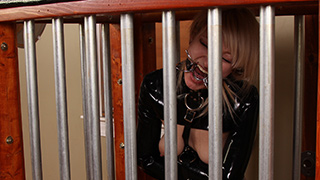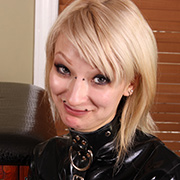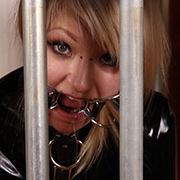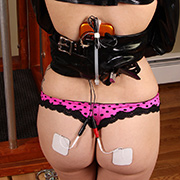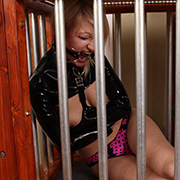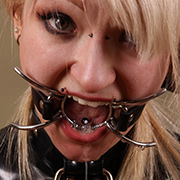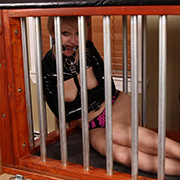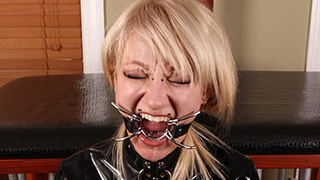 It's hard to punish someone who enjoys it far too much. Still, it's fun to try. Failing to clean up her toys from the previous day, TripSix was due for more than a reprimand. Outfitting her in a latex straitjacket and spider gag, she was set to spend some quality time in the cage. To keep her entertained, her cellphone is attached to a TENS unit on her back. Setting the volume to max she was soon going to regret having so many notifications set up. As calls, text messages, and tweets keep her hopping in the cage she doesn't realize this is just a warmup. A few clicks and the real fun begins. Her afternoon is just getting started.