Kaecie vs. Her Bondage Anatomy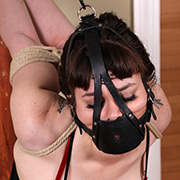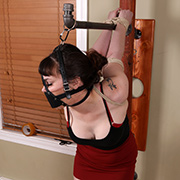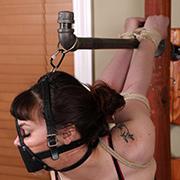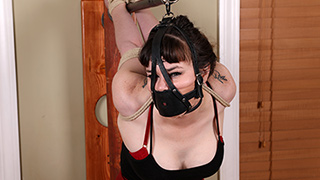 With predicament bondage the devil is often in the details. The key to this scene is Kaecie is given the illusion she can escape. Knowing freedom will come early, especially when under a lot of strain, is quite tempting. She starts by trying to twist the pole from the wall but finds it unyielding. Next, she tries to slide the ring off but the metal end cap thwarts her efforts. With her legs bound tightly together and arms held high the strain starts to get to her quickly. In desperation, she tries to plead for release but her tape gag keeps her nice and quiet.

Hannah vs. Her Favorite Things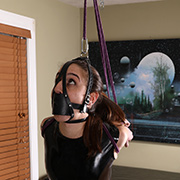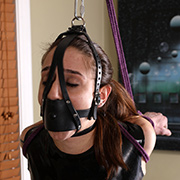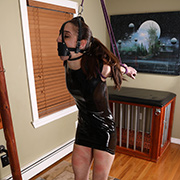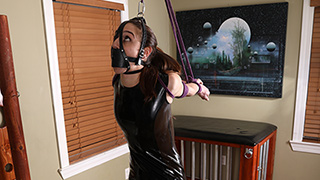 Individually there is almost no aspect of bondage Hannah doesn't love. Putting them together in a recipe she can't resist takes a bit of work but well worth the effort. A strappado predicament is always a good base with ballet boots to keep her on her toes, literally. Of course latex is always a treat any girl will love. The icing as it were is hard cane strokes while under duress. Each stroke brings her closer to orgasm as she struggles to keep her balance. The gag hides her face but I can assure you there is a smile buried in there.

Raven vs. Her Pretzel Situation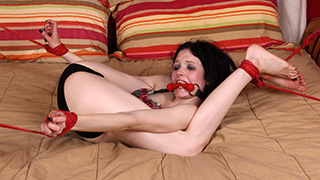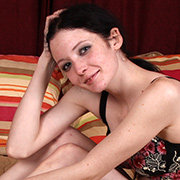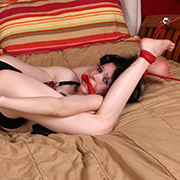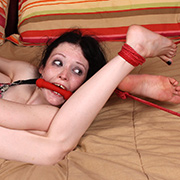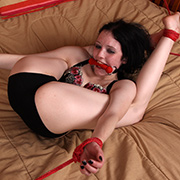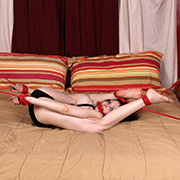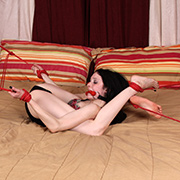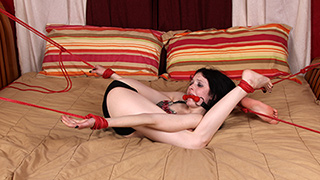 With someone as bendy as Raven one can't help but exploit it. While she tries to be nonchalant and claim she can stay awkwardly bound all day, time will tell. Pulling helplessly against her ropes the inability to come free from her position causes more strain than she anticipates. Grunting and struggling with muscle fatigue Raven tries to keep calm. The addition of a sound activated TENs certainly doesn't help her situation. Every sound causing a shock to corse across her bound legs. Her predicament only gets worse as time passes. Lucky for Raven, she'll be there all day.

Holle vs. Artistic Inspiration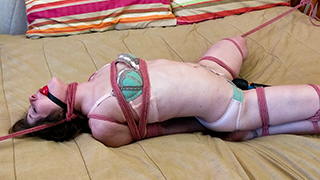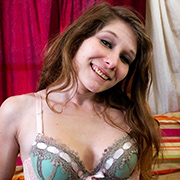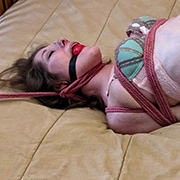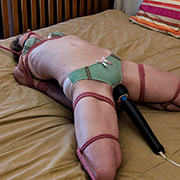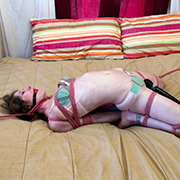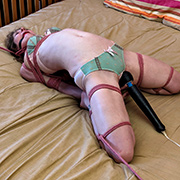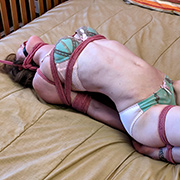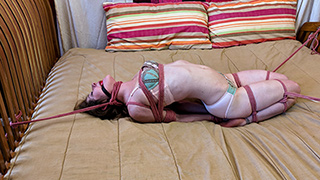 As someone who loves predicament bondage I can't help but love the art from Rook-07. So when I saw his drawing for which this week's update is based I couldn't help but recreate it. Holle was a perfect candidate and couldn't wait to attempt the difficult position. Between the neck rope and her arms tied behind her just keeping the position will be difficult. If she wants a coveted orgasm however, she'll need to arch her back and hold her breath for a while. Will she wear herself out or reach her much needed climax, only time will tell.
You can see the original drawing here (and give him a follow!).

Hannah vs. Cause and Effect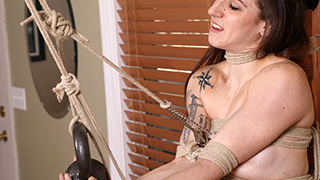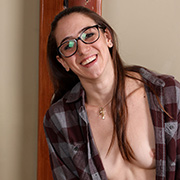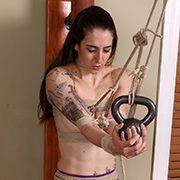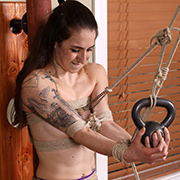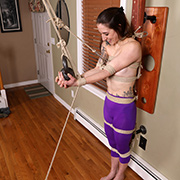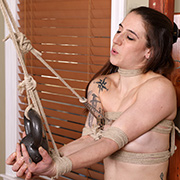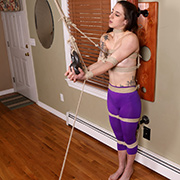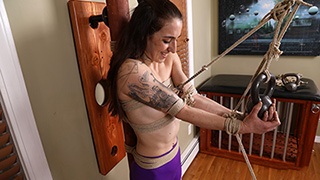 Whenever Hannah comes around it's a game of brinksmanship to see what her limits are. Nothing tests this more than a challenging predicament. She starts tied to a pole with her arms tied together in front. A nervous smile crosses her face as she starts to piece together what's about to happen. Nipple clamps fade the smile quickly are tied to her arms in front. A 50-pound weight keeps her from lifting them up to keep pressure off her clamps. This alone would make for a challenging time but I have a special surprise for Hannah. A 10-pound weight is placed in her hands and tied to her nipple clamp rope. The effect is immediate and the consequences are clear.