Raven vs. Hardcore Ballet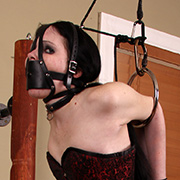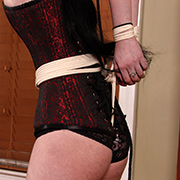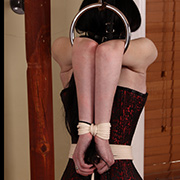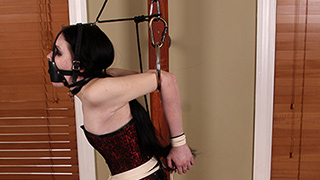 There's no doubt that Raven can walk in ballet boots as if she was wearing pumps. Unfortunately for her there's always a way to make easy tasks difficult. With the heel stems removed from her boots there's no extra support to lean on. To ensure she stays on her toes as she should, her arms are pushed through a suspension ring. A crotch rope is added and tied off to her wrists. Once I pull the rope pulley tight she's high on her toes. Any slack in her posture goes right to her crotch rope. Despite her predicament, she stands strong on her toes. Crotch ropes tend to incentivise well. It does beg the question, does she need both sets of toes on the ground?

Kaylee vs. Pole Orgasms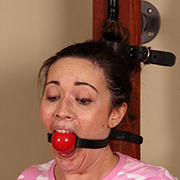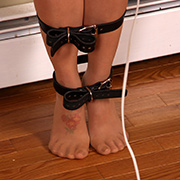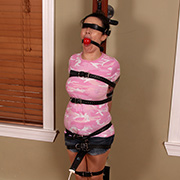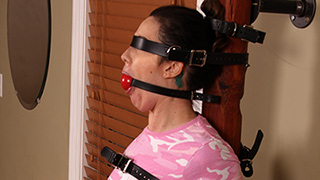 Belts cover Kaylee's body, holding her tight to the wooden pole. She tries to figure out what is next, the anticipation is killing her. She doesn't have to wait long. With her hair tied above her the heels come off leaving her on her toes. Kaylee can't even relax a tiny bit without something in her binds reminding her it's a bad idea. Drool flows from her mouth freely now as she's given up all hope of preventing it. When the magicwand is finally introduced she's got nothing left. Her will to resist is long shattered and all that is left is endless orgasms.

SB Challenge: Lucy's Workout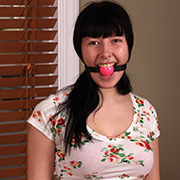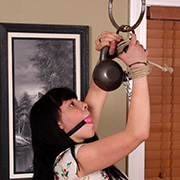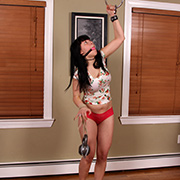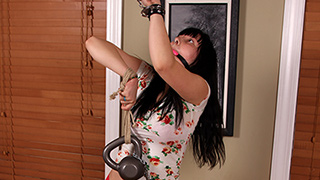 To the casual eye Lucy's self-bondage seems simple; easy to escape from. One hand is tied to a kettle weight (15lbs, 6.8kg) while the other is handcuffed above her to a steel ring. A short chain keeps her key to freedom attached to the weight. A simple matter of holding the weight above her head while using fine motor skills to unlock herself. Lucy even convinced herself the task was too easy. That she'd not only escape but do so in record time. The beads of sweat covering her face after ten minutes tell a different story. Her arm is now exhausted from dozens of failed attempts. Even in rest, her predicament takes its toll as the weight sits inches away from the floor. Lucy's body and arms in a constant pull. By fifteen minutes, her attempts are far more sporadic. I won't be long before fatigue leaves her completely helpless.

TripSix vs. The Trip Tiedown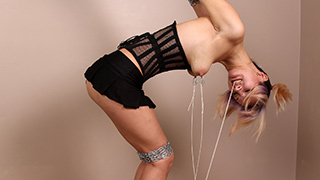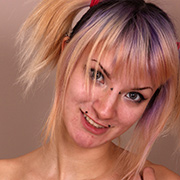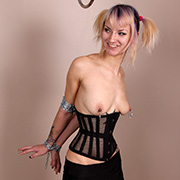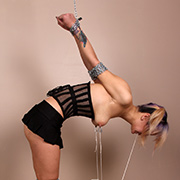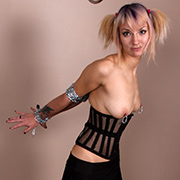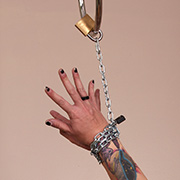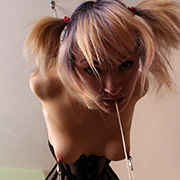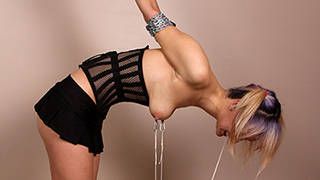 When TripSix's arms were locked into a strappado I could understand her sigh of relief. Standing in very high heels, chains locked around her legs, elbows, and wrists. It was easy to assume the strappado was the last of her bondage. Her delusions of a cakewalk were dashed as strands of string were tied to her nipple and tongue rings. With the excess looped around a kettle weight I gave all three strings a good tug. Involuntarily, she crouched to take the pressure off while simultaneously sealing her fate. In an instant TripSix finds her strappado far more strict, her knees bent, and unable to stand without trying to life a 15lb weight with her nipples. It's not long before her legs quiver from strain. Beads of sweat start to surface and to think, it's only been two minutes.

London vs. The Deep End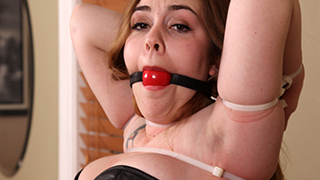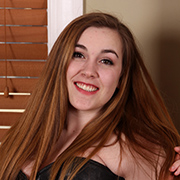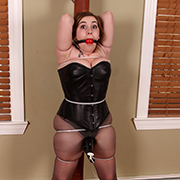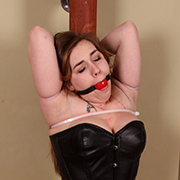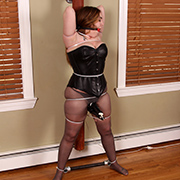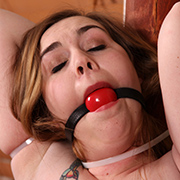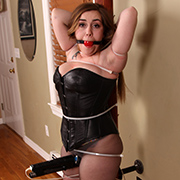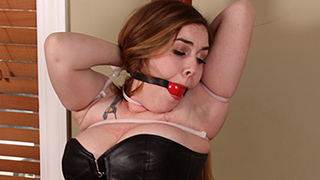 To the uninitiated, the idea of forced orgasm seems impossible. The idea of not wanting more orgasms is even more foreign. So when London says she's up for anything I push her right into the deep end. Zipties are pulled tight from head to toe making her part of the pole she's tied to. She's well aware of the wand between her legs positioned so she can just barely escape it's vibrations if she really tries. After testing her bonds for a bit I give London a taste by switching the wand on. Her reaction is immediately followed quickly by her first orgasm. By her second she was up on her toes trying to escape. Her muscles can't last long so my hand thumbs the switch, only this time setting it to high.