Hazel vs. A Tight Spot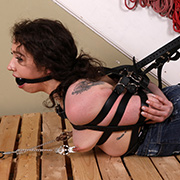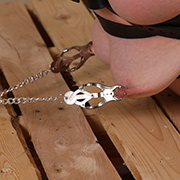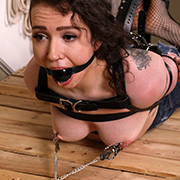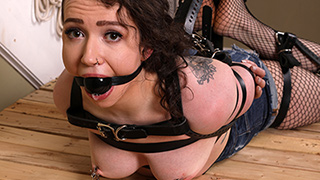 You would have hard-pressed to find a challenge for Hazel that she wasn't up for, let alone eager to try. Today was no exception as I had quite a predicament for her. Using some belts I rigged her arms into a tight boxtie and chest harness. A few more to keep her legs secure to the table and a ballgag and she was ready for the main event. A fresh pair of clover clamps took firm hold of her defenseless nipples; the chain connected to an eyebolt in front of her. Drool already flowing around her gag I had one last trick up my sleeve. One final strap connects her chest harness to a pole behind her and is pulled tight. As it pulls her torso back the nipple clamps are made taught. Any struggle is painfully discouraged in her new predicament.

Joy vs. Push & Pull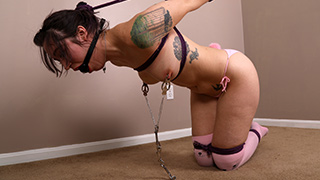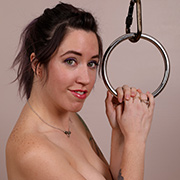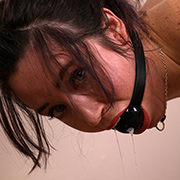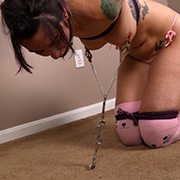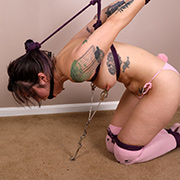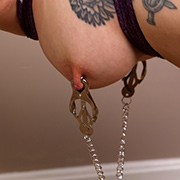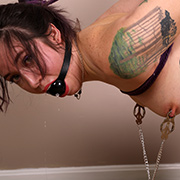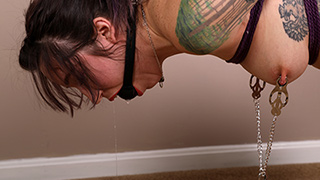 There probably isn't any bondage that Joy wouldn't enjoy. Suggesting a predicament, however, will get her to do anything. For this adventure, she starts off with a strappado and light chest harness to keep her semi-suspended. The real fun starts when the nipple clamps go on and are connected to a floor anchor without any slack. It doesn't take long before her arms want a break and she instinctively pulls up only to be sharply pulled back down. Joy eventually gets frustrated and tries to pull off the clamps to end her torment but finds she doesn't have the leverage, only a painful lesson is gained.

Sage vs. Her Slow Grind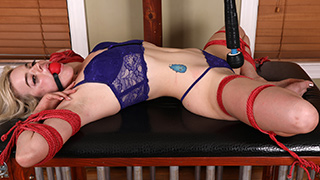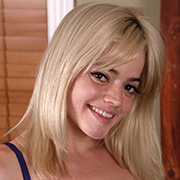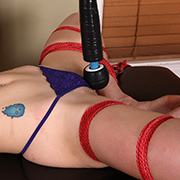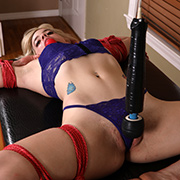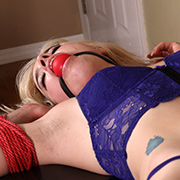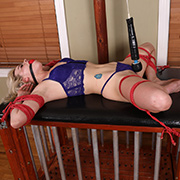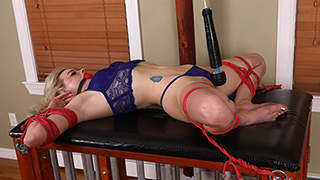 The vibration of the magicwand can bring a woman to ecstasy with ease. Unlike its brethren which rely on batteries, the wand uses wall power to ensure it goes as long as you need. Writhing in her ropes Sage bucks and thrusts for the wand between her legs with aching need. Unfortunately for Sage vibration alone won't give her what she wants. Pressure is the missing factor in her predicament. Without it all the wand will do is drive her into a frenzy with no relief. The good news is without batteries she'll have all night to try.

Jane vs. Her Wish List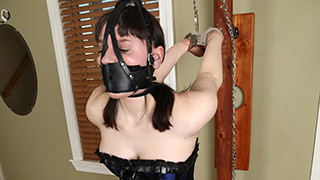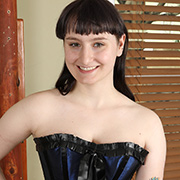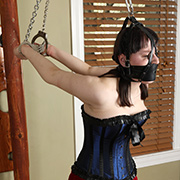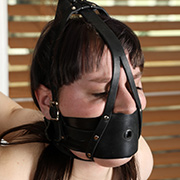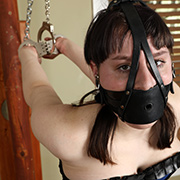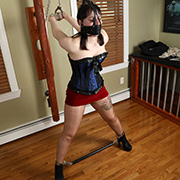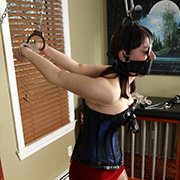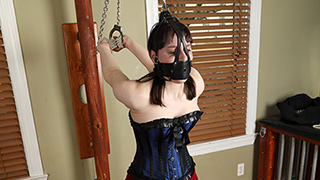 Sometimes it's nice when someone else comes up with the ideas. As it was Jane's first visit I wasn't sure what to expect but she sure did. Prepared with a list of torments she wanted to be subjected to I certainly wasn't going to object. Looking through her list a plan quickly started to form. Tape gag, handcuffs, spreader bar, strappado, and predicament bondage seemed a good place to start. Excited with nervous energy, Jane could hardly contain herself as I laid out the gear. The real question is how will she feel once she's been in her predicament for a while.

Rachel vs. Her Aching Knees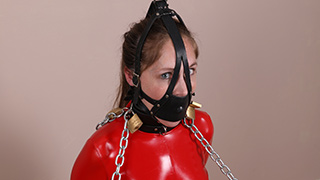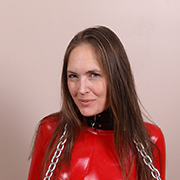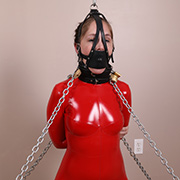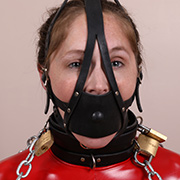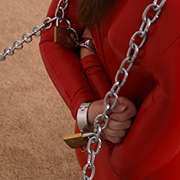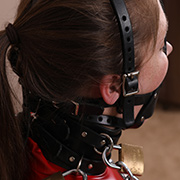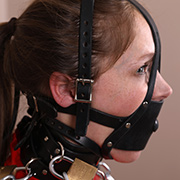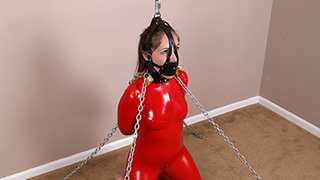 There are many ways to describe Rachel's predicament but sucks encompasses it quite well. Chained from her neck to the floor and chained to the ceiling by her muzzle harness and already she's in trouble. Further securing her legs to the floor and arms behind her back she has the look of a slave at attention. What appears as first as attempts to find a comfortable position are her attempts to get free. With every chain pulling her in a different direction nothing is comfortable and everything aches.