Jane vs. Electron Fun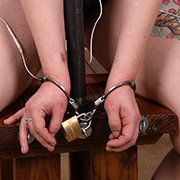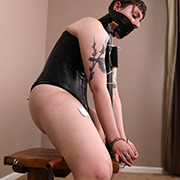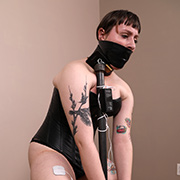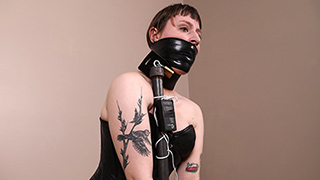 While I'm certain that Jane would have been fine with being tied up with a vibrating wand all day she needed a little variety. I felt she needed something to keep her on her toes. A copper bar under her butt should have the desired effect. She's a tough girl so it took setting the power to 70% to get her moving. After some endurance trials, I eventually left it on random. Every few seconds Jane is compelled to try to avoid the copper bar. If only her handcuffs and collar weren't holding her down.

Rachel vs. A New Deal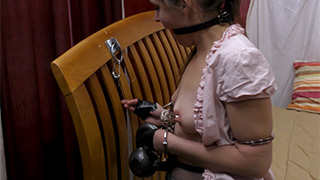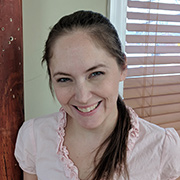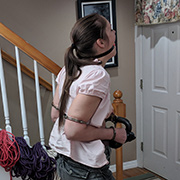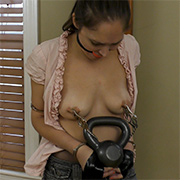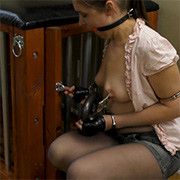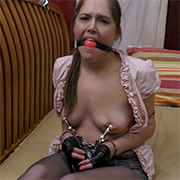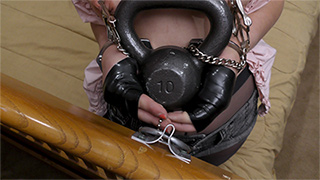 After losing a bet Rachel agreed to stay bound for 10 minutes in a predicament of my choosing. While putting Rachel in bondage is always fun, I wanted to spice it up. A little game of find the key would do the trick. I didn't want her to find it too fast so I needed a way to slow her down. With her elbows and wrists cuffed I added clover clamps to her nipples, threaded through a 10-pound weight. In order to search for the key, she'll need to carry it around with her. After telling Rachel she has to find the keys to escape instead of a countdown she wasn't happy. I reminded her she wasn't in a position to argue and to stop complaining lest I alter the deal further.

Joy vs. Her Tiptoe Plight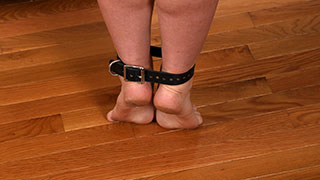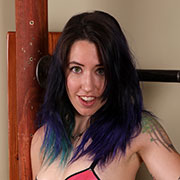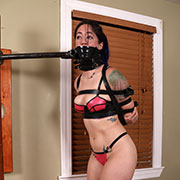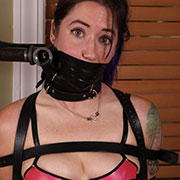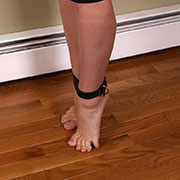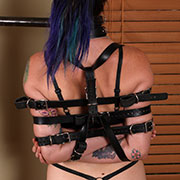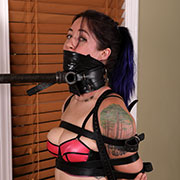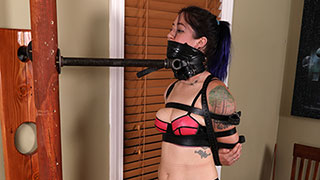 From a list of bondage ideas, Joy will always pick the most difficult. Knowing this I always make sure I have plenty in my back pocket for her visits. Today's rig starts easy enough with a boxtie using leather belts. A tape gag covering her mouth a thick leather collar is tightened around her neck. Nearby a metal pole sits at eye level for Joy which makes for a perfect point to strap her collar too. She's forced to go high on her toes to keep the pressure off her neck. Additional straps on her legs make balancing a challenge but that's what Joy loves. Now it's just a waiting game; how long can she hold out?

Hazel vs. A Tight Spot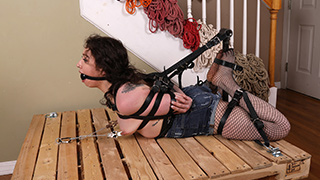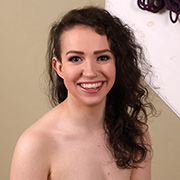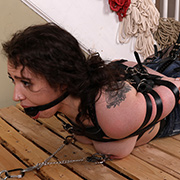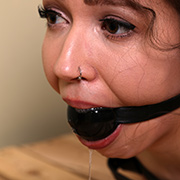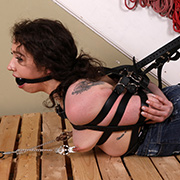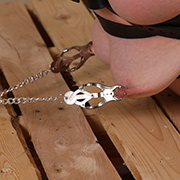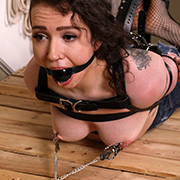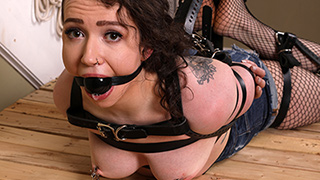 You would have hard-pressed to find a challenge for Hazel that she wasn't up for, let alone eager to try. Today was no exception as I had quite a predicament for her. Using some belts I rigged her arms into a tight boxtie and chest harness. A few more to keep her legs secure to the table and a ballgag and she was ready for the main event. A fresh pair of clover clamps took firm hold of her defenseless nipples; the chain connected to an eyebolt in front of her. Drool already flowing around her gag I had one last trick up my sleeve. One final strap connects her chest harness to a pole behind her and is pulled tight. As it pulls her torso back the nipple clamps are made taught. Any struggle is painfully discouraged in her new predicament.

Joy vs. Push & Pull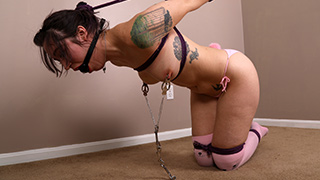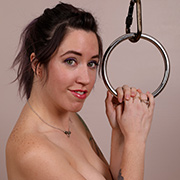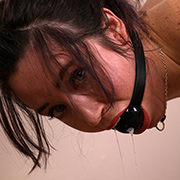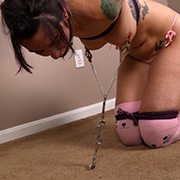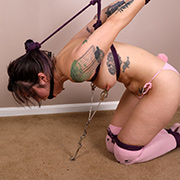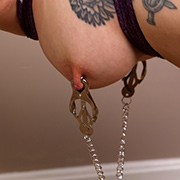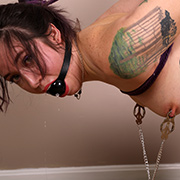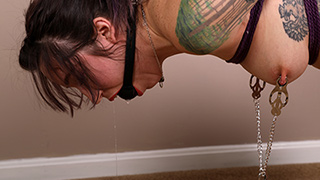 There probably isn't any bondage that Joy wouldn't enjoy. Suggesting a predicament, however, will get her to do anything. For this adventure, she starts off with a strappado and light chest harness to keep her semi-suspended. The real fun starts when the nipple clamps go on and are connected to a floor anchor without any slack. It doesn't take long before her arms want a break and she instinctively pulls up only to be sharply pulled back down. Joy eventually gets frustrated and tries to pull off the clamps to end her torment but finds she doesn't have the leverage, only a painful lesson is gained.