SB Challenge: Peach's Attempt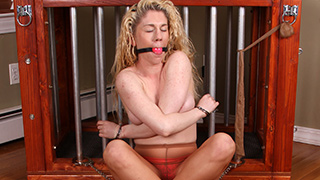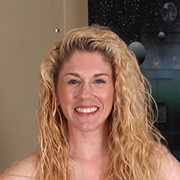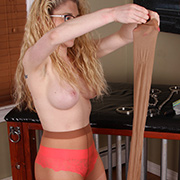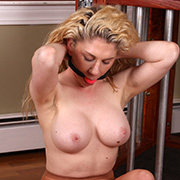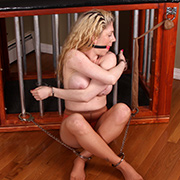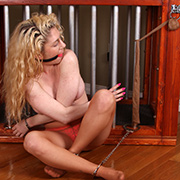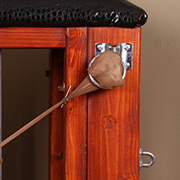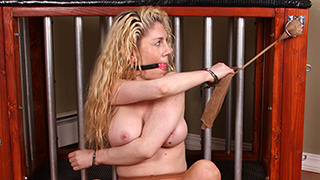 Peach seems to be taken with self-bondage and can't wait to jump into another challenge. The task before her is one that Abby attempted a few years ago but didn't end well for her. Peach thinks she can do better and willing to put her freedom at stake to prove it. Within minutes of locking herself up, it is clear that she used far too much ice. Unaware that even one cube of ice at room temperature can take over an hour to melt, the eight she used might be overkill. A fact that soon realizes within minutes. Knowing she's set herself up for several hours of uncomfortable struggling she can't help but panic a bit. Peach pulls on her pantyhose release harder and harder. Will she suffer the same fate as Abby?

Peach vs. The Mystery Button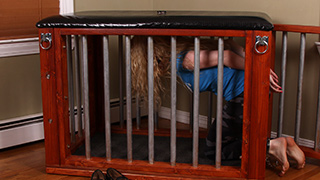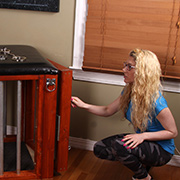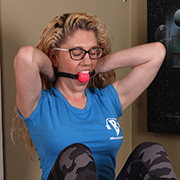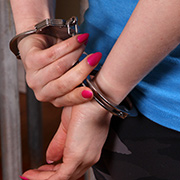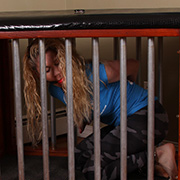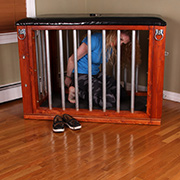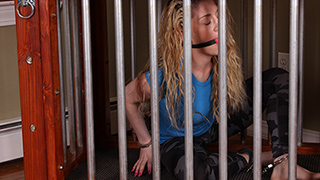 Getting stuck in self-bondage is easy enough to do even when you're prepared. Not knowing the toys you're using inside out is almost a guarantee as Peach soon learns. While spending the night she gets a little bored and decides to pass the time with the cage. Not knowing it was secured with a magnetic lock she unwittingly turns it on while pressing buttons on the remote. Unfortunately for her, Peach doesn't realize this until after she closes the cage door. Cuffed hand and foot with a ballgag in her mouth it comes as quite a surprise when she finds it doesn't open. If she can't figure a way out, she'll be spending the night in there.

SB Challenge: Faith's Karma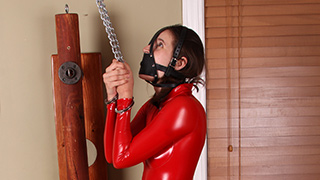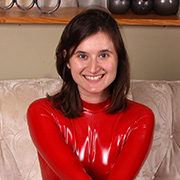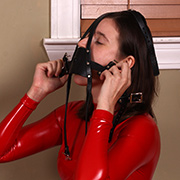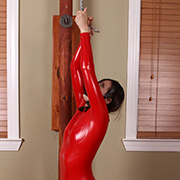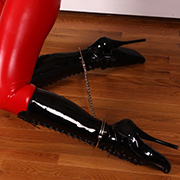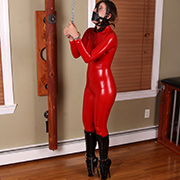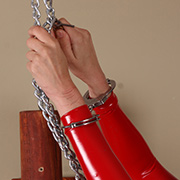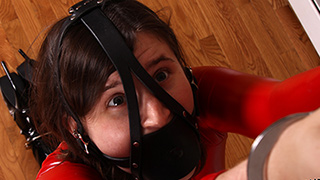 Having never stood in ballet boots she should have been a bit more wary. Turning down the challenge wasn't an option though. With a red catsuit she set to do her best. Putting on a panel ballgag first she then cuffs her hands and feet. The last is to secure her hands to the chain hanging above. If she stands in the boots she can reach her key and combination lock holding it in place. It's often been said that cheaters never win. So when Faith accepted her challenge and it proved a bit too difficult she started to get a desperate. Unable to figure out the combination she tries cheating by using the key before it's unlocked. When her legs give out and the key is stuck in the hole, disaster follows.

SB Challenge: Kaecie's Risky Tie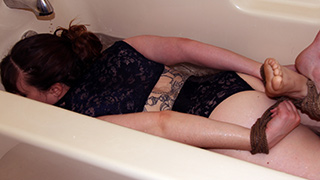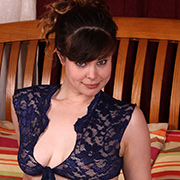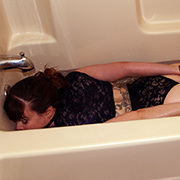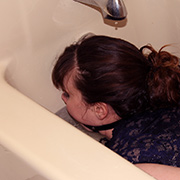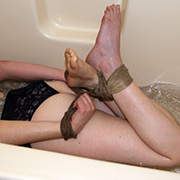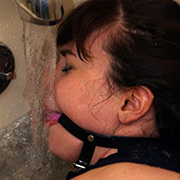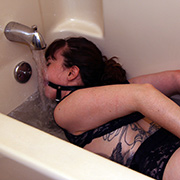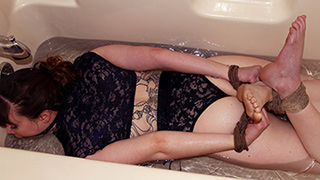 Kaecie is no stranger to challenging self-bondage adventures. For this challenge, she's asked to try something she's always wanted to try but never wanted to risk it. On the surface it seems simple enough, just a ballgag and a rope hogtie. It's a tie she's escaped from before although with a fair amount of effort. What makes this special is she's doing it in a bathtub with a rising level of water. Making sure her scissors are handy she cinches the last knot. With the water halfway up she gives everything a test to make sure she's secure before a much-needed escape. Despite her planning and skill, there's a reason self-bondage is dangerous. First, her scissors fall with her hogtie preventing her from reaching them under the water. Her attempts to do so only manage to soak her ropes causing them to cinch up tight. Realizing the dire situation she's in she looks for help. Kaecie is reminded, like all self-bondage challengers, I'm there to keep her safe and not to set her free. Where's the challenge in that?

SB Challenge: Rachel's Leg Stand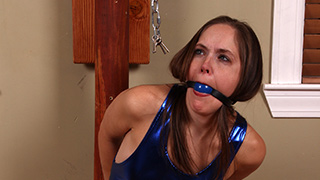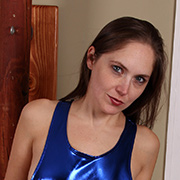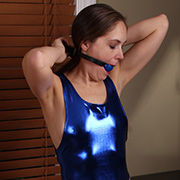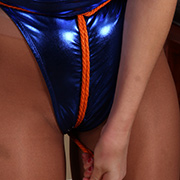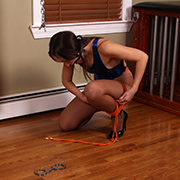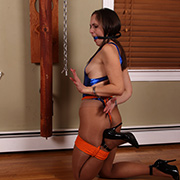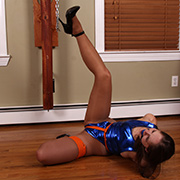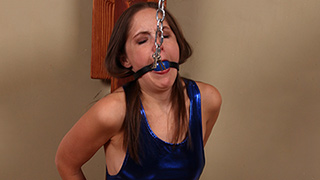 Normally Rachel would vet her self-bondage adventures but this one seemed too easy. With the keys suspended nearby and her toys nearby she set about putting herself in bondage. Instead of both legs frogtied the challenge only called for one. To get free she just needed to stand on her unhindered leg and get easy access to the keys. Her challenger knew what they were setting her up for and as Rachel found out, she was quite stuck. Even with a leg free it was nearly impossible to stand up. Especially with her other leg effectively a dead weight throwing her off balance. Desperate the falls to her back hoping to tease the key free with the heel of her shoe. She knew she should have been more careful after getting stuck the last time. With nobody expected to stop by for hours, she'll have plenty of time to learn from her mistake.