SB Challenge: Faith's Karma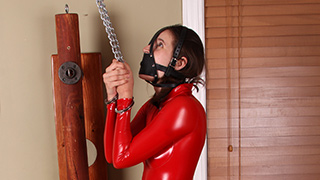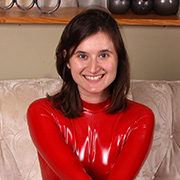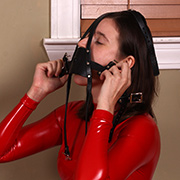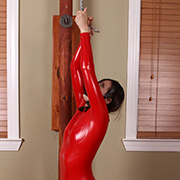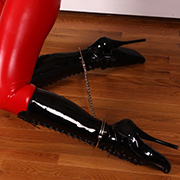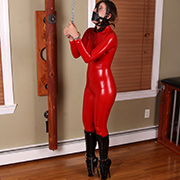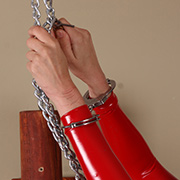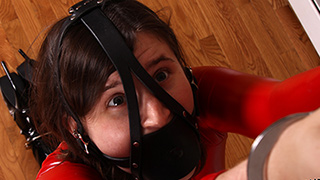 Having never stood in ballet boots she should have been a bit more wary. Turning down the challenge wasn't an option though. With a red catsuit she set to do her best. Putting on a panel ballgag first she then cuffs her hands and feet. The last is to secure her hands to the chain hanging above. If she stands in the boots she can reach her key and combination lock holding it in place. It's often been said that cheaters never win. So when Faith accepted her challenge and it proved a bit too difficult she started to get a desperate. Unable to figure out the combination she tries cheating by using the key before it's unlocked. When her legs give out and the key is stuck in the hole, disaster follows.

SB Challenge: Kaecie's Risky Tie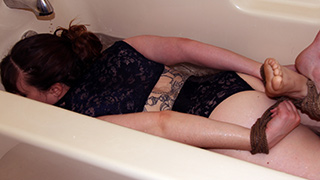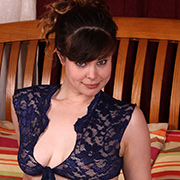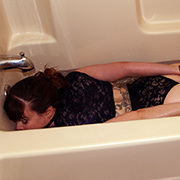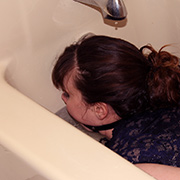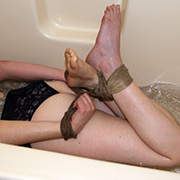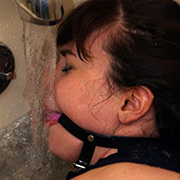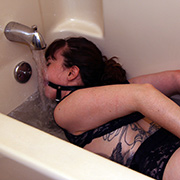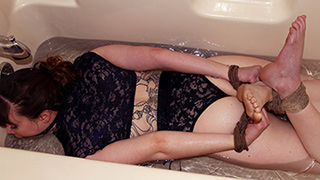 Kaecie is no stranger to challenging self-bondage adventures. For this challenge, she's asked to try something she's always wanted to try but never wanted to risk it. On the surface it seems simple enough, just a ballgag and a rope hogtie. It's a tie she's escaped from before although with a fair amount of effort. What makes this special is she's doing it in a bathtub with a rising level of water. Making sure her scissors are handy she cinches the last knot. With the water halfway up she gives everything a test to make sure she's secure before a much-needed escape. Despite her planning and skill, there's a reason self-bondage is dangerous. First, her scissors fall with her hogtie preventing her from reaching them under the water. Her attempts to do so only manage to soak her ropes causing them to cinch up tight. Realizing the dire situation she's in she looks for help. Kaecie is reminded, like all self-bondage challengers, I'm there to keep her safe and not to set her free. Where's the challenge in that?

SB Challenge: Rachel's Leg Stand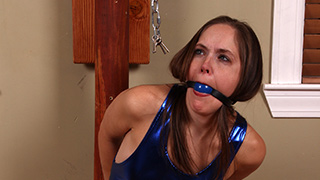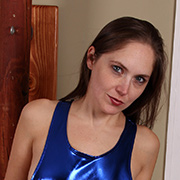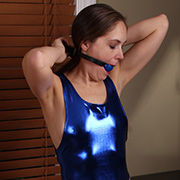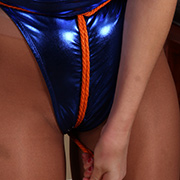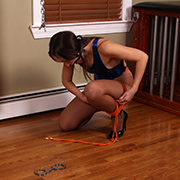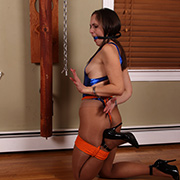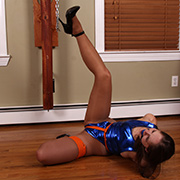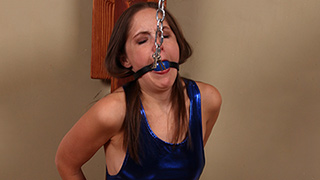 Normally Rachel would vet her self-bondage adventures but this one seemed too easy. With the keys suspended nearby and her toys nearby she set about putting herself in bondage. Instead of both legs frogtied the challenge only called for one. To get free she just needed to stand on her unhindered leg and get easy access to the keys. Her challenger knew what they were setting her up for and as Rachel found out, she was quite stuck. Even with a leg free it was nearly impossible to stand up. Especially with her other leg effectively a dead weight throwing her off balance. Desperate the falls to her back hoping to tease the key free with the heel of her shoe. She knew she should have been more careful after getting stuck the last time. With nobody expected to stop by for hours, she'll have plenty of time to learn from her mistake.

Sammi vs. An Introduction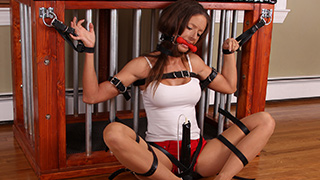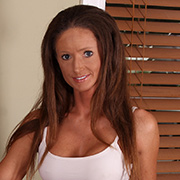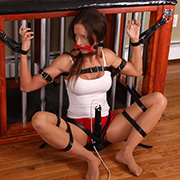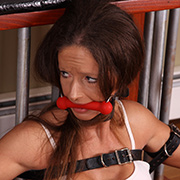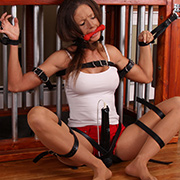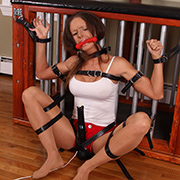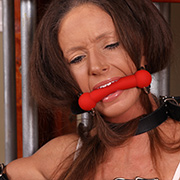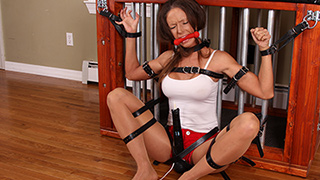 It's not uncommon for a girl to come across the fantasy of bondage and want to know more. Sometimes it's a little self-bondage or a pair of fuzzy handcuffs. In Sammi's case, she dove in head first wanting it all. Belts secure her limbs one by one, each one backing up the other ensuring there is no getting free. The magicwand is added as a bonus. Nothing like a little positive reinforcement to ensure she stays hooked forever. Even on low, it's obvious the effect it's having on her. Despite the heavy breathing, it's obvious she's not looking to be released anytime soon.

SB Challenge: Gmoras's Ball Tie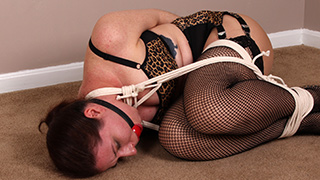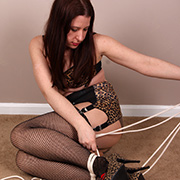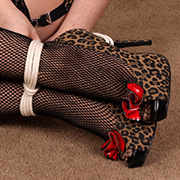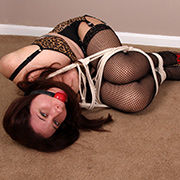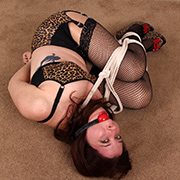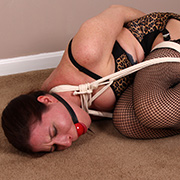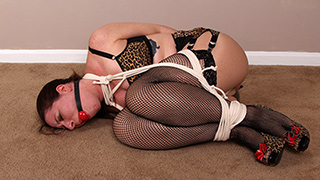 Self-bondage guru Gmoras stops by to try another self-bondage challenge. A ball tie is on the menu for today and a predicament she's never tried before. Strapping her gag in she doesn't think twice as she flings her escape key across the room. Taking her time with her ropes, Gmoras makes sure everything is tight and secure. While she hopes to escape, doing so from poor rigging is paramount to cheating. The final step has her slip her hands into steel handcuffs with a long trek to her key. It's obvious from the grunts and groans she would have appreciated a more conservative key toss. Just like a turtle, her slow and steady persistence will hopefully get her free.