Kaecie vs. Her Nipple Tether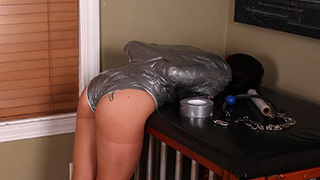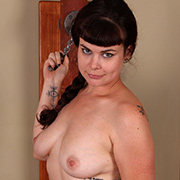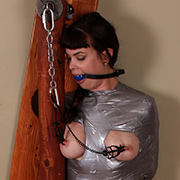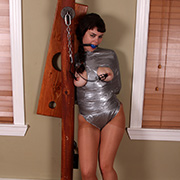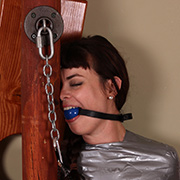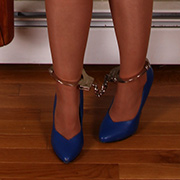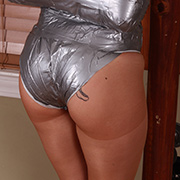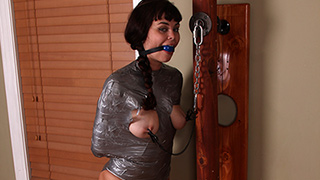 In this week's extra large update Kaecie wrapped in a special leotard made of duct tape. The leotard only comes in an armless model but a special feature is her breasts are left exposed for breathability. At least that's what she was told. Once her outfit is complete the real fun begins a ballgag and her creative ability to escape. To prevent her from getting too creative and actually escaping a set of nipple clamps keeps tethered down. Never one to give up though, Kaecie manages to pull one of her clover clamps off and even rips some of her duct tape with her freedom. Not to worry, they are easily reattached with a zipties to be extra sure they won't go anywhere again. Now it's just a waiting game to see if she manages to get free or her legs tire out. Certainly a situation her tormented nipples will object to.

SB Challenge: Kaecie's Risky Tie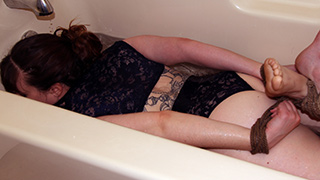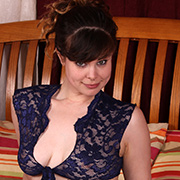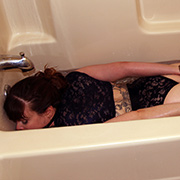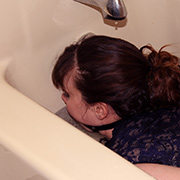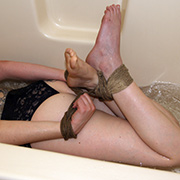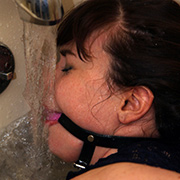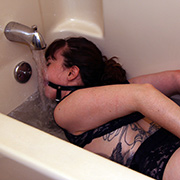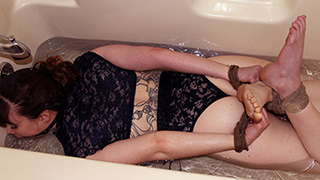 Kaecie is no stranger to challenging self-bondage adventures. For this challenge, she's asked to try something she's always wanted to try but never wanted to risk it. On the surface it seems simple enough, just a ballgag and a rope hogtie. It's a tie she's escaped from before although with a fair amount of effort. What makes this special is she's doing it in a bathtub with a rising level of water. Making sure her scissors are handy she cinches the last knot. With the water halfway up she gives everything a test to make sure she's secure before a much-needed escape. Despite her planning and skill, there's a reason self-bondage is dangerous. First, her scissors fall with her hogtie preventing her from reaching them under the water. Her attempts to do so only manage to soak her ropes causing them to cinch up tight. Realizing the dire situation she's in she looks for help. Kaecie is reminded, like all self-bondage challengers, I'm there to keep her safe and not to set her free. Where's the challenge in that?

Kaecie vs. The Card Game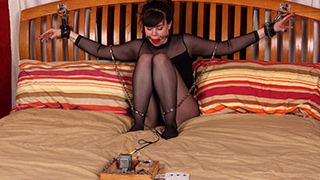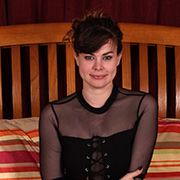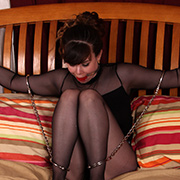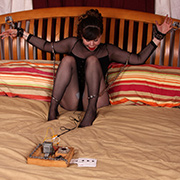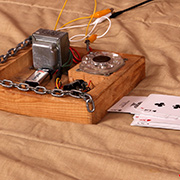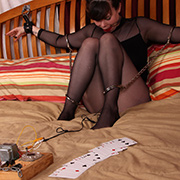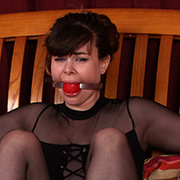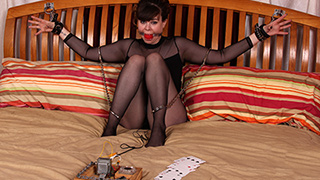 With Kaecie feeling a little frisky and in the mood for a game I had a perfect idea. Digging in the closet I pushed past the board games and grabbed a device that has not seen daylight in over 20 years. Getting her locked to the bed and properly gagged was step one. If memory served correctly she would need it. With a jumble of ancient electronics and wires being connected to her, she was getting pretty nervous. Once everything was set up the game was simple. I would draw cards from the deck and turn the rotary dial from an old telephone based on the value of the card. Each pulse from the dial would give a brief but powerful shock. Now Kaecie just has to make it through a whole deck.

Kaecie vs. Blue Struggles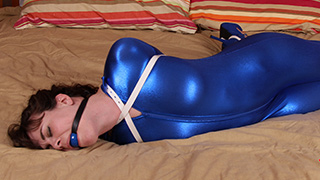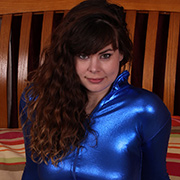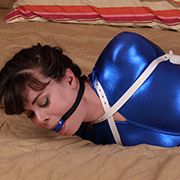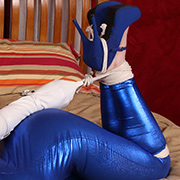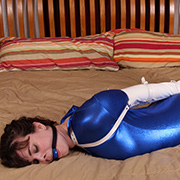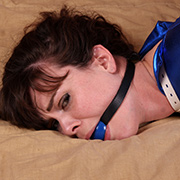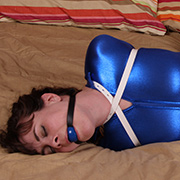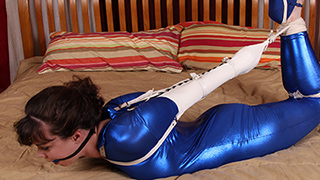 Cinching Kaecie's armbinder her elbows touch with ease as the laces pull close. Her gag is another matter as the 2" ballgag barely fits behind her teeth. Once it's popped into place, she's unable to push it out but still strapped in just to be sure. The rope keeps her legs cinched tight right down to her heels. A final rope brings her into a hogtie and where she'll be spending some quality time.

Maggie vs. Kaecie's Toys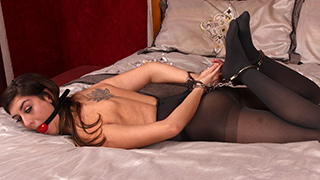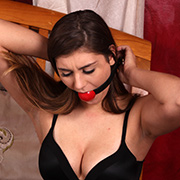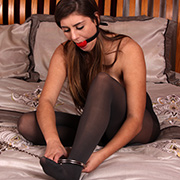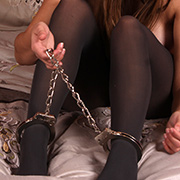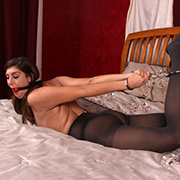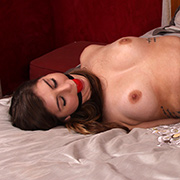 Looking for her hair brush Maggie finds it in her roommate's room but not before her foot finds her bag of toys. Looking through the bag she starts to figure out what her roomie is doing with the door locked. Curious what could be so entertaining she used the pictures in the magazines to put herself into a hogtie. Struggling and giggling behind her gag Maggie starts to see how her roommate enjoys being tied up. Still, after a few more minutes she decides it's time to get free and goes for the keys. In her eagerness, they go flying off the bed stripping away all fun she was having. Her luck really turns sour when her roommate shows up and she doesn't sound happy.