Billie vs. Her First Strappado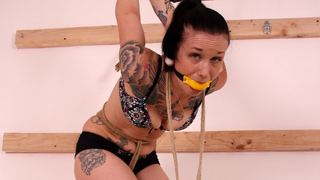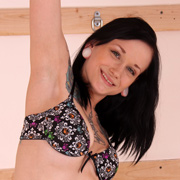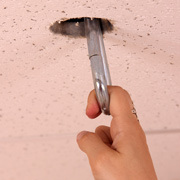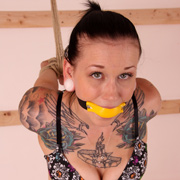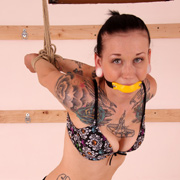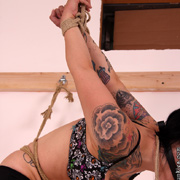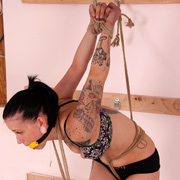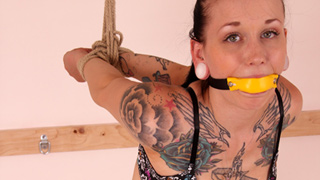 When Billie asked what a strappado was I would have told her but thought it would be much for enjoyable to show her. With a a new hardpoint installed and rope in hand I led her to the basement for one some one on one instruction. I start by pulling her arms up high and let her feel things out. Not surprisingly she took to her first lesson like a champ. So well in fact I skipped to the next lesson and added a tight crotch rope tether. Moaning an tugging at the ropes, her helplessness was truly sinking in. For the final lesson I tie her legs together and around her neck forcing her arms up even higher. Balance is difficult now but lucky for Billie, that strappado will hold her up until at least the end of the lesson. Maybe longer.

Billie vs. Attempted Orgasms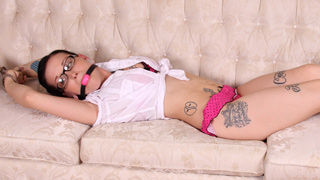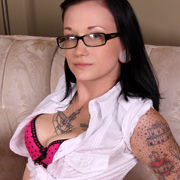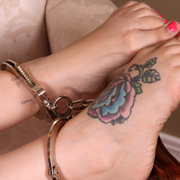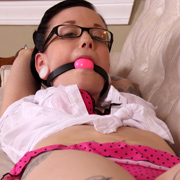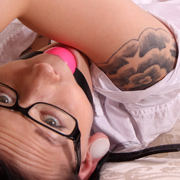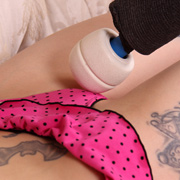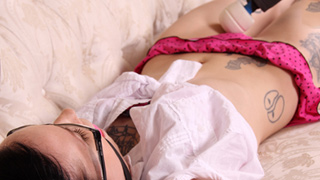 When Billie asked if she could try her hand at self-bondage I was curious to see where things would go. I half expected an easily escapable bind but Billie had a plan in mind. With a few sets of handcuffs she had herself locked tightly to the couch with no hope of getting free. I could tell she was quite pleased with herself as she enjoyed her handywork. Working herself into a frenzy I could tell exactly what she really wanted. Mounting the magic wand to a pole I positioned it inches above her bikini bottoms. Billie moans in frustration as she tries to find the strength to keep her pussy pressed against the vibrations while the cuffs pull her back down. Somehow I think she is going to find a way to get it no matter how long it takes!

Billie vs. The Window Decoration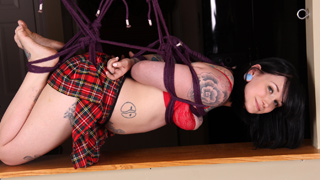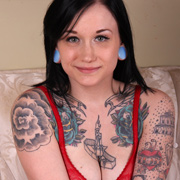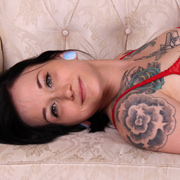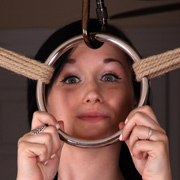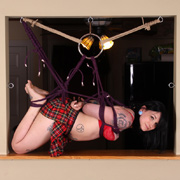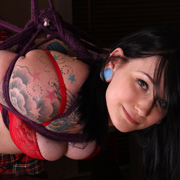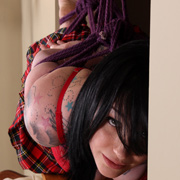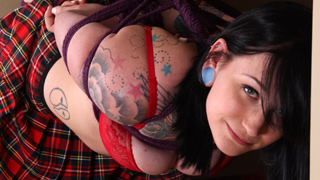 Decorating has never been a strong suit; too many colors and patterns to pick from. So sticking to what I know, I grabbed some rope and Billie for some project time. It wasn't long before she was swinging free and completely helpless. For being such a good sport, I reward her with some time with the Hitachi Magic Wand. Watching Billie sway in the ropes from the waves of pleasure I think I missed my calling. Maybe I should have been a decorator!

Billie vs. The Workout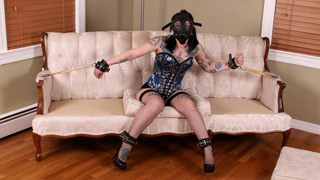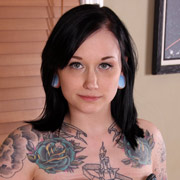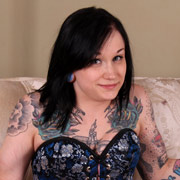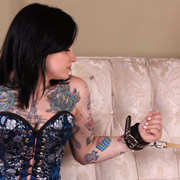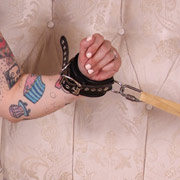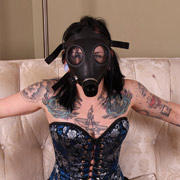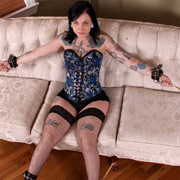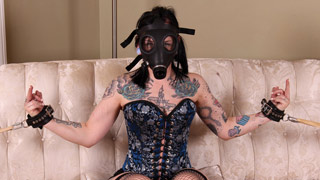 From the moment her overconfident wry smile appeared I knew I was about to have some fun. Once Billie found out she was going to get bound with rubber bands escape was a given for her. Playful tugs progressed into concerned yanks as the unrelenting rubber splayed her arms apart over and over and over. With her breathing already elevated I slipped a gasmask over her head forcing her to concentrate on her breathing. As the minutes pass so does the strength in her arms. Poor, poor Billie.

Billie vs. The Orgasm Pole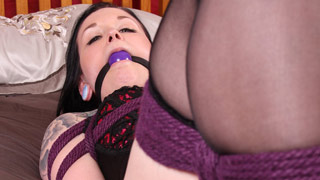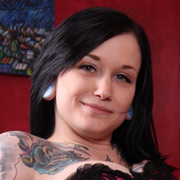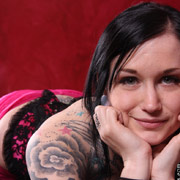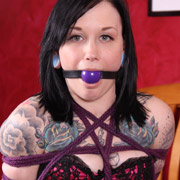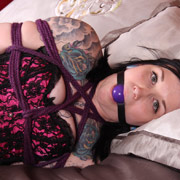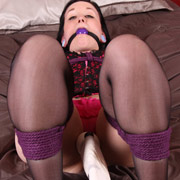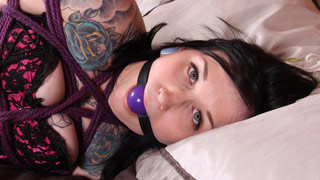 Billie is a girl who knows what she wants and after a while in my ropes it was an orgasm! I did after all promise one but never really said how. She wasted no time squirming her way to the pole waiting for me to turn it on. One does not simply get tired of watching a bound girl writhe against a vibrator. After her climax she remembered the other part of our deal. For every orgasm was another 30 minutes bound which sends her trashing hopelessly against the tight ropes.