Stasha vs. The Job Offer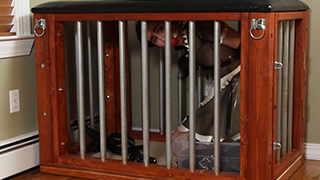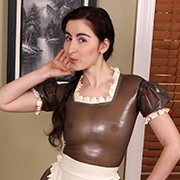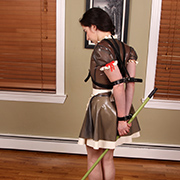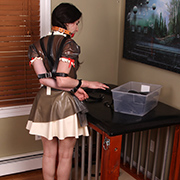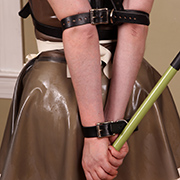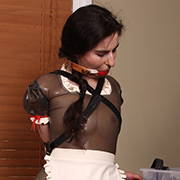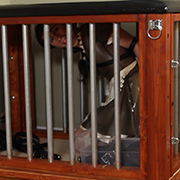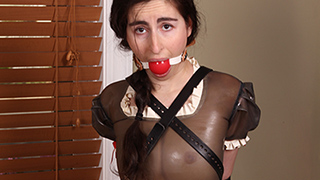 With the staff turnover in the cleaning industry being so high, we soon found ourselves looking for another maid. Stasha is excited at first when she sees her outfit, but is a bit skeptical of the bondage requirement. Needing the job she decides to at least give it a try, allowing her arms and legs to be bound in belts. To her surprise it wasn't that difficult to sweep the floor with her bondage. Feeling confident, she agrees to continue and is gagged for her last test. Focused on the job at hand while trying not to fall over, Stasha tries to reach the final belts in the cage. She doesn't notice the door shutting in time, locking her in. She had already got the job, whether she wanted it or not.

SB Challenge: Stasha's Key Pickup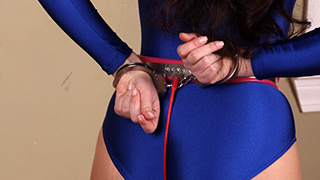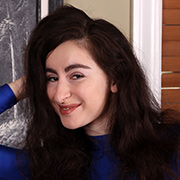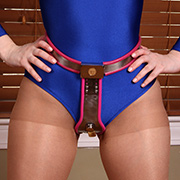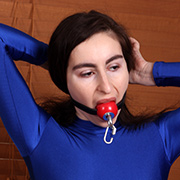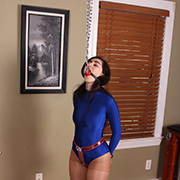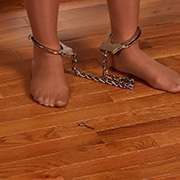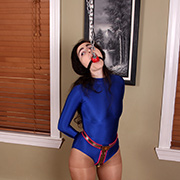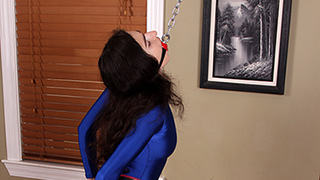 When she read the challenge in her email, everything seemed simple enough. Cuff herself, drop the key, then pick it up with her toes. Once Stasha locked her chastity belt on, her ballgag with an eyebolt was next. Connected to a chain above her, it should be be stuck here until she could get the key. It also served the added benefit of preventing her from looking down. Sliding her handcuffs through the rear wire of her belt, she knew she was locked in. The key drop echoed in the room and she immediately used her feet to find it. Before accepting this challenge Stasha, had practiced - but without pantyhose. After a dozen attempts without a hint of success she knew she was screwed. If only she could see the key...

Stasha vs. A Quick Errand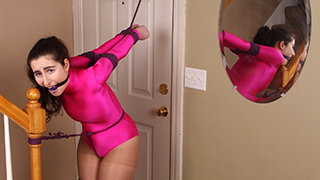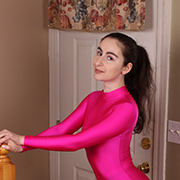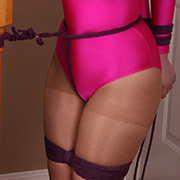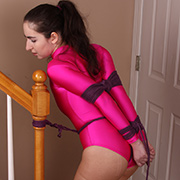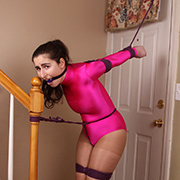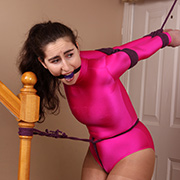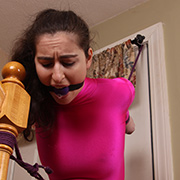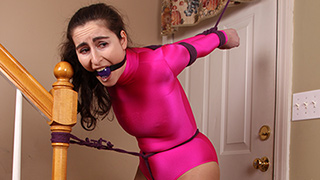 If Stasha wasn't happy about being punished, she got really mad when I had to leave her to run a few errands. Her elbows and wrists tied together, I pulled the rope over the door as I left. Stasha's wasn't too uncomfortable before this, but now she was on her tiptoes. Her predicament had become a balance between pressure on her strappado or crotch rope. Nothing was remotely comfortable. Neighbors go about their business not knowing the significance of the single rope hanging in view. A simple turn of the knob is all she needs to escape, but it is far beyond her reach.

Stasha vs. A Few Buckles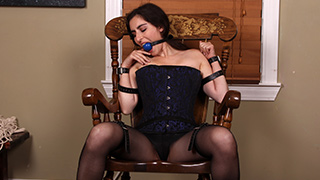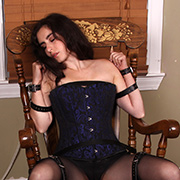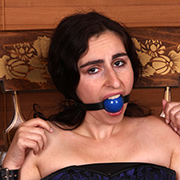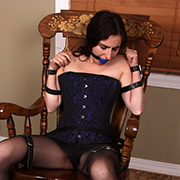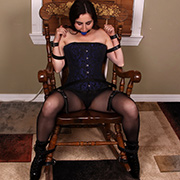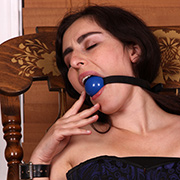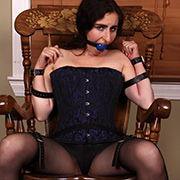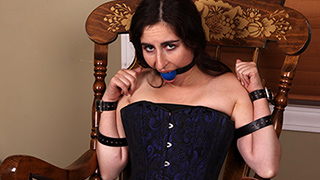 There are few things more sexy than a pretty girl trying to struggle and hardly able to move an inch. Stasha knew the feeling first hand as a dozen buckles froze her arms and legs tight to the chair's spindles. Her pantyhosed legs flexed and strained against the leather but it proved far too strong. Stasha only became more frustrated as she continued to soak her corset with drool. I'm quite certain that what had her so upset was the need for more belts; something I was happy to help with.

Stasha vs. The Gag Leash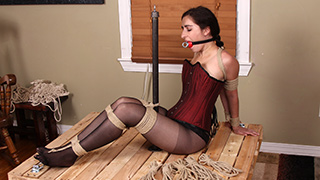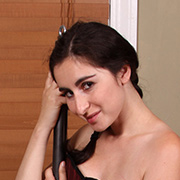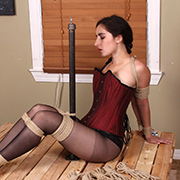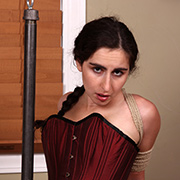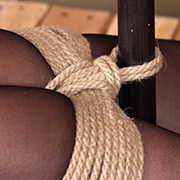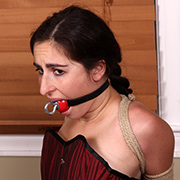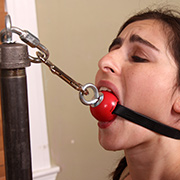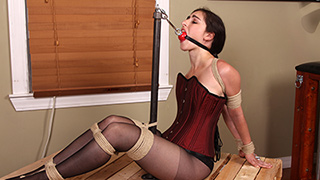 There was no question that Stasha was stuck, but she was far from her limit. Until it was too late she had no idea what the ominous pole between her legs was for. Stasha had assumed it was just to keep her body in place, and it was, but it was also something to connect her gag to. Using a cable tensioner her whole body is pulled tight as each limb is immobilized in its bound position. Try as she might, she can't get herself into a comfortable position now, let alone break free. Even more worrisome for Stasha is that she knows the tensioner can go a lot tighter.