SB Challenge: Rachel's Leg Stand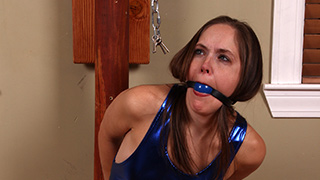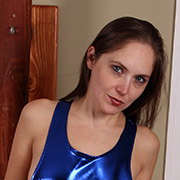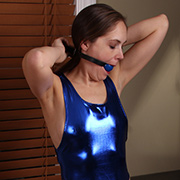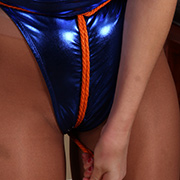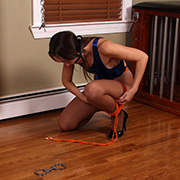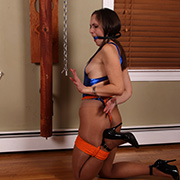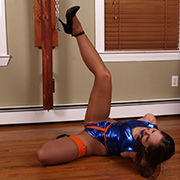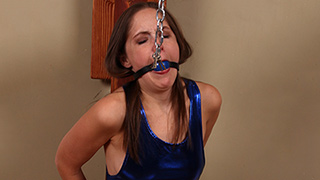 Normally Rachel would vet her self-bondage adventures but this one seemed too easy. With the keys suspended nearby and her toys nearby she set about putting herself in bondage. Instead of both legs frogtied the challenge only called for one. To get free she just needed to stand on her unhindered leg and get easy access to the keys. Her challenger knew what they were setting her up for and as Rachel found out, she was quite stuck. Even with a leg free it was nearly impossible to stand up. Especially with her other leg effectively a dead weight throwing her off balance. Desperate the falls to her back hoping to tease the key free with the heel of her shoe. She knew she should have been more careful after getting stuck the last time. With nobody expected to stop by for hours, she'll have plenty of time to learn from her mistake.

Rachel vs. Counting Seconds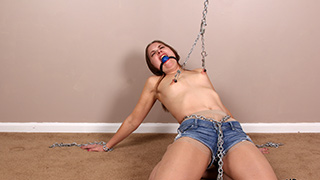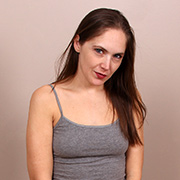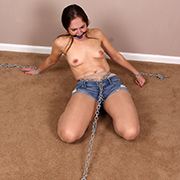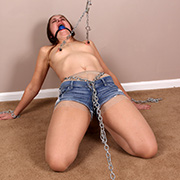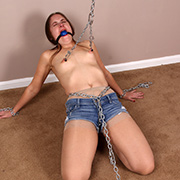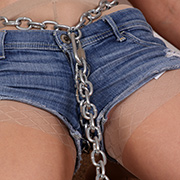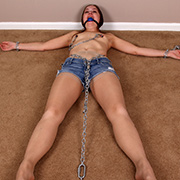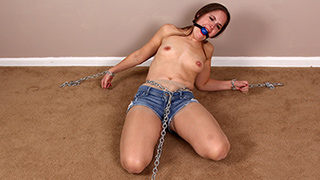 Counting the minutes as I wait for Rachel to arrive it occurs to me that this is a learning opportunity. As she walks through the door 9 minutes late she offers no apology, implying it's a trivial amount of time. Leading her upstairs a few chains short work of her freedom but Rachel was expecting bondage. What she didn't anticipate was the nipple clamps tethered to the ceiling above. The chain is short enough that she much arch her back to keep the pressure off; exhaustion setting in quickly. It's then I let her know that her release will come in 9 minutes. As it's such a trivial amount of time, this should be a piece of cake for her. If I didn't know better though, I'd say she was counting the seconds.

Rachel vs. An Easy Bait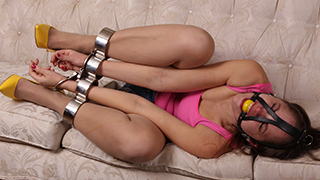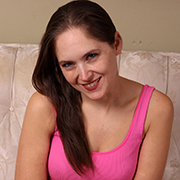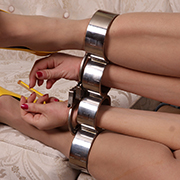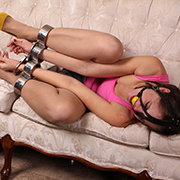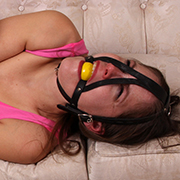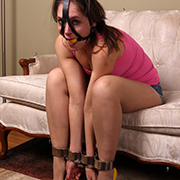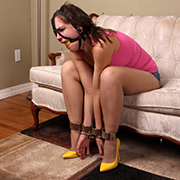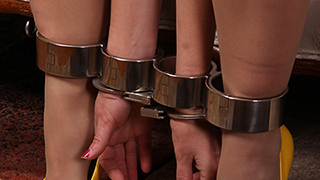 Rachel and I have had plenty of friendly wagers in the past with both winning some and losing some. So when I proposed a wager that she couldn't escape from the steel stocks she didn't think twice. She knew her hands could slide right out of them but unfortunately for her, so did I. Even through her gag I could see her cocky grin dreaming of the moment I would have to pay up. In her distraction, she doesn't notice the addition of handcuffs until it's too late. With them tight around her wrists, she has no hope of slipping out. Confidence switches to dread as she realizes she'll be spending the next several hours bound in this uncomfortable position. Rachel tries to concede hoping for another fate but she knows the rules and I've never bent them yet.

Rachel vs. A Key Too Far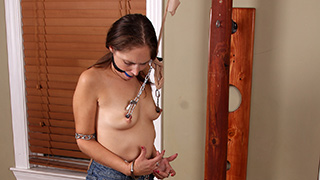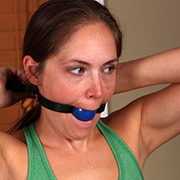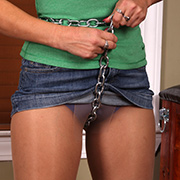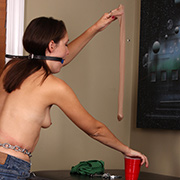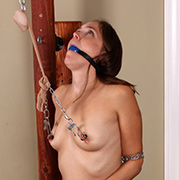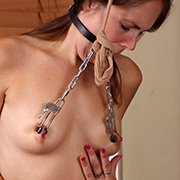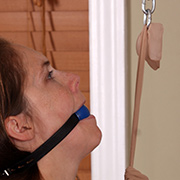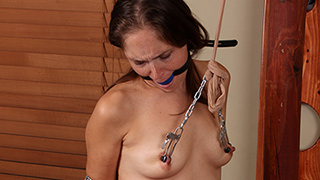 After spending the afternoon reading a number of self-bondage stories Rachel was more than a little turned on. With her boyfriend away the idea of making a video for him started to sound more and more appealing. Not wanting the fun to end too early she figured 3 cubes would be good enough to hold her for 15 minutes. With the camera setup and toys laid out Rachel went for it. The setup was simple. With her nipple clamps tied to the melting ice she'd be unable to reach her keys without the ice melting first. Pulling the clamps off was always an option as well or at least she assumed so. It doesn't take very long for her to get bored and feel the ache in her nipples and jaw. In all her reading it never occurred to her how long ice melts at room temperature. After 90 minutes she's getting a first-hand lesson with plenty more ice to go.

Rachel vs. Her Chastity Tryout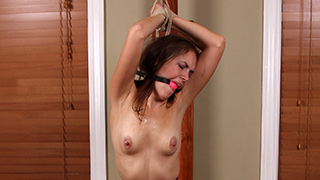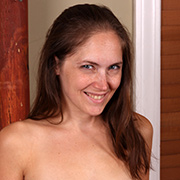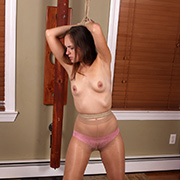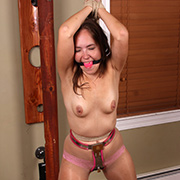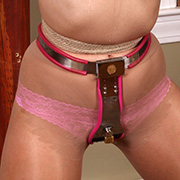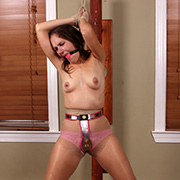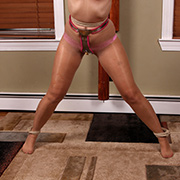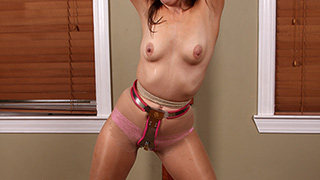 Like with many things in life it can always be worse. Struggling in rope it was clear from her struggling and noise that she wasn't happy with her situation. A ballgag easily took care of that problem but she was still persistent. To give her something to really complain about I brought out a chastity belt for her to wear. Immediately she twisted and turned to prevent it going on. A few tugs of the knots and her legs pulled wide severely limiting her movement and an easy target for the chastity belt. With it locked on she renews her fury to get free but it's no use. While sit back and watch her burn off her frustration I can't help but wonder how she'll react when I tell her how long the belt is staying on.