Rachel vs. A Difficult Arch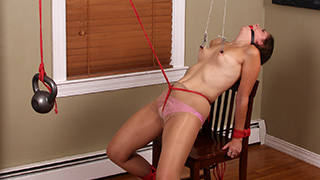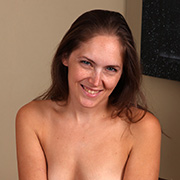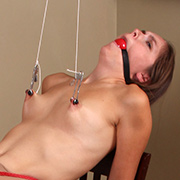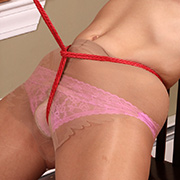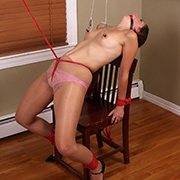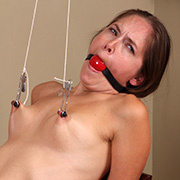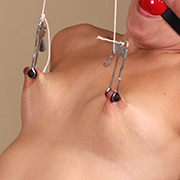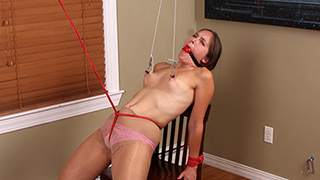 There's no point is wasting time with simple hogties or binds with Rachel. To keep that big grin on her face she needs a challenge. Luckily for her, she's come to the right place. She's not fooled by the basic chair tie I start her out with, and equally not surprised when the nipple clamps come out. It only takes a couple of strings to have her arched in the air, held up by her nipples. Of course, she can sit down anytime - for a price. When her legs begin to shake, Rachel is given a thoughtful crotchrope to help ease her predicament. It's now just a waiting game. Eventually gravity will win; it always does.

Rachel vs. Opposing Forces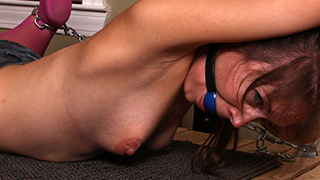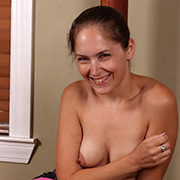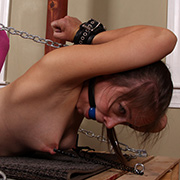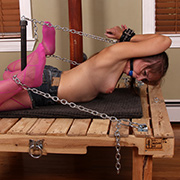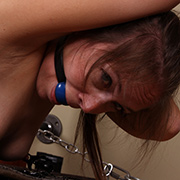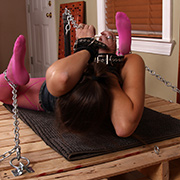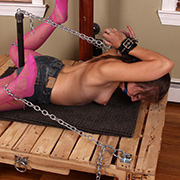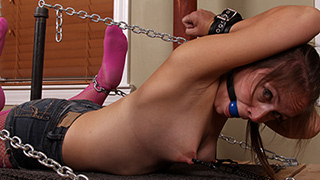 Her discomfort starts slowly, and is easily manageable at first. Rachel squirms to get comfortable knowing it will never come, but the ability to try is comforting at least. Then the nipple clamps come, and she's left with a choice: struggle to relieve the strain on her back, or stay still and relieve the pain in her nipples. It's a tough decision. Carefully she tests the waters, but every chain, clamp, and cuff works against her. Suddenly nothing is comfortable and Rachel wants to thrash to find relief, but those nipple clamps keep her tethered in more ways than one. Pulling them off is the only answer, but is it worth it?

Rachel vs. The HogStock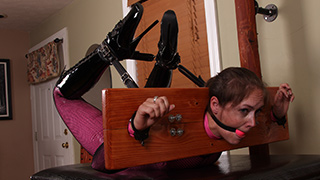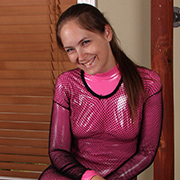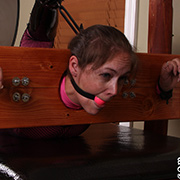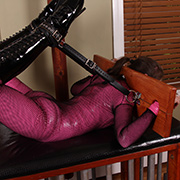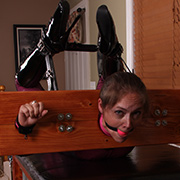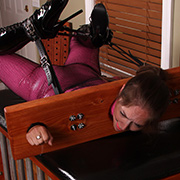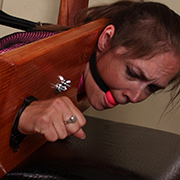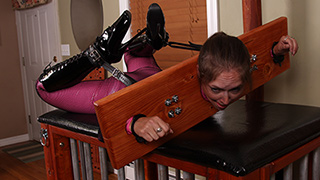 Decked out in a sexy pink catsuit, fishnets, and ballet boots, Rachel tries to escape her stocks. What she doesn't know is that I'm just getting started on her bondage. After putting a ballgag in her mouth first, she's moved to her stomach where belts attach her boots to her stocks. Simple at first, until they are pulled tight and every move takes effort. The position doesn't lend itself to comfort, so Rachel is forced to do anything she can to help her situation. Particularly those sexy hogtie arches. It's going to be a while before I grow tired of seeing her like this.

Rachel vs. A Leg Up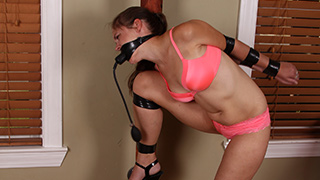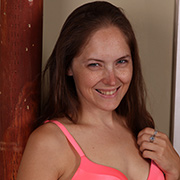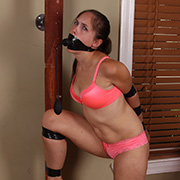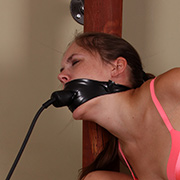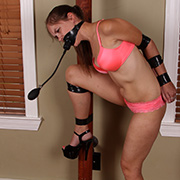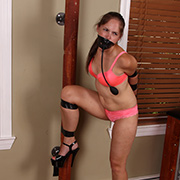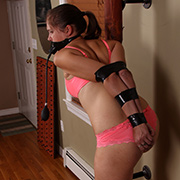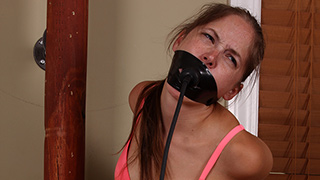 Everybody appreciates a little help now and then, so when I offered Rachel a leg up she quickly accepted. Sadly for her, she soon realised that our interpretations of the offer were vastly different. Rachel starts with her elbows pressed firmly together with vinyl tape. More tape seals a pump gag in her mouth to keep the forthcoming protests at bay. Last, her right leg is taped up high on a pole, forcing her to balance on one 5" heel. The real question isn't how long before her leg tires out, but how many pumps of her gag will be needed to keep Rachel silent.

Rachel vs. The Bed Belts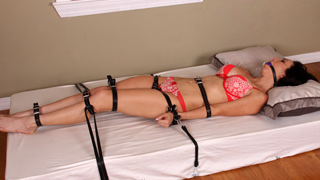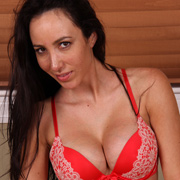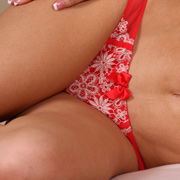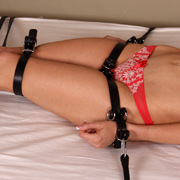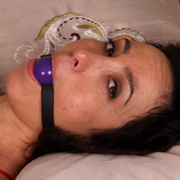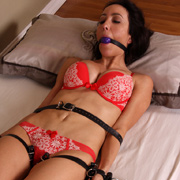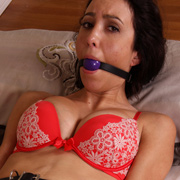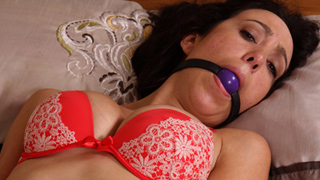 After a long day of tying Rachel up I needed a break but couldn't just leave her unfettered. So with the help of a few belts she found herself secured to an uncomfortable box spring while I crafted up something new. As expected she started to get a bit vocal about her uncomfortable position which compelled me to strap a tight ballgag in her mouth. Watching her squirm and moan in her exposed position only served to distract me more from my task. She might be in there for a while after all.