Merula vs. The Single Chain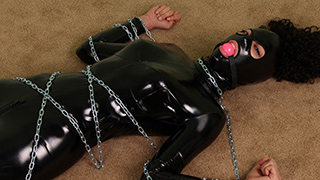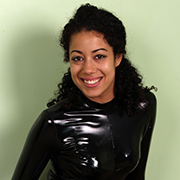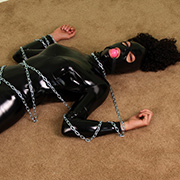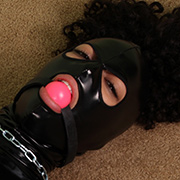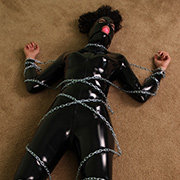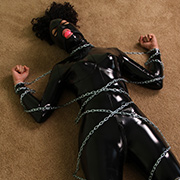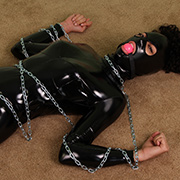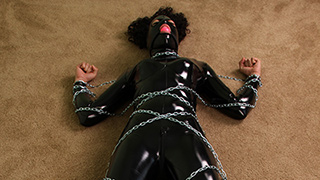 Just a single chain: that's all it took not only to render Merula completely helpless, but utterly immobile as well. From the hood on her head to the ballet boots on her feet, she's covered in form-fitting pvc; the perfect backdrop for the silver chain to snake itself around her body. Just to be sure that escape is not an option, a little tickling gave her reason to have a good struggle, but not much else for her effort. All she can do is struggle in her bondage, and hope that several screws decide to come free.

Sarah vs. Her Icy Predicament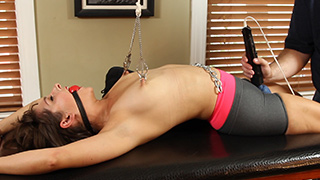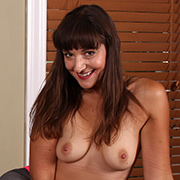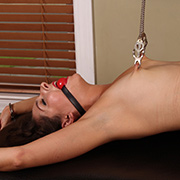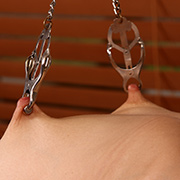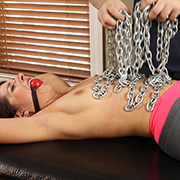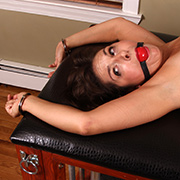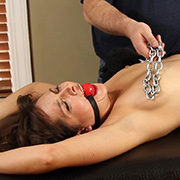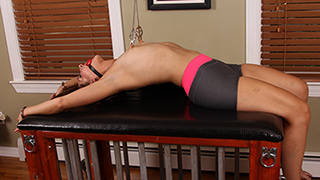 It only takes a few sets of handcuffs to immobilize Sarah on top of the cage. Nervously, she tests her bonds knowing there is no hope of escape without a key. From the kitchen I return with a black bag; a close chill runs up her sides as I set it down next to her. The humid summer air is already frosting the ice cold metal chains which are about to be laid over her body. The handcuffs do their job admirably as chain after chain is laid over and under her bare flesh. Sarah's torment is only just beginning as a pair of clover clamps are placed on her sensitive nipples, brought to attention by the cold. Just when she doesn't think she can take any more, the magicwand instantly makes it all worthwhile - skyrocketing her to a massive orgasm.

Samantha vs. Amelia's Tight Wrap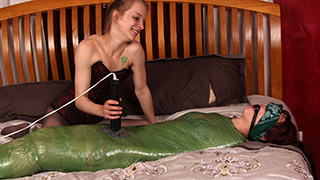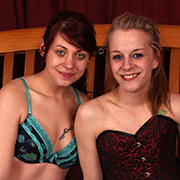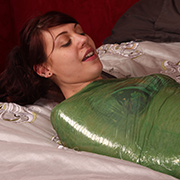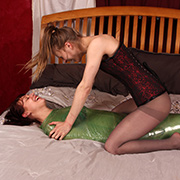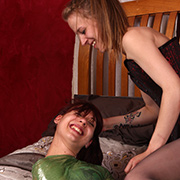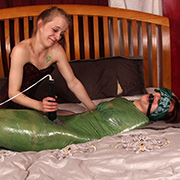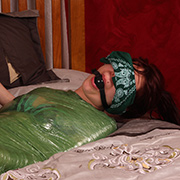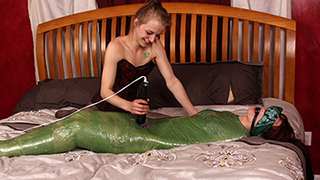 After Samantha caused her to get stuck in self-bondage a while back Amelia plotted her revenge. Finding a mummification video online she had her plan. Getting Samantha to agree was a simple offer of a hundred dollars if she could get free. Amelia planned too well and knew how to make sure she would never get out on her own. Like a mouse caught by a cat, Samantha was helpless in her paws. Amelia proves to be a merciful cat however as she positions a magicwand in place bringing her quickly to the edge of orgasm.

Aimee vs. A Reluctant Struggle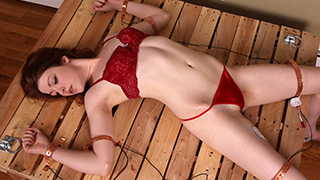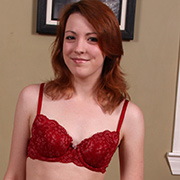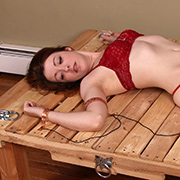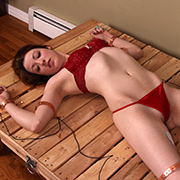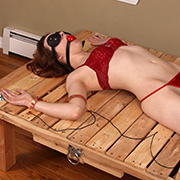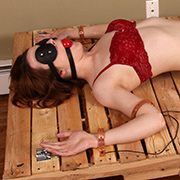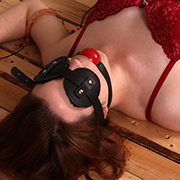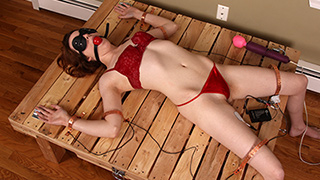 Lying on the pallet table bound in copper strapping, Aimee's limbs quiver as she tries to keep still. She can feel water being sprayed on her arms and legs. This only makes her more nervous as she struggles to hold still. Then there is the tickling. The goddamn tickling. Aimee can't help it and her arm contracts, making contact with her restraint and thus completing the circuit. A grunt of displeasure escapes her gag while trying to center herself between the straps again. Her true test lies ahead as the unmistakable sound of a magicwand clicks on high. Orgasms are inevitable, it's only a question of whether or not she can keep still as they consume her body.

Sky vs. Her Roped Pleasure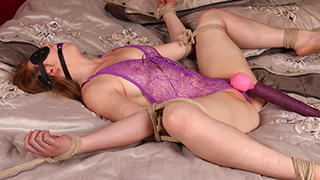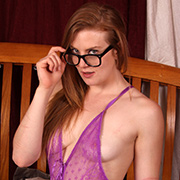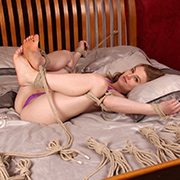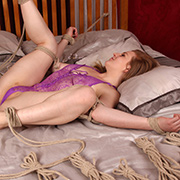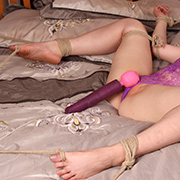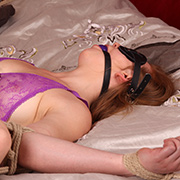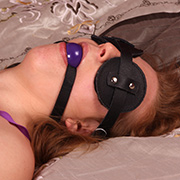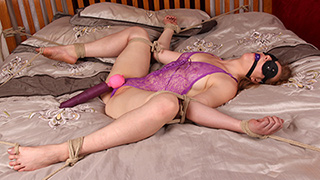 After a long day of getting tied up and tormented, Sky is rewarded with, well, more rope. At least this time she has the prospect of orgasms in the near future. Sky starts in a spread eagle, at least in function. What makes this position special is that she's cinched in such a way that her own muscles are pulling against her. Every quiver or jerk to pull away only pulls her tighter. An added bonus is that it leaves her body very, VERY accessible; perfect for when you have a magicwand in one hand and less than noble ideas in the other.