Liv vs. The Horizontal Wrap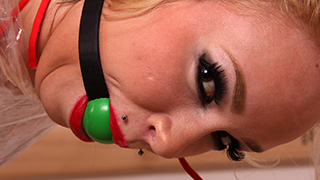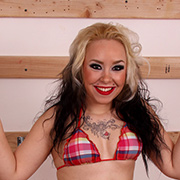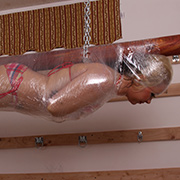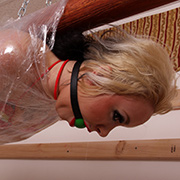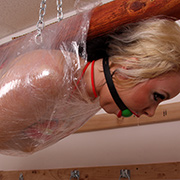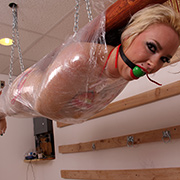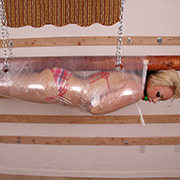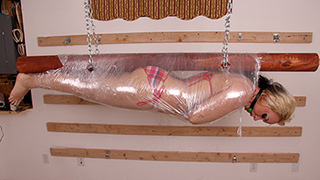 This wasn't the first time Liv had been wrapped by my hand. Unlike before when she had some ability to squirm on the floor, this time she found herself several feet in the air. Her plastic wrap the only thing keeping her aloft, but also from going anywhere else. Once the ballgag was pulled tight Liv couldn't help but drool like a faucet as she struggled. More plastic is used to keep her head firm against the pole as well as keep her gag tightly in place. With her feet exposed it was time to test how secure the plastic was. Thrashing in place things look good to start, but as always, further testing is required.

Serene Isley vs. The Clamp Trap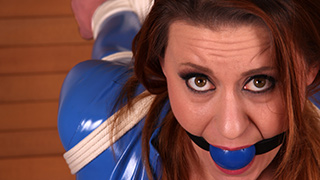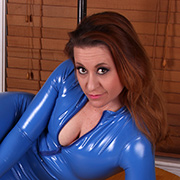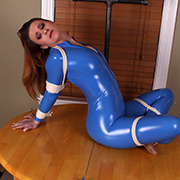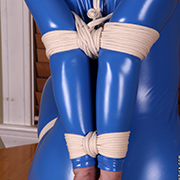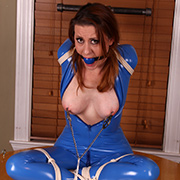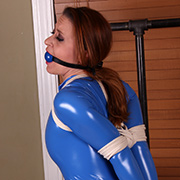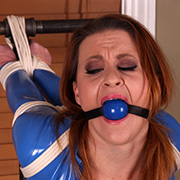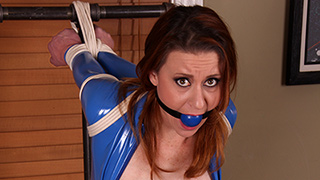 Serene starts right out of the gate with her elbows welded together with rope with plenty more securing the rest of her. Her blue ball gag already showing signs of drool she knows the fun is just getting started. Soon her wrists are bound to the top of the post behind her forcing her into a tight strappado. With Serene's mobility near zero I take the liberty of unzipping her catsuit and decorating her tits with a set of clover clamps. Clamps that are immediately tied tightly in front of her. Any movement, struggle, or twitch is radiated directly to her nipples. There's only one logical next step; to see if I can encourage any movement. Her exposed feet look like a good place to start.

Star & Laci vs. A Tug of War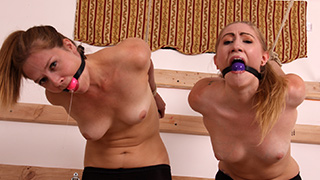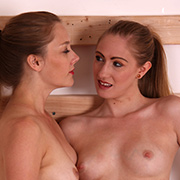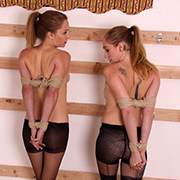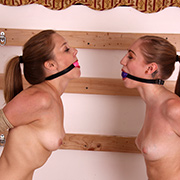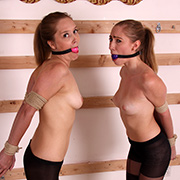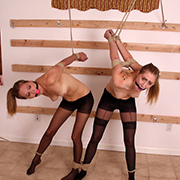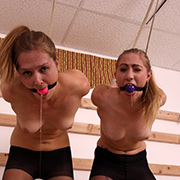 Only we the viewers are the winners in this game. There is no escape for Star or Laci with their arms tied tightly behind their back. Both are pulled into strappados, ankles tied to each other. Every movement, shift, or struggle pulls to the other. If one strappado rope is pulled down, the other goes higher. It certainly doesn't help when they are tickled over and over forcing an ebb and flow of pulling and tugging against each other.

Jamie vs. Her Great Escape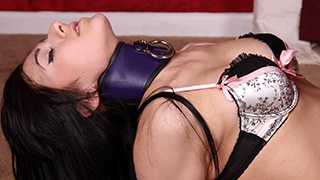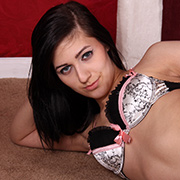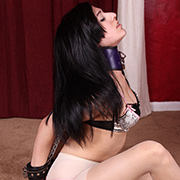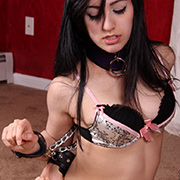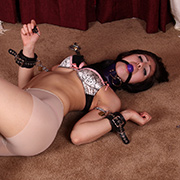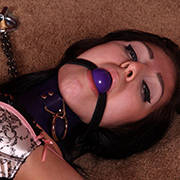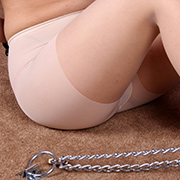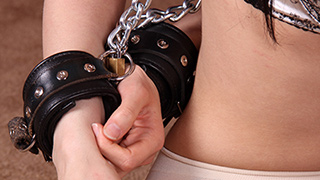 Cuffs locked around her wrists and her legs chained to a ring in the floor Jamie found she was quite comfortable for once. She knew it wouldn't last; starring at the pile of chains, gags, and locks in a pile nearby. First a posture collar, then her wrists are connected to the back of the collar pulling them up. More chains connect her collar to another ring in the floor. With no leverage or flexibility Jamie could barely struggle. She's teased, tickled, and even tormented with a TENS unit before keys are finally dropped in front of her. With little to no mobility it will take everything she's got to get free. If ever.

Sarah vs. The Fishing Net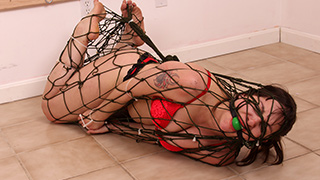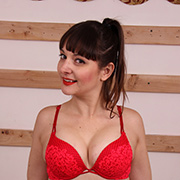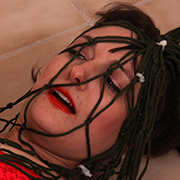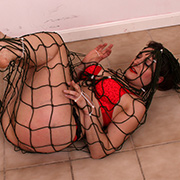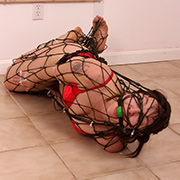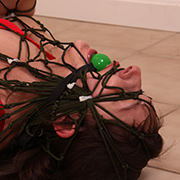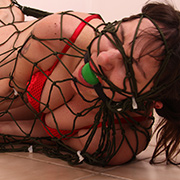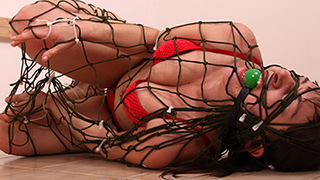 As Sarah lies on the cold floor, she finds her predicament not unlike the fish the net normally captures. Even with all her intelligence all she can do is twist and pull against the thin ropes hoping for a weakness. Zipties cover her body, fingers, arms, and head helping make her bondage as frustrating as possible. Even her gag is ziptied on in case any prying fingers get any ideas. As time moves on more zipties are added and she's drawn up into a hogtie; the netting pressing hard against her eyes taking away any hope of spotting a weakness.