Kobe Lee vs. The Trashy Mummy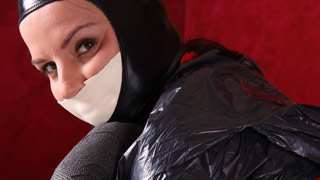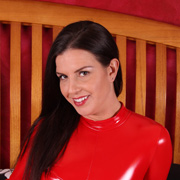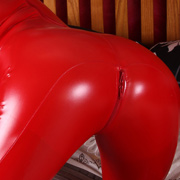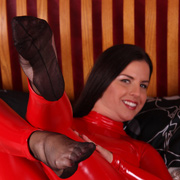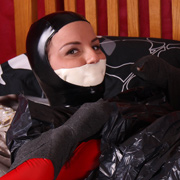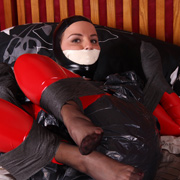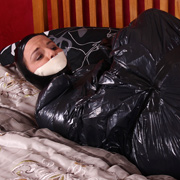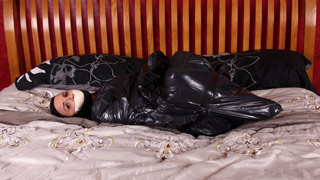 The theme of this update? Layers. Can't get enough of them. Everything starts with Kobe in a super sexy red catsuit, the first layer. Then comes the foam tape gag and a Gwendoline hood to keep things nice and tight. Layers of trashbags come next, each sealed in place with rolls of 3" electrical tape. Kobe's fists and vetwrapped closed and all four limbs are frogtied together. More bags and more tape until she can barely move. Futilely she struggles and eventually I swoop in with the Hitachi sending her into multiple orgasms! See everything in this two part update from the wrapping to the end.

Makenzie vs. The Early Start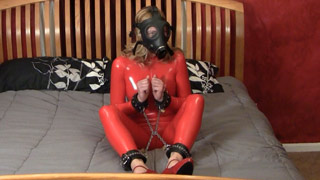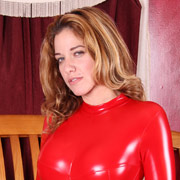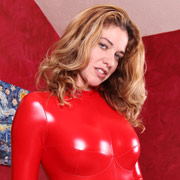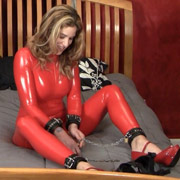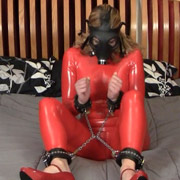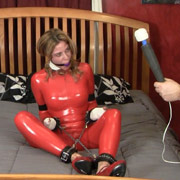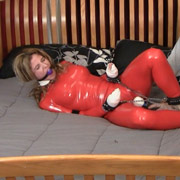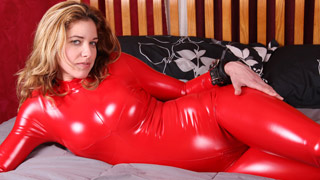 A simple beer run, that's all it was suppose to be. I left Makenzie by herself to try things out hoping she'd get trapped in some handcuffs. When I came back, she had put on a catsuit, a gasmask on and securely locked on cuffs. The best part was all the keys were in my pocket... she wasn't going anywhere. A strap here, some vetwrap there and a tight ballgag and the fun was just beginning. The beer can wait... how about some vibrator fun instead Makenzie?

Viorica vs. The Revenge Mummy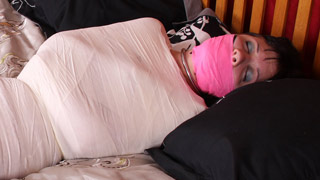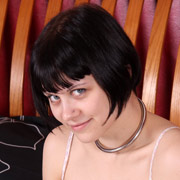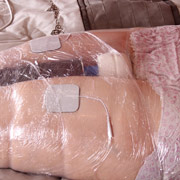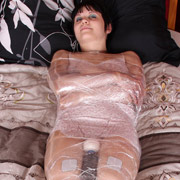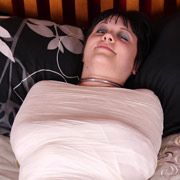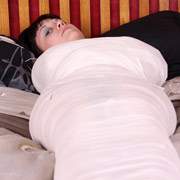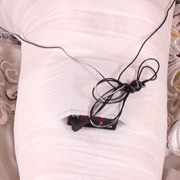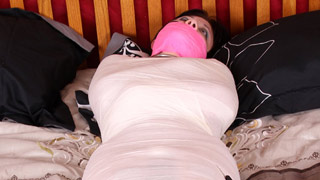 A few months back I had a simple plan for Viorica to mummify her and watch her struggle. All went well until she went and escaped! I simply could not let this slide so I invited her over for a little rematch. After applying the first layer of plastic she was still pretty confident but changed her tune after a couple layers of vetwrap went on. Under it all was a Hitachi and set of TENS pads. Once the vibe and TENS microphone were turned on Viorica finally realized the trouble she was in. With the TENS cranked up she tries her best to keep quiet as she struggles in her cocoon. It's not until I crank up the Hitachi and leave her trapped in a world of pleasure and pain, futilely fighting to get free.

Kobe Lee vs. Her Own Torments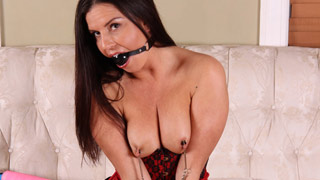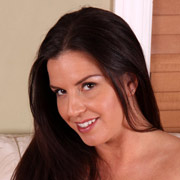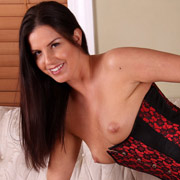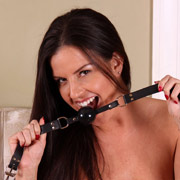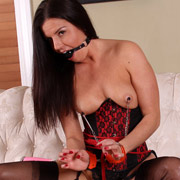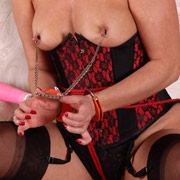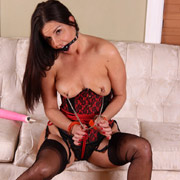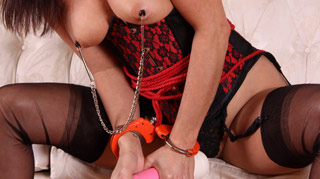 When Kobe had an itch to be tied up she took matters into her own hands. Armed with rope, cuffs, a ballgag and her Hitachi vibrator she films her fun for our enjoyment. It's not long before she's crotchroped, legs cuffed to the couch, hands cuffed and moaning into her gag. Playfully she tugs on her nipple clamps turning her on even more. With Kobe's juices flowing, the vibrator is put to work bringing herself to a fever pitch before screaming into her gag in orgasm.

Makenzie vs. The Vetwrap Vibe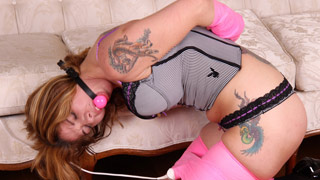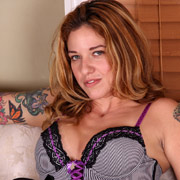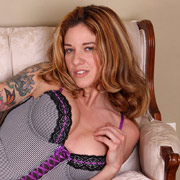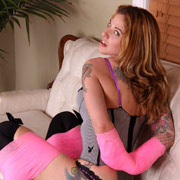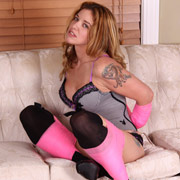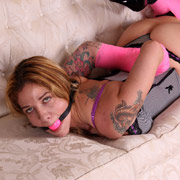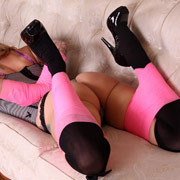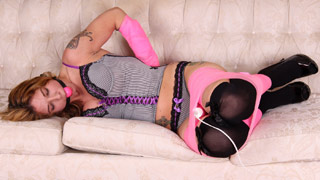 If you ever wanted an example of how powerful the Hitachi can be, look no further than Makenzie. New to modeling and never been tied up before she was full of butterflies when she walked into my studio. I wrapped her forearms in pink vetwrap and wrapped her legs into a frogtie. I love vetwrap for newbies because it offers the illusion of freedom. It feels flimsy, but they're not getting free! I let her struggle for a few minutes before giving her another first, the Hitachi. Instantly the low setting consumes her and leaves her twitching. Unable to help myself I soon kick it onto high and wrap her knees together pressing it harder against her pussy putting her into overdrive.