Raven vs. The Mummy Newbie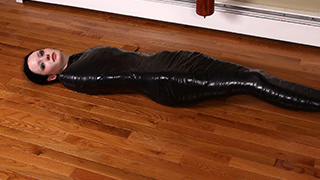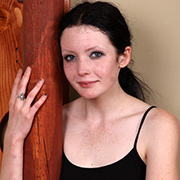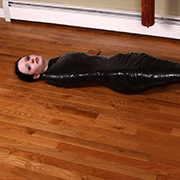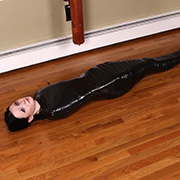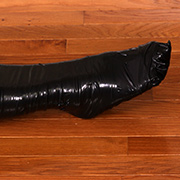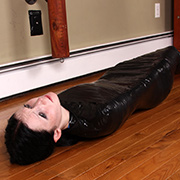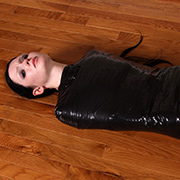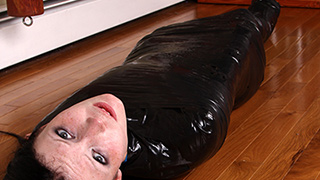 After seeing other mummifications on here, Raven knew she wanted to try it herself. Going for broke, only a vinyl wrap would do. Before she has a chance to change her mind, she's covered in a layer of plastic wrap. Within minutes, over a hundred feet of tape is encircling her body, every inch being compressed by the nature of vinyl. Once fully wrapped, it was obvious that it was a bit more intense than she was expecting. That was a pity for Raven, because after putting that much work into getting her wrapped, it was going to be a good long while before she was freed.

Piper vs. The Stick Mummy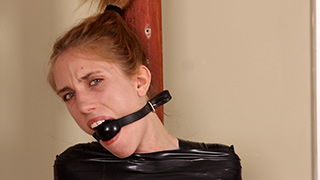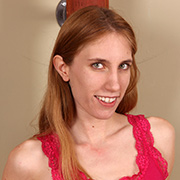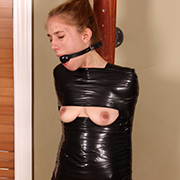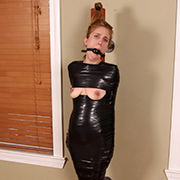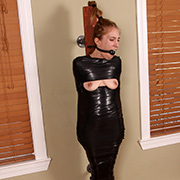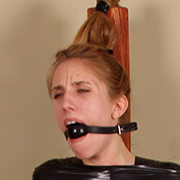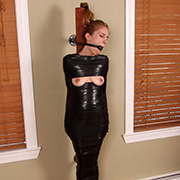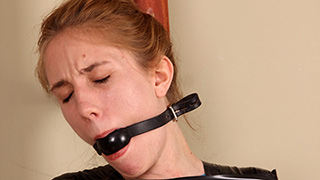 Noticing the boxes of plastic wrap, Piper couldn't help but ask what they were all for. Learning that it was for mummification, she was interested in giving it a try. Wrapping her arms, legs and body in plastic wrap, Piper couldn't see why it could be considered bondage. While she puzzled on that I stood her next to a wood beam and wrapped vinyl tape around her legs. It continued up over her waist and chest sealing in her arms. Her upper arms and shoulders were finished up, leaving only her tits exposed. As the vinyl compressed her body Piper no longer had any illusions of escaping on her own, only wondering how long I would keep her there. With a large ballgag filling her mouth, her muffled queries continued to be ignored.

Alex vs. The Heartful Mummy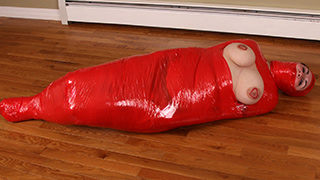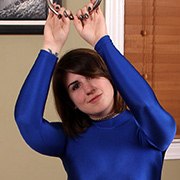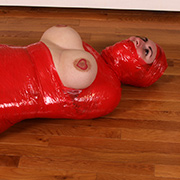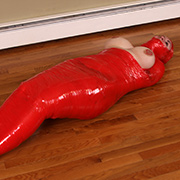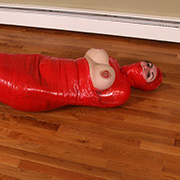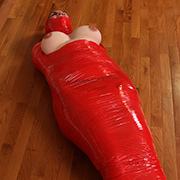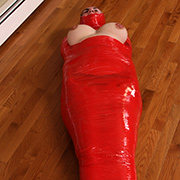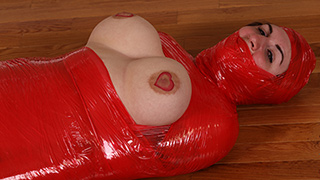 After finding my ample stack of plastic wrap, Alex was quick to volunteer to be wrapped up. She admitted that after seeing other girls mummified, she was skeptical that such a flimsy material could hold someone in place. Before she could think better of it, Alex was nearly naked and the first layer was being wrapped around her body. Four layers later and Alex's tune was starting to change. I figured that an hour would be a good amount of time for her to escape. The loss of all mobility was apparently a surprise to her. Even her fingers seemed welded to her sides. I'm sure Alex will figure it out eventually. It's only flimsy plastic wrap, after all.

Sarah vs. The Floating Mummy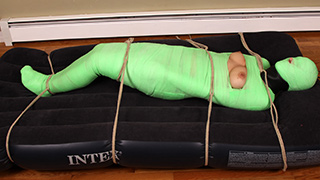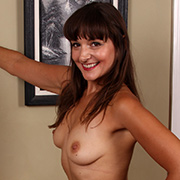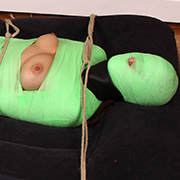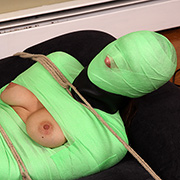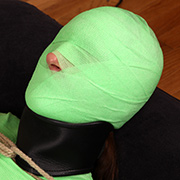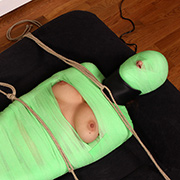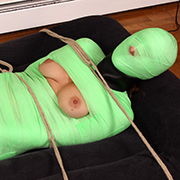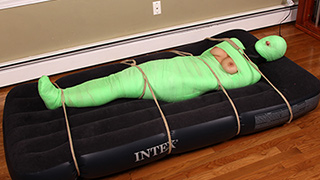 Sarah stands with a noose around her neck watching the layers of vetwrap circle her body. Having never been mummified before, she was more than a little nervous. The process is gradual until she's completely immobilized from the neck down. Her head is wrapped last with several layers, to ensure complete isolation. Once she's fully wrapped, she's moved to an air mattress and tied down, taking even her ability to roll to the side away from her. With only her breasts exposed, I give her a simple ultimatum: Find a way off the bed, or strong nipple clamps await. Her panicked struggles show that I got the reaction I was hoping for.

Samantha vs. Amelia's Tight Wrap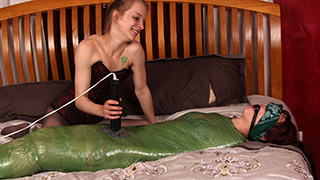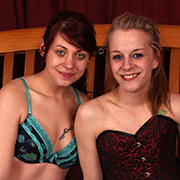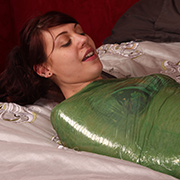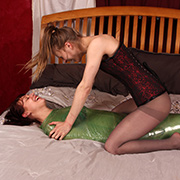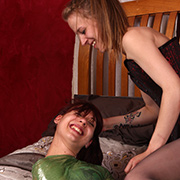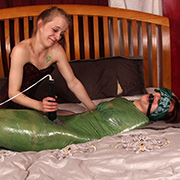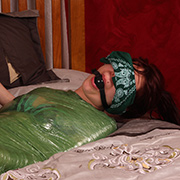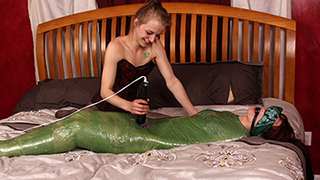 After Samantha caused her to get stuck in self-bondage a while back Amelia plotted her revenge. Finding a mummification video online she had her plan. Getting Samantha to agree was a simple offer of a hundred dollars if she could get free. Amelia planned too well and knew how to make sure she would never get out on her own. Like a mouse caught by a cat, Samantha was helpless in her paws. Amelia proves to be a merciful cat however as she positions a magicwand in place bringing her quickly to the edge of orgasm.