Maggie vs. A Twine Situation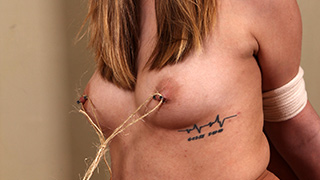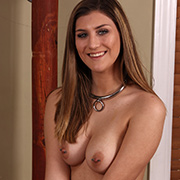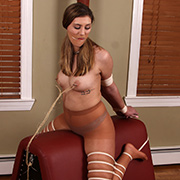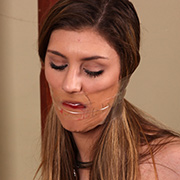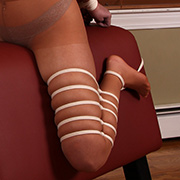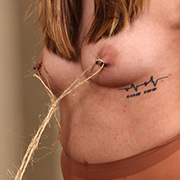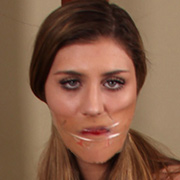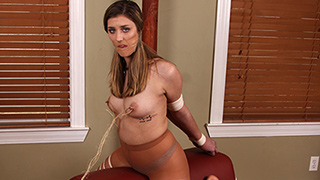 Frogtied and straddling a padded horse, Maggie struggles to escape the ropes holding her arms. She knows it's hopeless, and that her situation is only going to get worse. With her pierced nipples exposed, they make for an easy target. It only takes a moment and her breasts are pulled forward by the twine looped around her nipples. Each struggle or squirm only rubs the coarse twine against her nipples. Not quite painful, but not pleasant either. The tickling is the worst for her, as her body involuntarily jerks and pulls hard on the twine.

Amie vs. The Rainbow Pole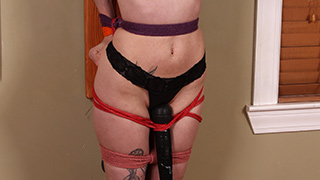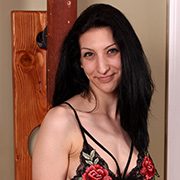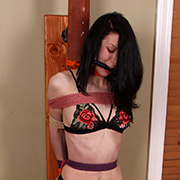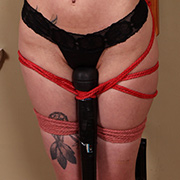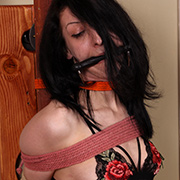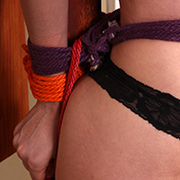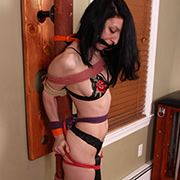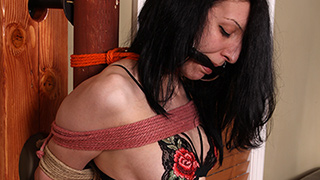 Choosing how to tie a bondage newbie can be difficult. There's no way to know what they can handle or what they might enjoy. Amie's a good sport and willing to try anything, so I started by tying her legs and moving up her body. Before long her feet, legs, elbows, and neck are tightly cinched to the pole behind her. A bit gag doesn't keep her too quiet, but does encourage a bit of drool. Already enjoying herself, Amie is introduced to the magicwand. Her response immediately leaves no doubt that she's in love with her predicament. I don't think threatening with leaving her tied up for a few hours will have much weight.

SB Challenge: Michal's Weights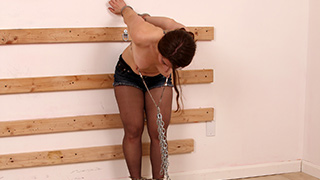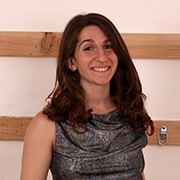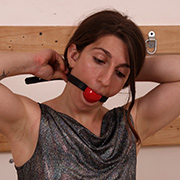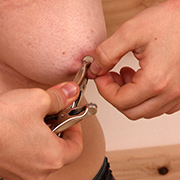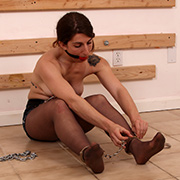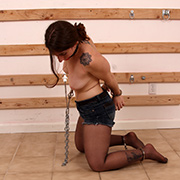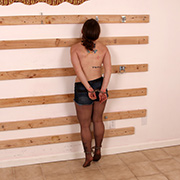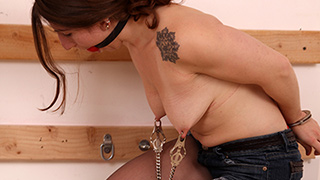 Of all the challenges that Michal could have picked, she went for one of the evilest. It starts off simple enough: A ballgag here, pantyhose there, and some leg cuffs to top things off. Placing her release key up high, she picks up her clover clamps with trepidation. Carefully, they are placed on each of her nipples. Wincing as she adjusts, next are two heavy chains which are attached to the clamps. The added weight forces her forward as Michal reaches the point of no return. With a sigh of resignation, she cuffs herself behind her back with hinged handcuffs. The only way out is to lift the heavy chains by her clamps. A prospect that seems impossible after a failed attempt to stand. Desperate, she tries to pull off her clamps, but the hinged cuffs keep her fingers just out of reach. Will she be able to pull them up high enough to reach the key and escape?

Raven vs. The Mummy Newbie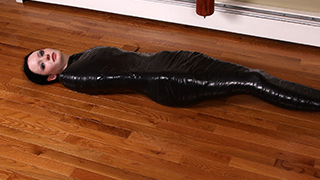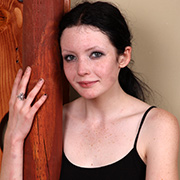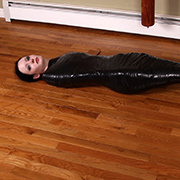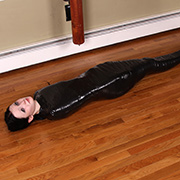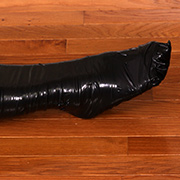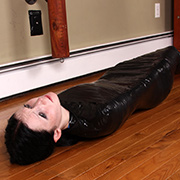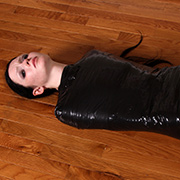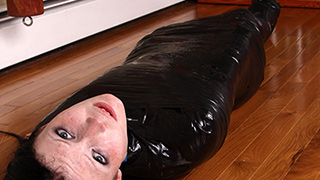 After seeing other mummifications on here, Raven knew she wanted to try it herself. Going for broke, only a vinyl wrap would do. Before she has a chance to change her mind, she's covered in a layer of plastic wrap. Within minutes, over a hundred feet of tape is encircling her body, every inch being compressed by the nature of vinyl. Once fully wrapped, it was obvious that it was a bit more intense than she was expecting. That was a pity for Raven, because after putting that much work into getting her wrapped, it was going to be a good long while before she was freed.

Bella vs. A Bit of Vinyl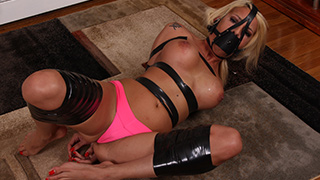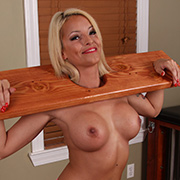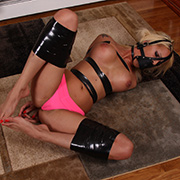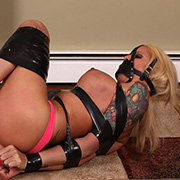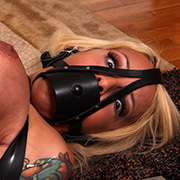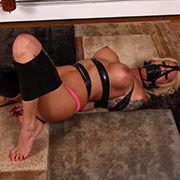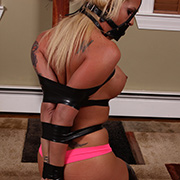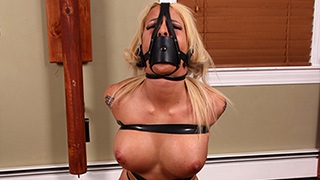 A few coils here, a few there and in a couple blinks of the eye Bella is completely helpless. Drool spills from behind her gag as she tries her best to extricate herself from the coils around her elbows and legs. Her efforts are only rewarded with sore muscles and tape that works more like a rubber band. Every time she stretches it even a small amount, the vinyl tape contracts again, making sure Bella's elbows are always touching. To her dismay, her helpless state has come at the cost of only a half a roll. As there is no point in wasting the roll, I am all too happy to add the rest just to be sure she is secure for a good long time.