Hannah vs. A Bad Influence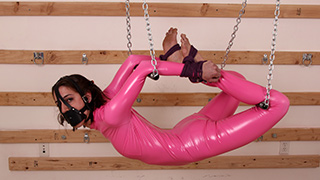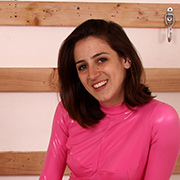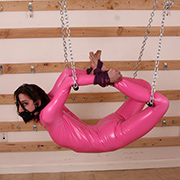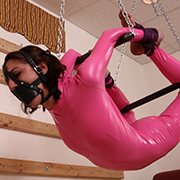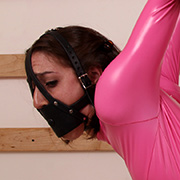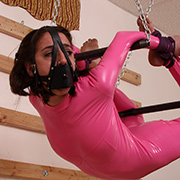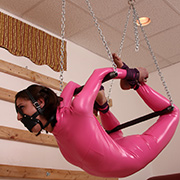 I realized all too late the monster I had created. Just the suggestion of the crazy idea and Hannah was all over it. I was reluctant at first as I suspected it might be too much for her but Hannah was having none of that. With a sigh, I gathered the pipes, chains, and rope and started her off with an arm to leg hogtie. Balanced on a padded horse, the two pipes slide under her arms and legs while being held up with chain to suspension hooks. After pulling away the horse Hannah was held up by only the pipes, her face with a happy grin. Her mood changes a bit once the panel gag is strapped in place. I assure her she can spend as much time as she wants struggling in the air.

Summer vs. The Conditions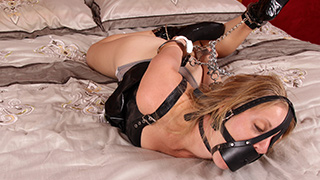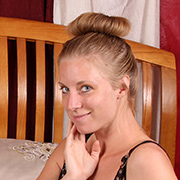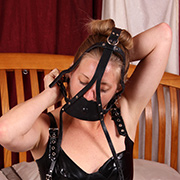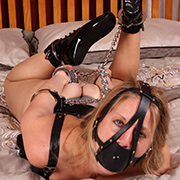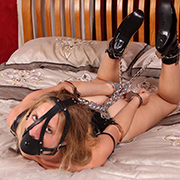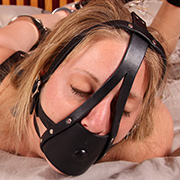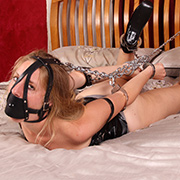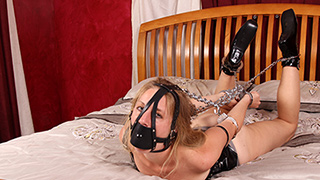 Whenever requesting a loan paying interest is not uncommon. What Summer wasn't expecting was the method she would be paying it back. She had hoped to pay it back before her first week was up but instead, here she was, tightly bound. Dressed in latex and ballet boots her ankles, wrists, and even elbows are all secured together. With some additional chain to tie even her harness gag into the mix she already wanted out. Summer cursed herself for not paying back the money. Every week would bring a new hour of strict bondage and at her current rate, it would be at least a month.

Amelia vs. Her Open Arms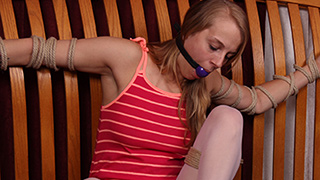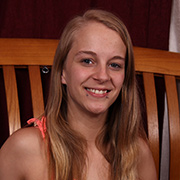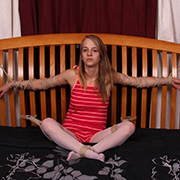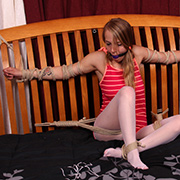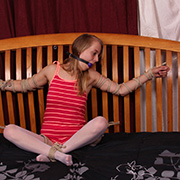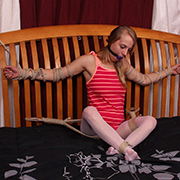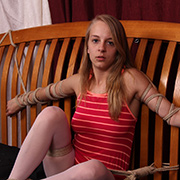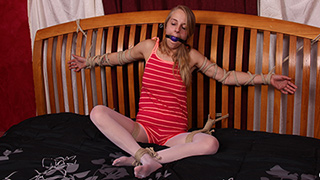 As the ropes snake in and out of the bed slats Amelia tries to find a weakness. With her legs tied as well she knows all her leverage is gone but she can't give up. This is only a warm-up of what's to some and the prospect of spending the next few hours tied to a headboard isn't very appealing. The thin slats taunt her as they seem easy to break but with so many, they amount for a formidable force. I think she'll be there a while, just don't tell her that.

Abby vs. The Hanging Treat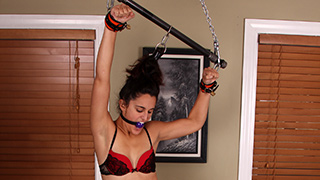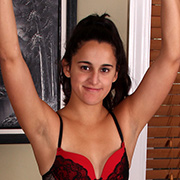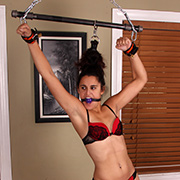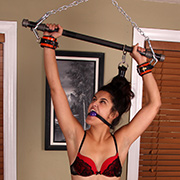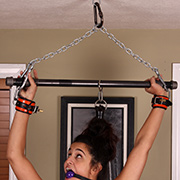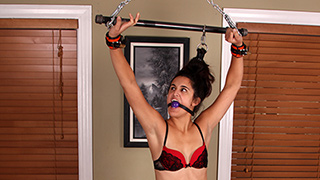 It doesn't take Abby much convincing to get her into bondage. Stripped down to her underwear her arms and legs are cuffed to iron bars leaving her in a standing spreadeagle. A ring is secured to her hair allowing it to be strung up to the bar as well. Once the bolts are tightened down, she won't be getting free. At first, she's amused by her new situation while playful struggling. Abby hasn't realized that I'm just getting started. She's just a tasty treat, hanging helplessly, waiting to be tormented.

Maggie vs. The Request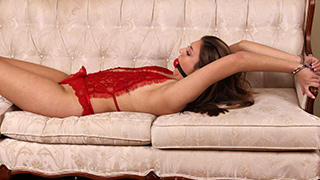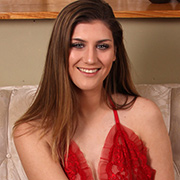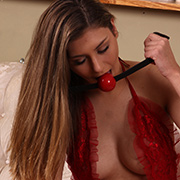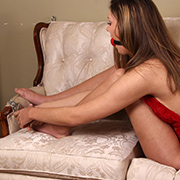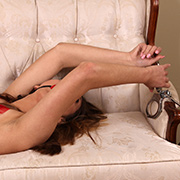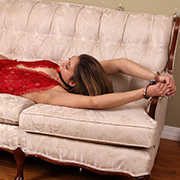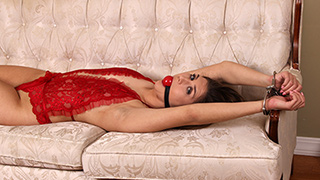 After giving her boyfriend a call she finds out he'll be out of town for an extra couple weeks. To help pass the time, he has a special request. A self-bondage video to keep him entertained. After a few simple instructions she hesitantly decides to give it a try. It wasn't like she wouldn't have the key on her. Once secured she struggles a bit for the camera before releasing herself. Having little experience, hinged handcuffs proved to be a challenge. Especially when the keyholes are not in an ideal position. It doesn't take long before the key slips from her grasp and what was a fun little game turns very real. Maggie's boyfriend might get a better video than he could hope for, if she doesn't kill him first.