Naomi vs. Her Rope Request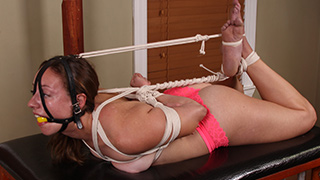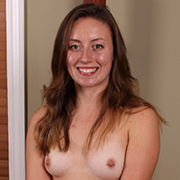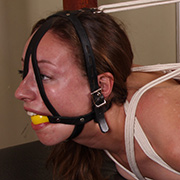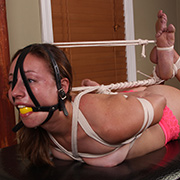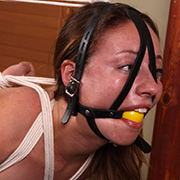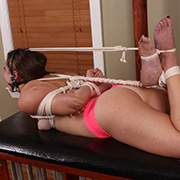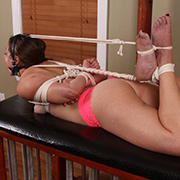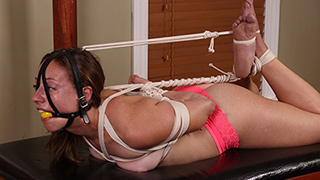 With all the crazy ideas that I subject the girls too, it can be a little overwhelming. Sometimes all that is needed is a little rope in a classic position. There's a reason the classics never die. As it happens it is Naomi's first hogtie and not sure what to expect. She doesn't have to wait long as the rope soon has her in a box tie and half way there. A trainer gag keeps her quiet while her legs are tied to her chest harness leaving her hogtied. A final rope from her trainer gag and feet effectively remove the last morsel of mobility she has. Every struggle to escape leaves her breathless now as any attempt takes an effort of will. Despite all this, you can still see the faint smile behind her gag and not in any rush for them to come off.

Maggie vs. A Shiny Afternoon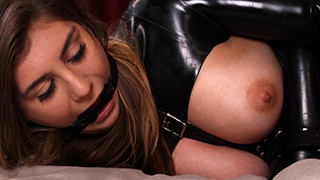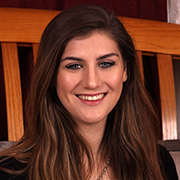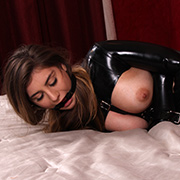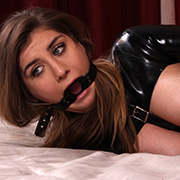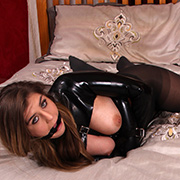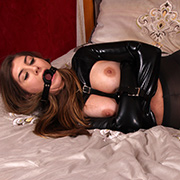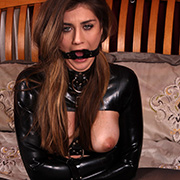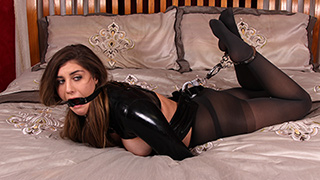 With winter coming on fast the potential for fuzzy sweaters goes through the roof. Luckily for Maggie, a latex straitjacket is the perfect weapon against the chill. Struggling to get free and drooling through her ring gag it might be hard to tell, but she's happy to be warm. Just to be sure that she doesn't accidentally struggle herself off the bed a pair of legcuffs are added. Caught in a hogtie she tosses around even more but the restraints hold tight, ensuring she'll keep snug all winter long.

Amie vs. The Forced Experiment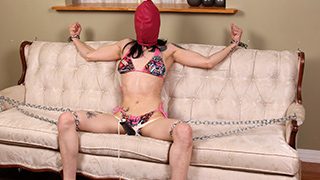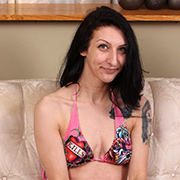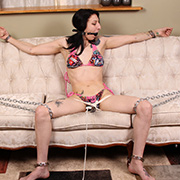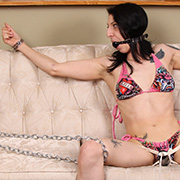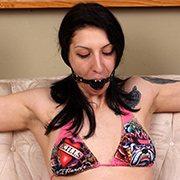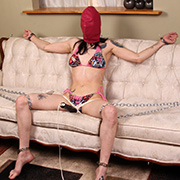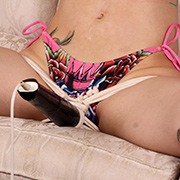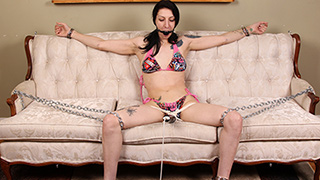 Whenever a new girl visits and has never experienced what the magicwand can do there's only one way to educate her. It's especially helpful to bait them a bit. Almost none believe that an orgasm is inevitable. Of course, Amie was no exception. With a few handcuffs and some chain I had her spread on the couch with the wand tied tightly in place. Starting on low she knew she was in trouble. Heavy breathing, futile struggles to pull it away, and tensed muscles. The signs were all there. All this and we were only a minute in. Needless to say, once it is switched to high Amie starts losing the battle quick. As I wait for the inevitable I grin with the knowledge that a delayed orgasm only gets stronger with time. It's not a matter of if, but when she'll explode.

Raven vs. Perpetual Motion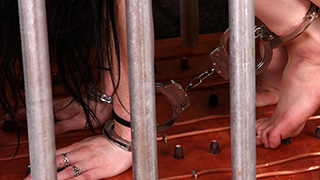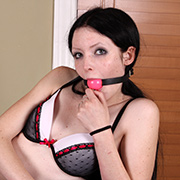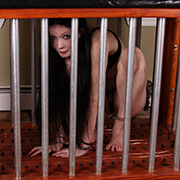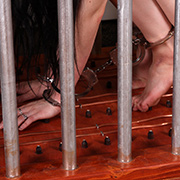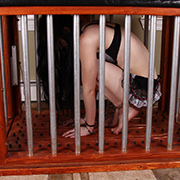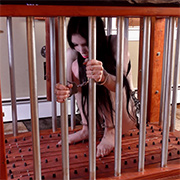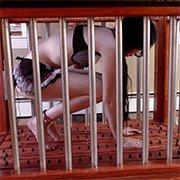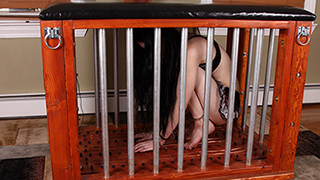 After playing around with bondage toys instead of cleaning the house I decided to give her a little incentive. Cuffed hand and foot she's put into the cage without a special floor. Without only skimpy clothes on she's forced onto her toes to avoid the spikes. Her real punishment begins when the copper rails are powered on making the floor even more treacherous. Awkwardly she finds purchase between the spikes and copper rails but it doesn't last long. Raven's legs begin to shake within seconds and she's forced to try again. After the first ten minutes she wants nothing more than to collapse and take a break but knows the consequences will be dire.

SB Challenge: Summer's Pantyhose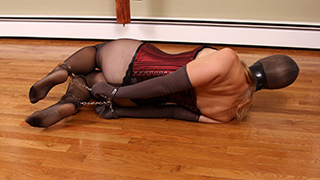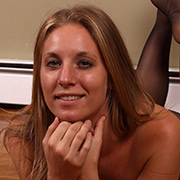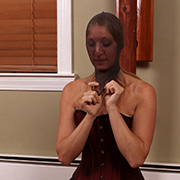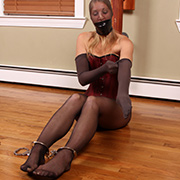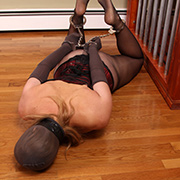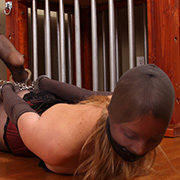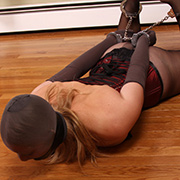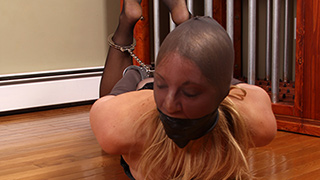 Summer was already excited to take on a self-bondage challenge but elated to find out it was a pantyhose challenge. Starting with pantyhose over her head she stuffs her mouth with a rag and sealing it with vinyl tape. Next, she puts her hands in a double layer of pantyhose before handcuffing herself into a hogtie. Knowing the key was only a few meters away she was fairly confident escape would come easy. At least until she tried to move. While the hogtie was limiting the real challenge came from a satin corset and pantyhose supplying her traction on hardwood floors. After 10 minutes she was only halfway there but her woes are just beginning. Summer's in for a surprise when she tries to unlock her cuffs behind her back wearing two layers of pantyhose.