Bella Ink vs. Her Zipped Silence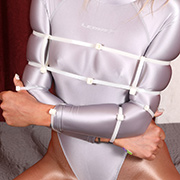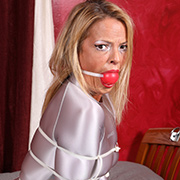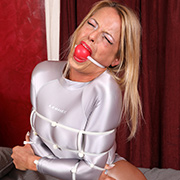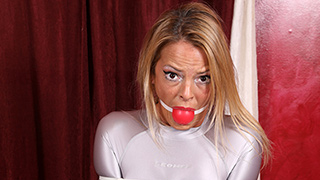 After managing to escape some tied I put her in a few weeks back, I haven't heard the end of it. I guess that's what I get for taking it easy on her. So for today, I figured Bella might need to be humbled a bit. Seeing the pile of zipties she knew she was in trouble. She even tried talking me out of it with promises never to mention her escape again. Unfortunately, my lesson was learned and there won't be any more easy bondage for her. As Bella continued to protest, it seemed fitting to use a ziptie to secure her ballgag as well. She certainly won't be getting that out anytime soon.

Camila vs. Her Craving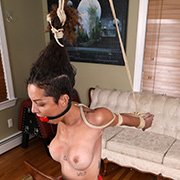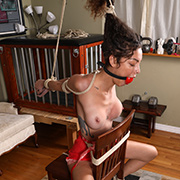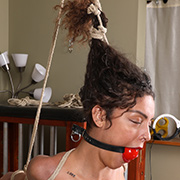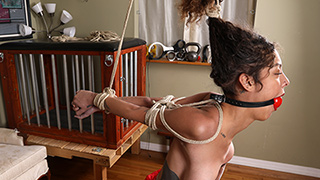 When Camila reach out to me she made her intentions clear. It had been far too long since she had been tied up and was a travesty that had to be rectified ASAP. Always happy to help in these situations, a strappado tied off to her hair seemed a good start. Even when the ballgag was strapped tight around her head you could see her smile never faded. Camila was loving every second. To make sure her craving was well satiated, a crotch rope is tied to reward her struggles. If her constant flow of drool is any indicator, it would appear to be mission accomplished.

Sugar vs. Her Crotch Weight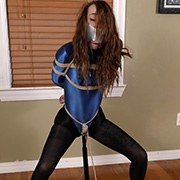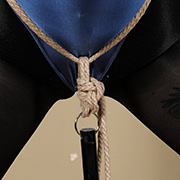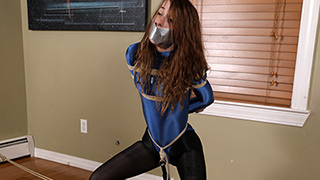 Sugar wasn't sure what the black rod tied to her crotch rope was but was sure it wasn't to her benefit. The 50-pound weight at the other end wasn't very promising either. With her legs tied apart, her suspicions were confirmed as the actuator closed pulling her into a crouch. Try as she might, Sugar couldn't muster the willpower to pull up 50 lbs of weight by her crotch rope. It doesn't take long before her legs start to shake and just when she's on the verge of collapsing she's given some slack. Her reprieve doesn't last long before she hears the whine of the motor again.

SB Challenge: Rachel's Long Trek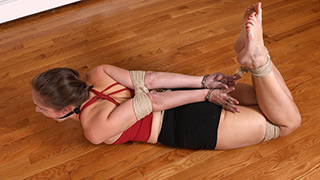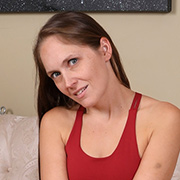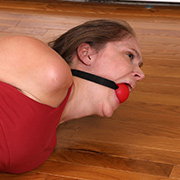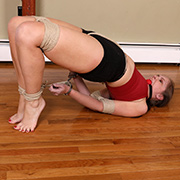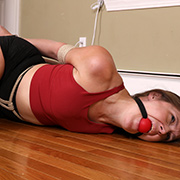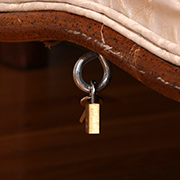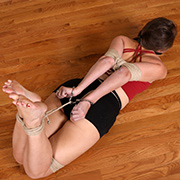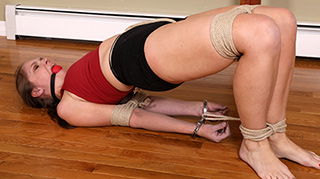 It's always a treat when Rachel takes on a self-bondage challenge. She's not in it for the victory, but a long, grueling struggle that pushes her limits. So when the challenge called for only a couple of locks to be used she tripled it. Rachel even goes the extra mile to tie her elbows together tight to make it more difficult to handle the keys. Once she has herself hogtied her long trek begins by struggling to each locked key. Since she tripled the locks it will take her nine trips to get free. Will she have the stamina? Find out in this extra-long two-part update!

Calisa & Bella vs. A Little Leverage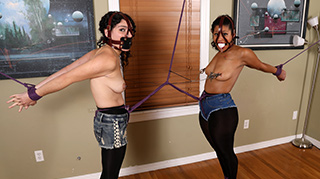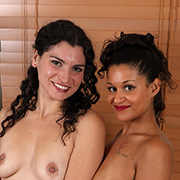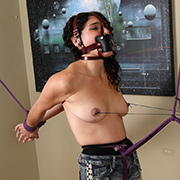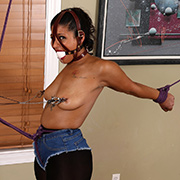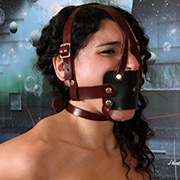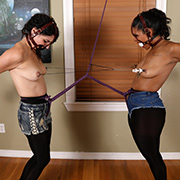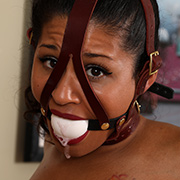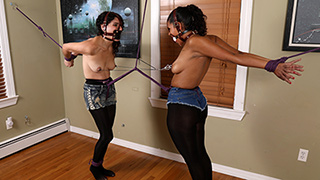 Calisa and Bella didn't believe me when I said I'd tie them up if they lost. You would have thought they would have known by now. Nevertheless, they find themselves reaping the consequences of their poor judgment. With each one blaming each other for their predicament, it seemed like a good opportunity to pit them against each other. With their arms tied to opposing walls, they are connected with crotch ropes and eventually nipple clamps. Unfortunately for them, one more rope is added to the middle of their crotch ropes. When pulled, everything becomes that much tighter.