Makenzie vs. The Zebra Stripes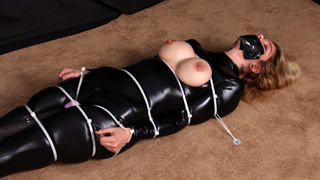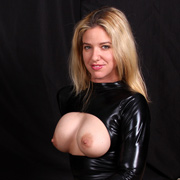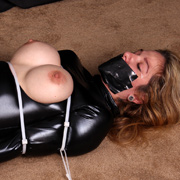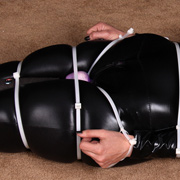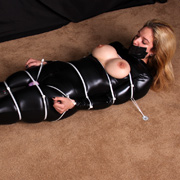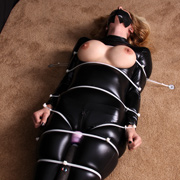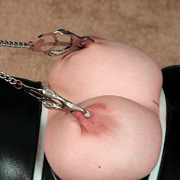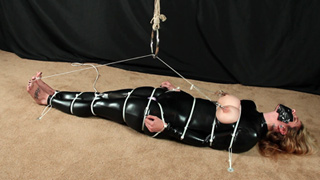 Twitching slightly in apprehension as the zipties cinched around her body, Mackenzie had no idea what was in store for her. From her shoes to her exposed breasts the zipties left her mummified on the floor. Ensuring no possible escape, more ties are anchored to the floor. Makenzie knew this wasn't it as she tried her best to find some weak point. When the clover clamps came out she really struggled, but with her breasts exposed they were quickly clamped. After snugging a magic wand tightly between her legs she was almost ready. A single string is tied to her nipple clamps to her toes forcing her to keep them bent back lest she pull on her clamps. As the vibe is turned to high, Mackenzie tries her best to fight off the pleasure running through her. Trying desperately to stave off the impending, toe curling orgasms in her near future.

Serene Isley vs. The Predicament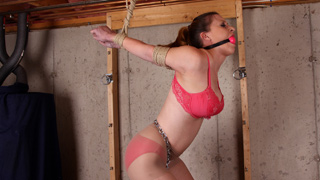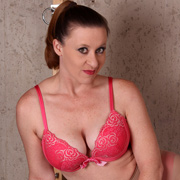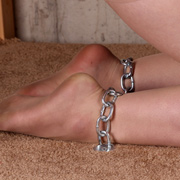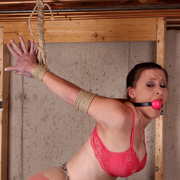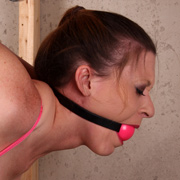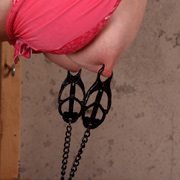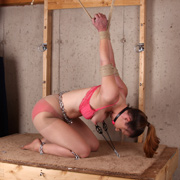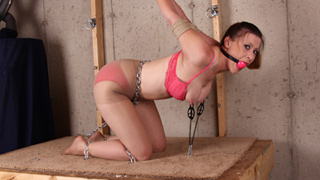 As Serene's body forced her to try once again to find a comfortable position she could only groan in frustration and exhaustion. Despite her situation, she couldn't help but be impressed by the torment she found herself in. While a strappado pulled her arms straight to the ceiling, a chain between her legs pulls her down. Stuck in the middle with no way to keep the strain off her wrists or trembling thighs. To make matters worse, strong clover clamps pull her nipples forward; punishing any attempt to find a comfortable position. As Serene's legs involuntarily jerk to find a better position another grunt escapes her gagged lips as the nipple clamps punish her once again. It's going to be a long night.

Sarah vs. The Interlude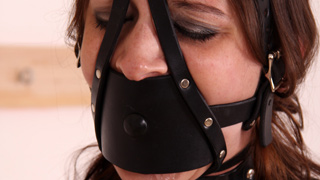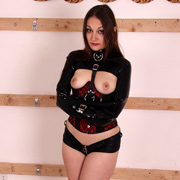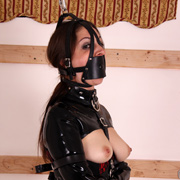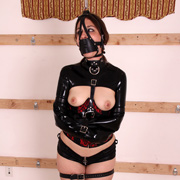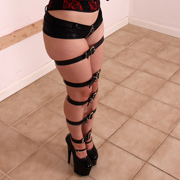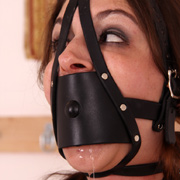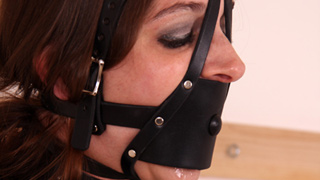 While I am prepping the room for a challenging predicament for Sarah, she tried to sit still in her latex straitjacket. Despite her gag keeping her quiet she was still quite a distraction as she squirmed and fidgeted in her chair. There was only one thing to do and I quickly whisked her to the basement for some time to herself. Confused at first Sarah plays along and squirms in the belts and latex keeping her well secure. As the minutes pass she soon realizes I'm not coming back. Dangling like a worm on a hook by the ring in her gag she tries to grunt and stomp for attention. Little does she know she's in for a not so brief interlude as I take my time setting up her next torment.

Savannah vs. The Belt Ball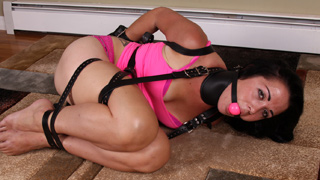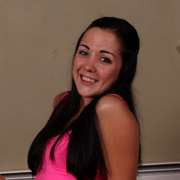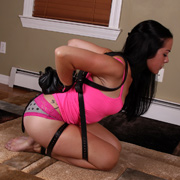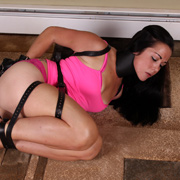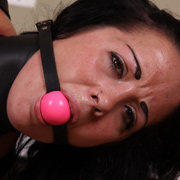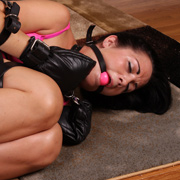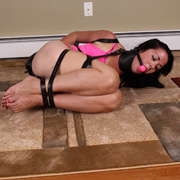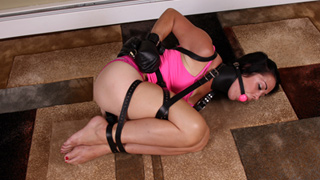 It all starts with the first belt. Innocent and unassuming as it cinches around her ankles. Then another is wrapped around her knees. One by one they encircle and trap her body tighter and tighter. The belts keep coming; a dozen, maybe more. All that's left is Savannah crushed into a ball, helpless on the floor. A ballgag is strapped in place before she's left to figure a way out. Unlike a hogtie where some movement is possible, she can't seem to move an inch on the floor. Literally. Any hope of loosening a belt is dashed by the leather mitts locked over her hands. Maybe if she's good a few orgasms might be in order. It's the last I can do before leaving her to struggle for the night.

Liv vs. The Chain Links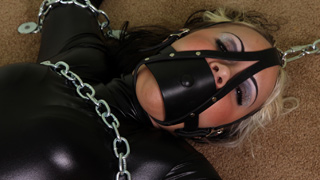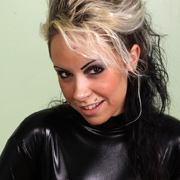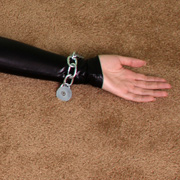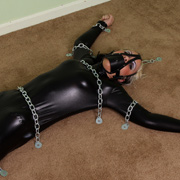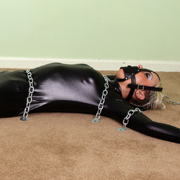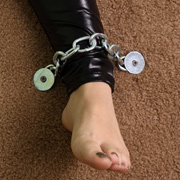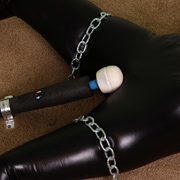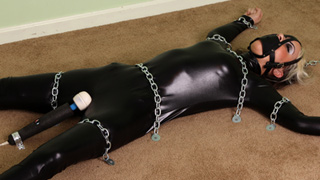 Liv was surprised at first with how loose the chains seemed. At least until the power drill tightened them hard into the floor. In moments her movement was reduced to mostly fingers and toes. Her arms, legs, chest, and even head secured tightly to the floor. A bit of nervousness spread showed from behind her harness gag when I started to mount the magic wand against her pussy. Unable to struggle away or even lift her head to see, Liv simply waited patiently for what was to come. With a flick of a switch there was only one thing she could do; grip hard onto the chains and enjoy the ride.