Jamie vs. The Vinyl Bind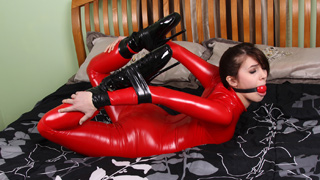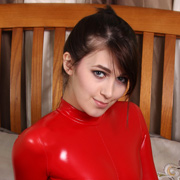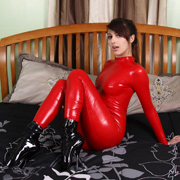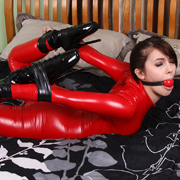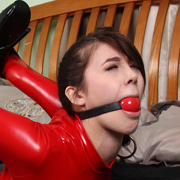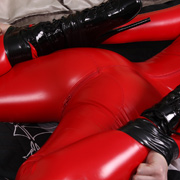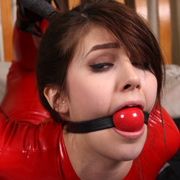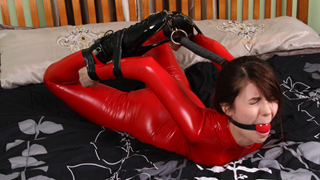 Just a few coils around each wrist and elbow and Jamie wasn't going anywhere. Putting the ballgag in her mouth was trivial by then. The beauty of vinyl tape is in her hopeless struggle to get free. It moves, gives, and stretches but always goes back to square one. A fact not known to Jamie as she frustratingly struggled to get free thinking she was close. To make things even more challenging her feet are bound together and hair tied back into an almost immovable position. Perfect for having a little fun.

Rayna vs. The Finger Trap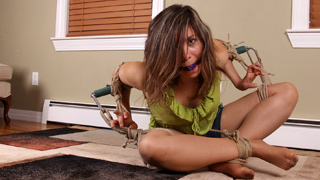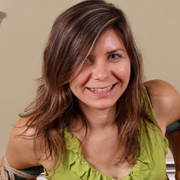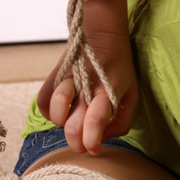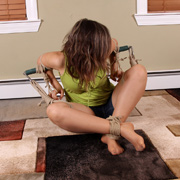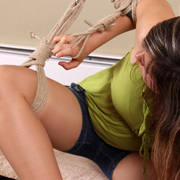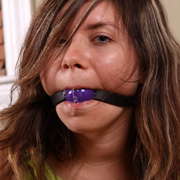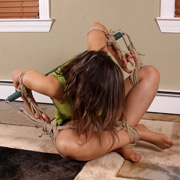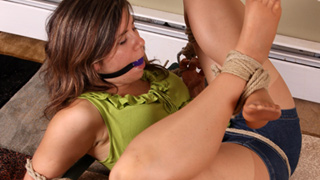 Like flavors of ice cream there are flavors of bondage; it just depends on your mood. With Rayna I was in the mood for a good struggle. The trick was to bind her in such a way that escape seemed possible and yet held just out of reach. For poor Rayna that couldn't be closer to the truth. With her legs tied apart to a spreader bar and fingers looped with ropes pulling them uncomfortably back. There lies the paradox. Struggle too much and get a painful reminder with her fingers. On the other hand, the knots to her freedoms are a mere inch away. While she figures it out, we can sit back and enjoy the show.

Serene Isley vs. The Recycled Hose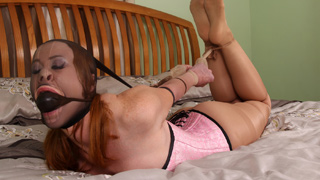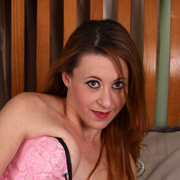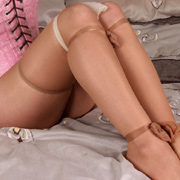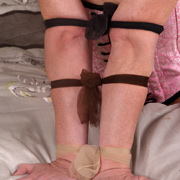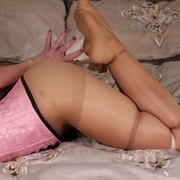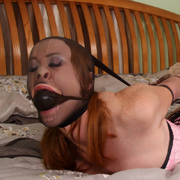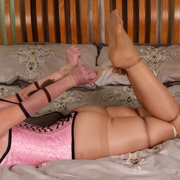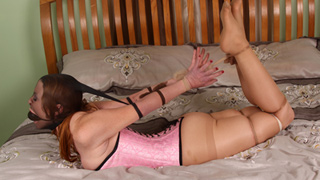 So when Serene returned a box full of pantyhose to me full of runs; a little payback was in order. It seemed only fitting to tie her up with the very hose that was ruined. You can recycle just about anything if you put your mind to it. Legs, ankles, thighs, and even elbows are cinched tightly together. The nice thing about pantyhose is once you secure the knot there's no getting out without scissors. With a large ball tied in her mouth with more hose, Serene tries to protest and pick at the knots but it's no use. Maybe next time she will be a bit more careful with her pantyhose.

Cali Logan vs. The Black Wrap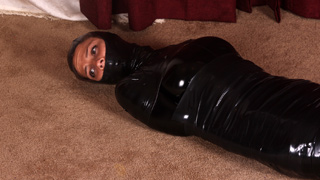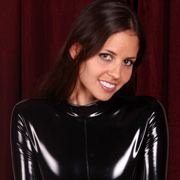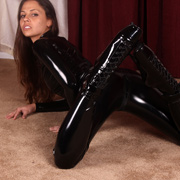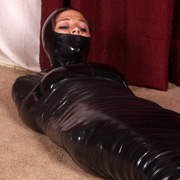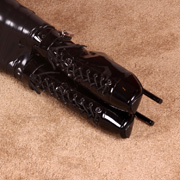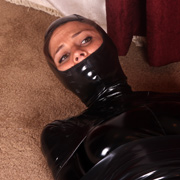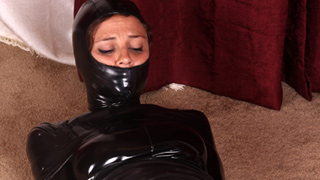 One loop at a time. Starting with her upper body I wrap overlapping layers of vinyl tape around her body. Inch by inch she feels the tape struggling to pull back into shape. Like a 100 foot snake coiling tightly around her body. Once the coils reach her hands he moans in protest. Cali's muffled grunts are muted by her panties taped tightly in her mouth and easily ignored. The process quickens as I move down her legs and reach her ankles. Through the small opening of the hood Cali's wearing she pleads for release but knows she's going to be stuck for a while. A few hours should calm her down a bit.

Viorica vs. The Zip Chair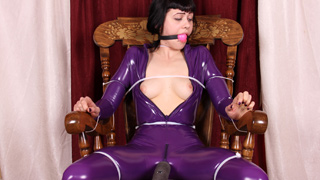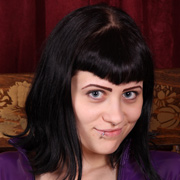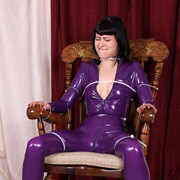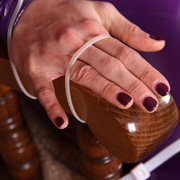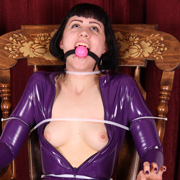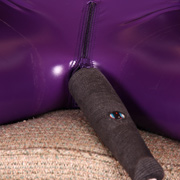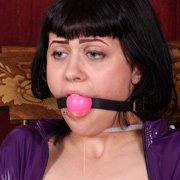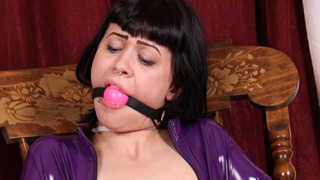 A couple zip ties by themselves are not very strong. As they pile up on Viorica it doesn't take long for her body to be welded to the chair. From her neck to her feet and every appendage in between there she can barely squirm. Once I had her gagged my plan was to just leave her be for a couple hours but before leaving though it seemed only fair to leave her with some entertainment first. With her legs held wide apart from the zip ties it made it easy to unzip her crotch on her catsuit and zip in a vibe. Pressed tightly against her pussy her feeble struggles can do nothing to dislodge the torrent of pleasure from the magic wand. Viorica is already twitching within minutes from her first orgasm and won't be her last. Not by a long shot.