Sky vs. Her Elbow Weld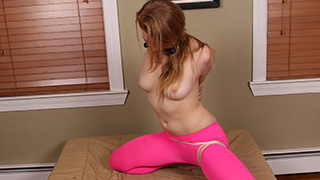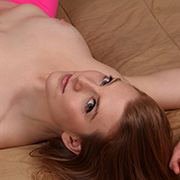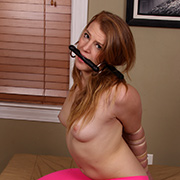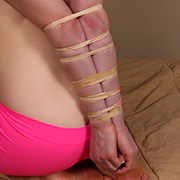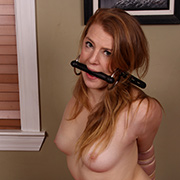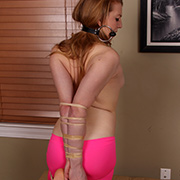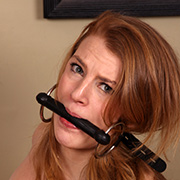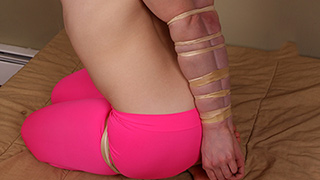 This was far from the first time Sky's elbows had been forced to touch behind her back. She'd even managed to wiggle out of some similar situations to her own satisfaction. How difficult could a few flimsy rubber bands be? She had her answer within the first minute of the little devils encircling her elbows, forearms, and wrists. Unlike the fun play which rope often allowed her, this time her arms were welded together. They moved as one now as her struggles intensified. Defeated, Sky gives a pleading look for an early release as drool flows uncontrollably from her bit gag. My return grin gives her the answer she expects, knowing she's out of tricks.

Sky vs. Her Chain Lesson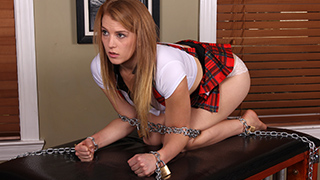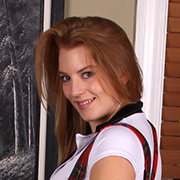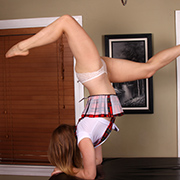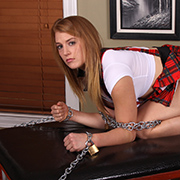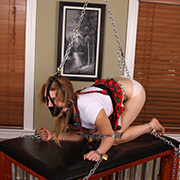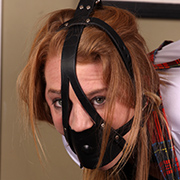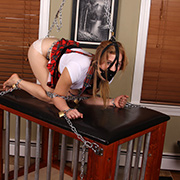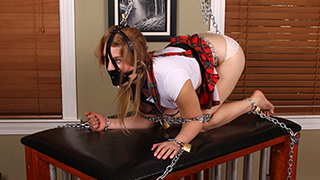 The truth was, I didn't have a good reason other than a selfish need to see her tightly bound. I started her out easy with the chains giving her some movement. Little by little that eroded away as the chains were tightened and more added. After 5 minutes, Sky was pleading for help with her eyes, her panel gag preventing any verbal appeals. Another chain was added instead. This one connected her head harness to a crotch chain. Now bound tighter than ever she developed a higher respect for the power of chain. Knowledge she'll remember if I ever let her free.

Sky vs. Her Pantyhose Fists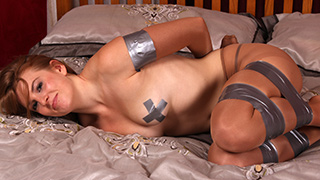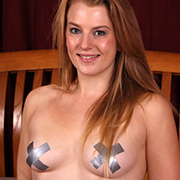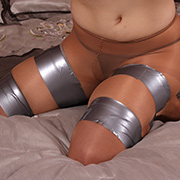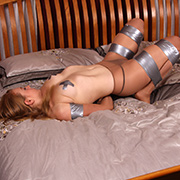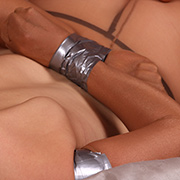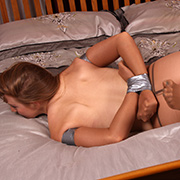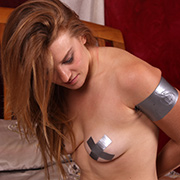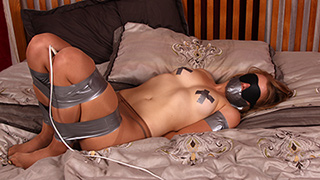 I could see Sky already plotting her escape as I coiled the duct tape around her legs. Her fingernails were poised ready to rip herself free. When I slid the pantyhose up her arms and taped it in place, the confidence slipped away. Her hands, now forced into fists, were taped together tight behind her back. A tape gag really got her blood boiling; all the better to struggle with. If she can't get out, I'm sure some time with a magicwand wouldn't be a bad consolation prize.

Sky vs. Endless Frustration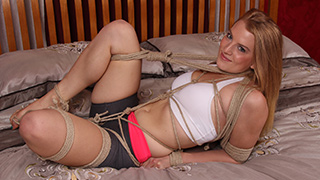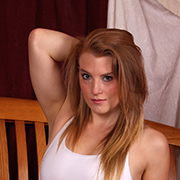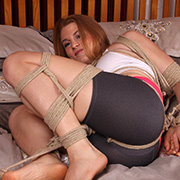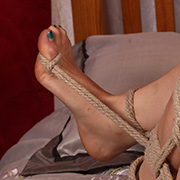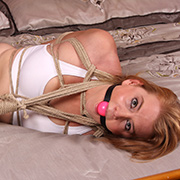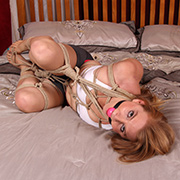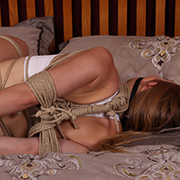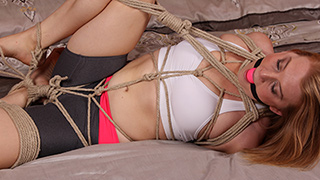 While the ropes keeping Sky bound tight are quite functional in their task, this isn't their only job. Aggravation is the name of the game for her today. Starting with a single loop around one of her toes, it doesn't seem too bad at first. Then came another loop around her neck and leg, while her left leg is frogtied. A quick elbow tie with her wrist tied off to her rope harness, and suddenly even struggling becomes frustrating. It doesn't take long before Sky is thrashing around the bed in the hope that something will spring free. It seems that today is just not her lucky day.

Cali Logan vs. The Zip Suit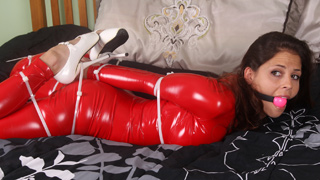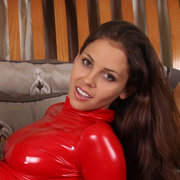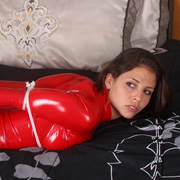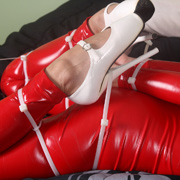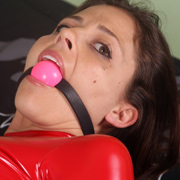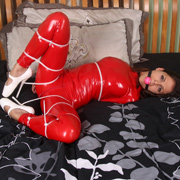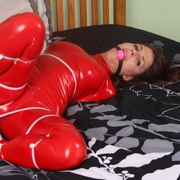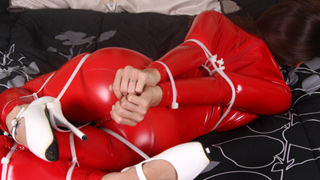 While rope unquestionably gets the limelight for preferred restraints it's a shame to overlook its cousin the zip tie. Take Cali for example; my plans to frogtie her and cinch her elbows together could easily be done with rope. Why hide her sexy, shiny body under coils of rope though? With only a few simple zip ties Cali is completely immobile within minutes. No pesky knots for probing fingers to until. They even make sure she can't kick off her heels! Something a bit too loose? Making things tighter is never a problem as she soon found out.