Terra Mizu vs. The Hose Layers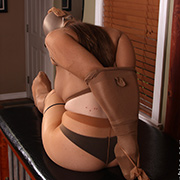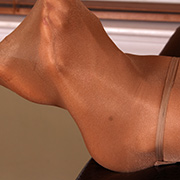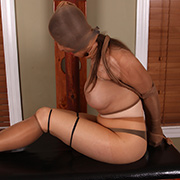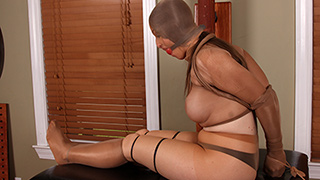 With a bin of pantyhose in front of her Terra was convinced she was about to get off easy. It is only pantyhose right? The same stuff that rips when you look at it funny. Used in layers however and they will crush limbs together without any trouble. Pulled taught and it becomes painfully strong twine. Most importantly, Terra gets to learn this first hand as her elbows are forced together in several layers of hose. Using another pair to cinch it in place and there is no escape for her. Her legs get a similar treatment leaving her only able to move her toes. A ballgag and and another pair over her head and she's ready to get free. Actually, she just drools all over herself as the layers hold her tight.

Summer vs. Her Loan Request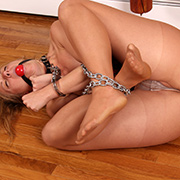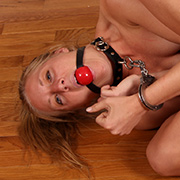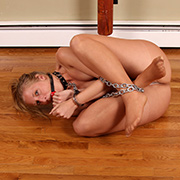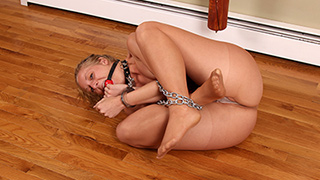 It wasn't the first time that Summer had come looking for a loan. While most look for interest, my terms and conditions are a bit atypical. Summer came dressed to impress with a corset and pantyhose knowing what would come next. Handing her a pile of gear I gave her step by step instructions. After all, she's the one who wants the loan. Why should I do all the work? I have her start with the ballgag before looping chain around her legs. Using a collar and handcuffs it creates a bind that is difficult to move in. From her grunts and protests, I guess not very comfortable either. Feeling a little pity on her situation I offer to give her the money if she can reach the key on the other side of the room. Determined she makes her way over but it won't be easy.

Hannah vs. A Past Predicament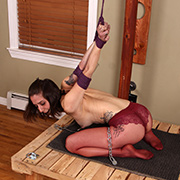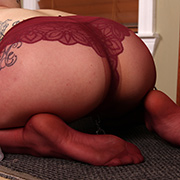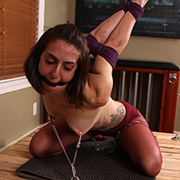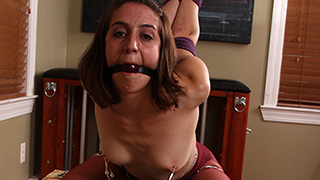 With years worth of updates to pick from it's common to get a request to recreate a prior scene. Usually they are scenes that look fun but in Hannah's case, it looked the most challenging. Originally done with Serene the predicament was a perfect storm of evil. Aside from the obvious the position seemed to cause muscle spasms that forced her to move. Usually at the expense of her nipples. A sensation that Hannah soon confirmed once in the position. A trifecta of discomfort between her legs, nipples, and arms there's no way to stay still. Unlike Serene, Hannah is eventually rewarded with the magicwand. When asked if she's prefer it tighter or have an orgasm her answer was simply, why not both?

Kaylee vs. Her Perilous Hose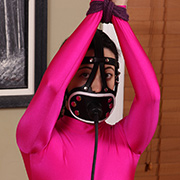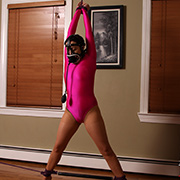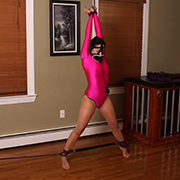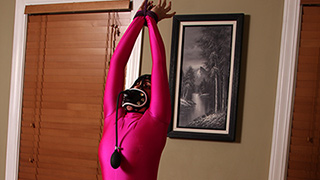 For a bondage newbie, Kaylee is as tough as nails. Starting right off with a heavy hardness pump gag her arms are tied above and her legs apart. With pantyhose on her feet and hardwood floors under her traction is at a minimum. Once everything is pulled tight poor Kaylee is left on her toes struggling for purchase. A few pumps of her gag really gets her struggling. Despite her very uncomfortable position, the magicwand has no problem sending her to orgasmland in no time. They seem to keep her mind off her situation so I see no need to stop. The gag only allows some muffled moans so it's hard to tell if she wants more or wants free. I'll just assume that move is always better.

Sky vs. Her Conditioning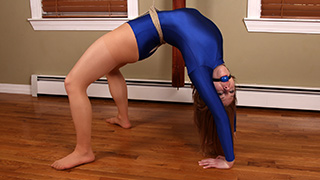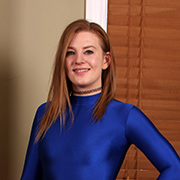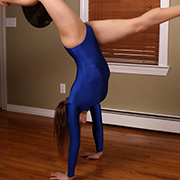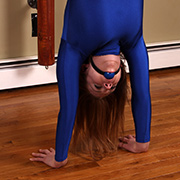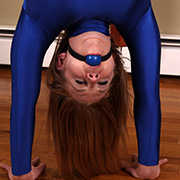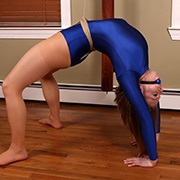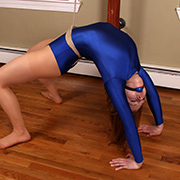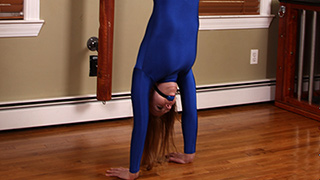 After discovering that Sky has been lax in her gymnastics conditioning there was only one course of action. Changing into her leotard and pantyhose I had her start with a bridge. With her body arched a crotch rope is tied in place and tied off to a suspension ring. A quick tie on her wrists makes sure she'll be holding the position for a while. With her arms shaking within a minute Sky immediately regretted not keeping up with her training. Eventually, it's time to change positions with her in a handstand and her legs tied above forcing her onto her hands. Her arms weak from the bridge it was a challenge from the first second. One thing is for sure, she won't be skimping on her training anymore. Maybe she'll keep the ballgag as part of her routine.