Violet vs. Her Assignment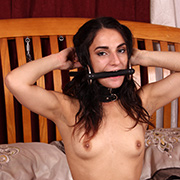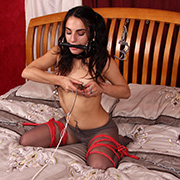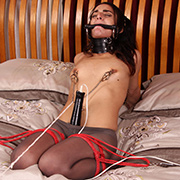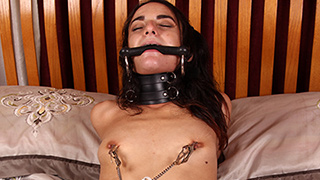 With her instructions clear and the toys already laid out for her, Violet gets to work on her new predicament. She starts with a frogtie that keeps her legs secure but also secure to the sides of the bed. A collar and gag follow. Clover clamps adorn her nipples and are tied to the front of the bed. With her favorite toy, the magicwand, stuffed into her pantyhose on high Violet cuffs herself behind her back. In this position, she can't move much without pulling painfully on her clamps. Unfortunately for her, while the wand easily brings her to multiple orgasms it has a tendency to encourage a lot of unwanted movement. Lucky for Violet , her rescuer shouldn't be more than a couple hours away.

Alex vs. Her Breathless Jacket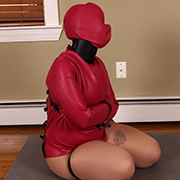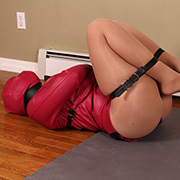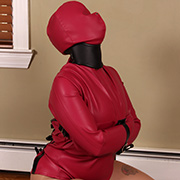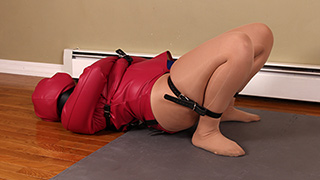 Alex returns for a visit looking forward to some long overdue bondage. Happy to oblige, she's put into a leather straitjacket with a matching gag. Protests of how tight it soon follows but it's too late for that. A hood soon follows leaving her mute, blind, and helpless. As she struggles to get free the leather insect hood's small breathing holes don't leave her much air. It's unclear what she was expecting but by her tone, it's clear Alex is not pleased. Maybe she just needs a couple hours in her comfortable situation to appreciate it more.

Kaylee vs. The Pole Hug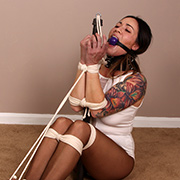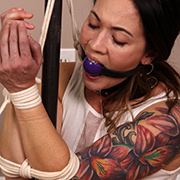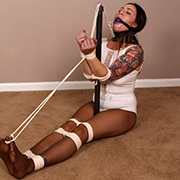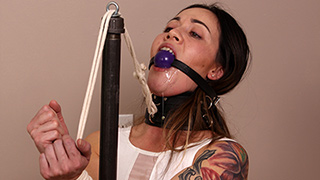 Bound for her first time ever Kaylee finds herself tied to an iron pole between her legs. Her wrists seemingly float in front of her as they are bound to her toes and collar leaving no comfortable position. Once a gag is strapped into her mouth it doesn't take long for the drool the flow. Nervous about what to expect she was in neck deep now, especially with the thick collar around her neck. She tries her best to paw at the ropes for some sort of release, but pulling in one direction only causes discomfort in another. I'm sure she'll get used to it.

Aria vs. Her Red Wraps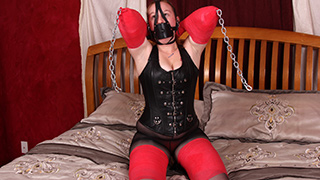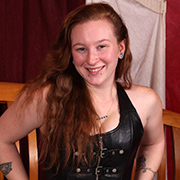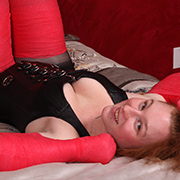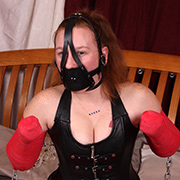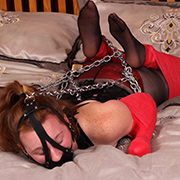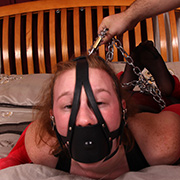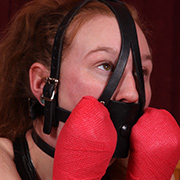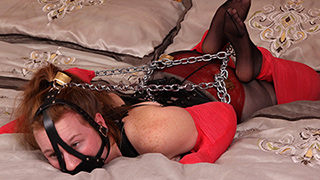 Aria starts off with her arms and legs frogtied in vetwrap but it only gets worse from there. Chains are wrapped around her limbs underneath and shoot out near her elbows and knees. Gagged, helpless, and vulnerable the chains are easily pulled behind her and locked together. This leaves Aria barely able to move and takes a lot of effort just to roll over.

Amanda vs. Pleasure & Pain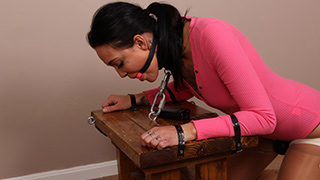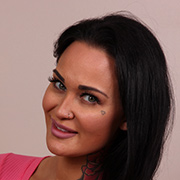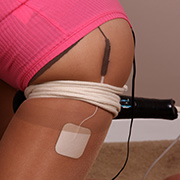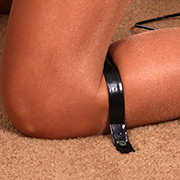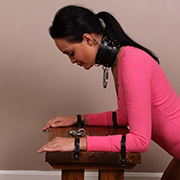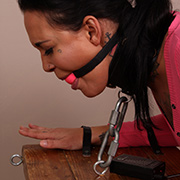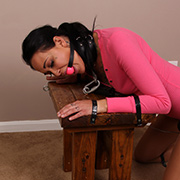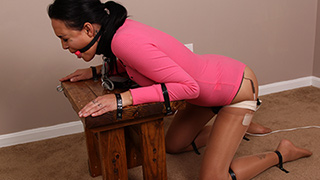 Amanda finds herself in another devious predicament. Metal straps keep her bolted tot he floor and table in front of her. A magic wand is tied in the perfect spot, both of us knowing the reaction it will bring. Before her pleasure begins, a TENS is set up with a sound sensor. Any sound, moan, or the rattle of her bondage will set it off. The shock being proportional to the noise she makes. As the wand is switched on she instantly reacts, letting out a moan that Amanda instantly regrets. It's a hopeless battle but she soon melds the two extremes into one. Which one wins?