Cali vs. The Ziptie Anchors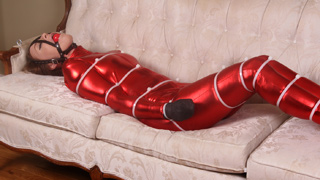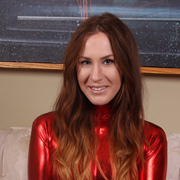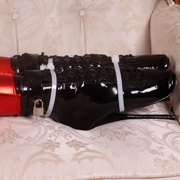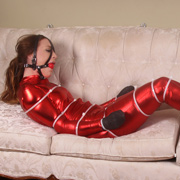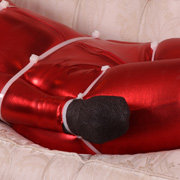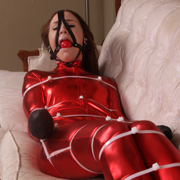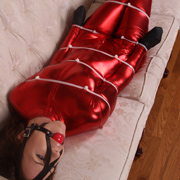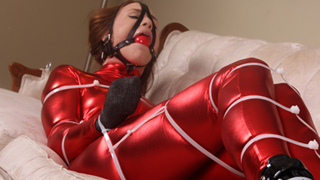 One ziptie is a challenge, a few a predicament, and nearly twenty is immobilizing. Mummified on the couch Cali doesn't give up though, struggling with the hope something will give. Her hopes are soon dashed after I add zipties securing her boots and gag to the couch anchors though. Click by click they tighten and pull her straight as a board and far more immobile than she could imagined. Helpless and unable to move, I push a magic wand between her legs to keep her occupied in her predicament. Through her feeble struggles it's hard to tell if it will bring her over the edge. Only time will tell and I have all day to let her try.

Cali Logan vs. The Four Rings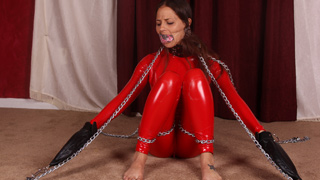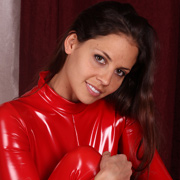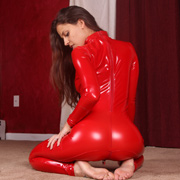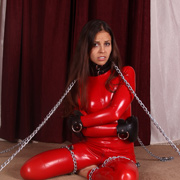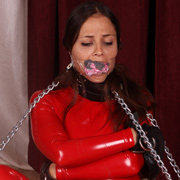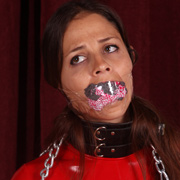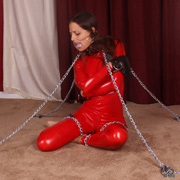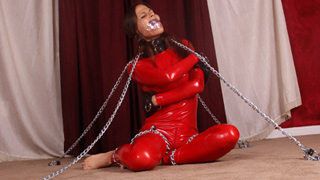 I can't remember what she did to deserve her punishment, but I'm sure she deserved it. She started with a thick leather collar around her neck and four chains running to the floor; trapping her in the middle. Cali's hands are secured into leather mittens and connected behind her with her arms crossing in front. With even her legs chained together the position leaves her with no way to get comfortable. The chains ensured she couldn't even lay down and forcing her to fidget for comfort. Before Cali could get too mouthy about her predicament however, I wrap a nice tight tape gag around her mouth. Now if I could only remember what she did so I know how long to leave her like this.

Cali vs. The Postman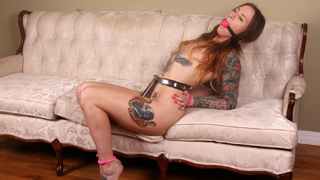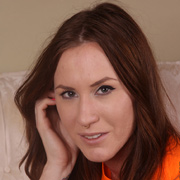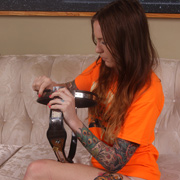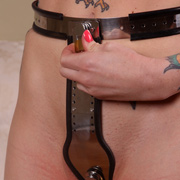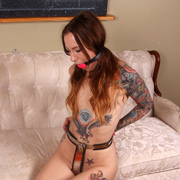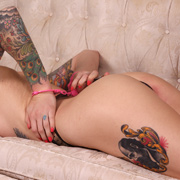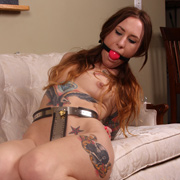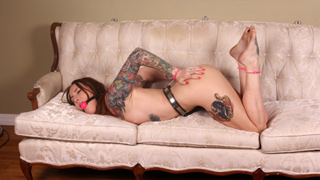 Cali's always had a fantasy of being trapped in a chastity belt but never the guts to make it happen. So when her online playmate suggested a chastity game she was all ears. Her task is simple, put the keys to her belt into the mailbox and spend twenty minutes bound before retrieving the key. Knowing her postman doesn't come for at least a few hours Cali still gets a chill thinking what if. With the handcuff keys barely in reach she enjoys rolling on the couch waiting for her 20 minutes to expire. Thoughts of her friend keeping her in her predicament and teasing her only serves to get her worked up in the belt. As Cali fantasizes about the orgasms she'll have once she gets free all is interrupted by a sound outside. Frozen for a moment, reality crashing back... he couldn't be early?

Cali vs. The Hogtest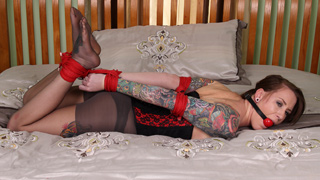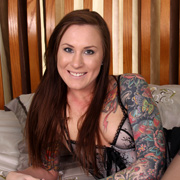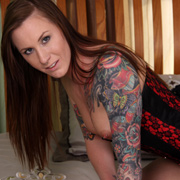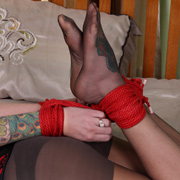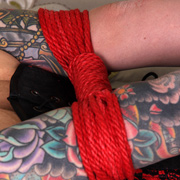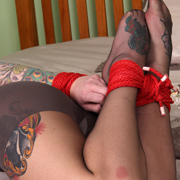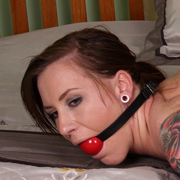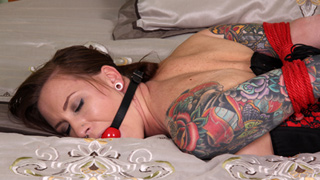 While chatting about bad bondage in movie Cali mentioned that hogties seemed too easy to get out of unless a lot of rope was used. I knew she'd never been hogtied before with with two lengths of rope I decided to educate her a bit. I really only needed one but could resist tying her elbows together. Careful to leave the knots well out of reach I filled her mouth with a red ballgag and left her to struggle. Cali knew she was stuck in the first minute. Either she was too stubborn to beg to get out or she was having too much fun; but I was happy to keep her like that all afternoon.

Cali vs. The Hexagon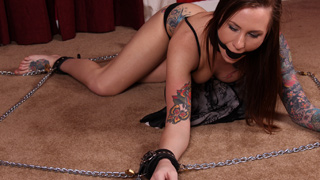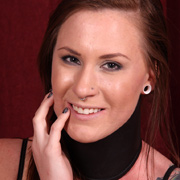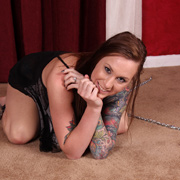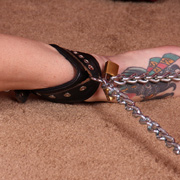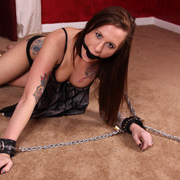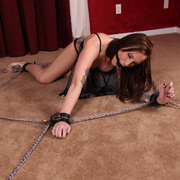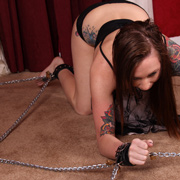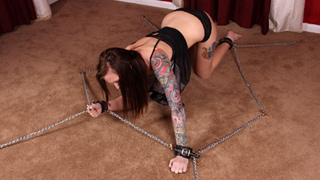 Despite her best efforts an orgasm simply wasn't going to happen. Locked in a hexagon of chains Cali could wiggle around enough but getting the vibrator to cooperate was a whole other matter. As the minutes pass and her frustration grows a reprieve is in sight when I toss a pile of keys in front of her. If finding the right key wasn't hard enough; Cali's in for a surprise when she tries to unlock them one handed.