Sugar vs. Her Crotch Weight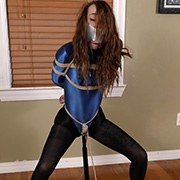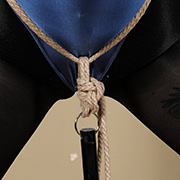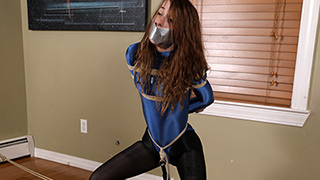 Sugar wasn't sure what the black rod tied to her crotch rope was but was sure it wasn't to her benefit. The 50-pound weight at the other end wasn't very promising either. With her legs tied apart, her suspicions were confirmed as the actuator closed pulling her into a crouch. Try as she might, Sugar couldn't muster the willpower to pull up 50 lbs of weight by her crotch rope. It doesn't take long before her legs start to shake and just when she's on the verge of collapsing she's given some slack. Her reprieve doesn't last long before she hears the whine of the motor again.

Calisa & Bella vs. A Little Leverage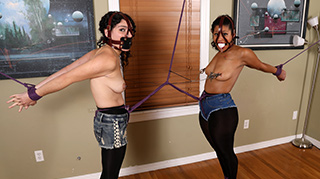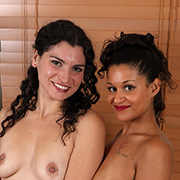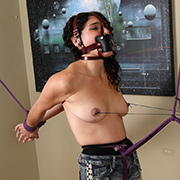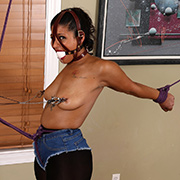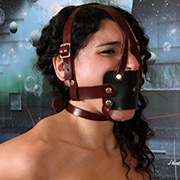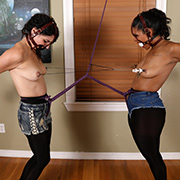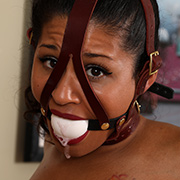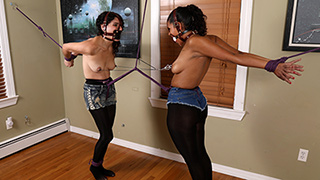 Calisa and Bella didn't believe me when I said I'd tie them up if they lost. You would have thought they would have known by now. Nevertheless, they find themselves reaping the consequences of their poor judgment. With each one blaming each other for their predicament, it seemed like a good opportunity to pit them against each other. With their arms tied to opposing walls, they are connected with crotch ropes and eventually nipple clamps. Unfortunately for them, one more rope is added to the middle of their crotch ropes. When pulled, everything becomes that much tighter.

Nova vs. Hot & Cold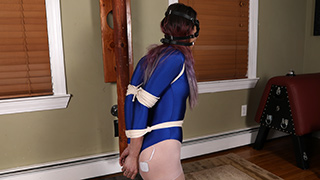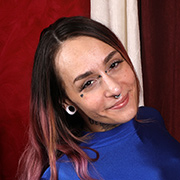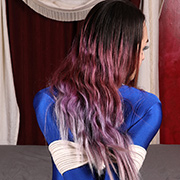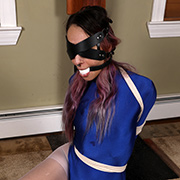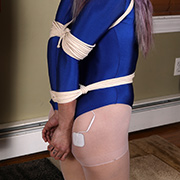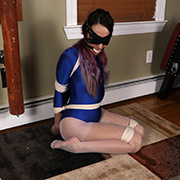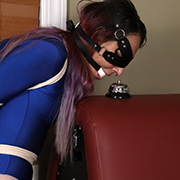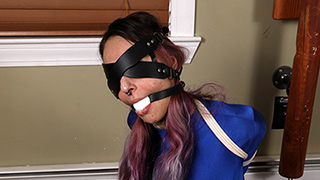 Nova was in a playful mood so it seemed a shame to not take advantage. After securing her elbows and wrists behind her the TENS box is next. Having never experienced one before, she was in for a surprise. With the final touches of a gag and blindfold, Nova was ready for the game of hot and cold. Somewhere was a bell she would need to ring. As she got closer, the shocks would increase in intensity as well. With a shock to start, she begins exploring room to room to find the bell. Even without the use of her eyes, the increasing intensity of the shocks guides her to the prize. As each one grows she starts to wonder what they will be when she's next to it and if can she take it. Only one way to find out.

Faith vs. Her Isolated Reward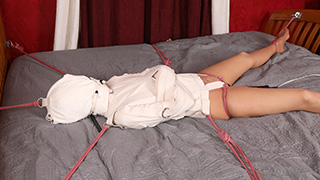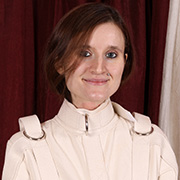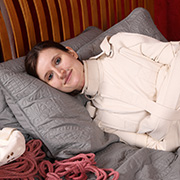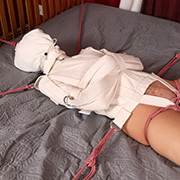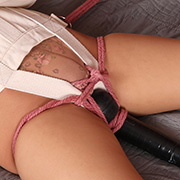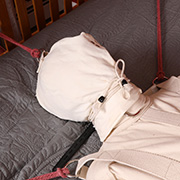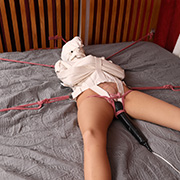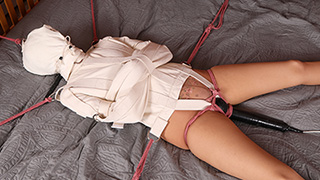 After an afternoon of torments, Faith needed a reward and some time to relax. So despite being tightly secured in a straitjacket, she's quite content on the bed. She's fully aware that our definitions of relaxing are quite a bit different and isn't surprised when a ballgag is pushed into her mouth. Rope is added to tether her tightly to the bed, further limiting her movement. Spotting the hood, Faith grunts behind her gag. She knows now it was all a bait and will likely be relaxing for far more time than she wanted. Sighing behind her gag, she knows she'll at least have the wand to pass the time and keep her squirming.

Bella Trix vs. Blissful Isolation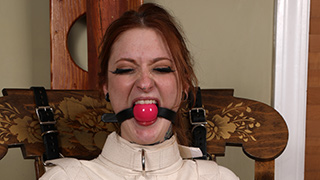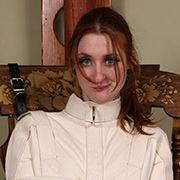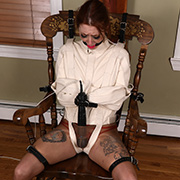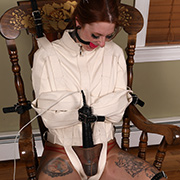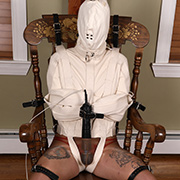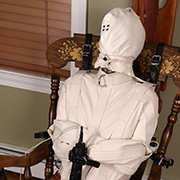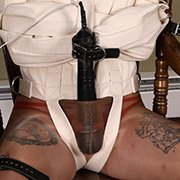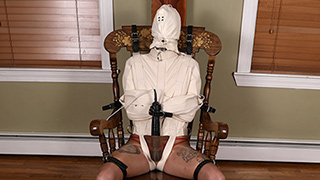 After a long day of doing mean things to Bella I felt a bit guilty. Maybe it wouldn't hurt to let her have an orgasm or two before the day is out. With her fitted tight in a straitjacket, belts lock her tight to the chair. A wand is stuffed down her pantyhose while a gag makes sure she doesn't make too much noise. Knowing how much she hates hoods, I couldn't help but be a little mean. We can't give her the wrong idea after all. I'm sure after a dozen or so orgasms she won't care.