Piper vs. The Kitchen Sink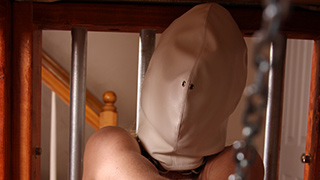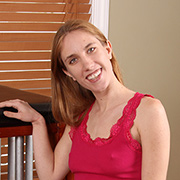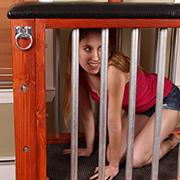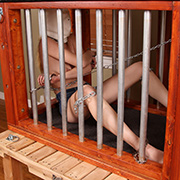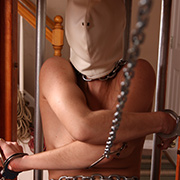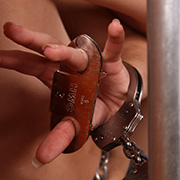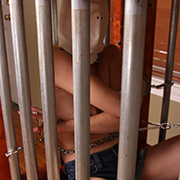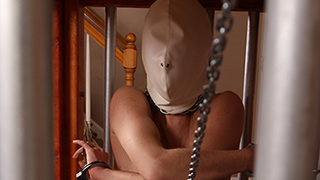 A kitchen sink omelet typically uses whatever you have available. In Piper's case, she's locked in a cage surrounded by strewn bondage gear. She's gagged first with a red ballgag followed by an insect hood. Arms crossed, they are handcuffed to nearby bars as are her ankles. Chains are added to her legs, waist, and neck to limit her movement even further. Thumbcuffs are added to her thumb and ring finger ensuring that even with a key she couldn't use it. Escaping even one restraint was impossible and Piper knows this. A fact that at the forefront of her thoughts as her head swims in darkness. As a final torment nipple clamps are added and chained taught to the opposing side of the cage. Her arms raised up to avoid tension on the clamps, a wave of panic consumes her. Piper doesn't know it yet but her stay in the cage is just getting started.

Summer vs. Her Two Pigtails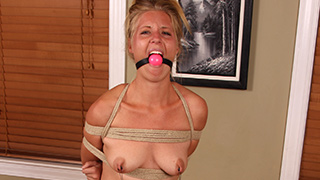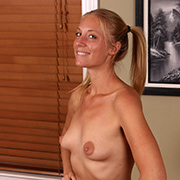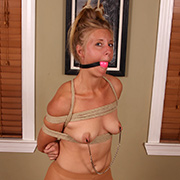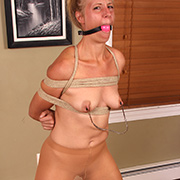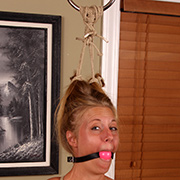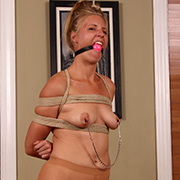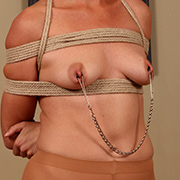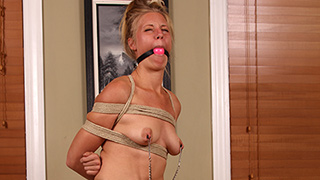 Summer knew better than to take the bet. What were the chances I could flip three heads in a row. If she'd inspected the coin she might have realized my chances were pretty good. Three heads later and she's nearly naked awaiting her fate. Not thinking she could lose the terms were loosely defined and up to interpretation. If not for the ballgag in her mouth she might have debated the topic but could only struggle in vain. Two ropes tied to her pigtails making it nearly impossible to struggle. Not that it would have helped her. Unfortunately for her the lack of a TV in the house makes her the only show to watch. I don't expect I'll but changing the channel for quite a while.

Alex vs. The Heartful Mummy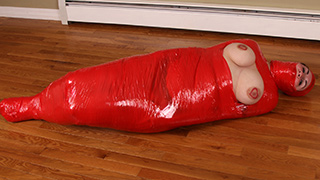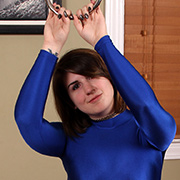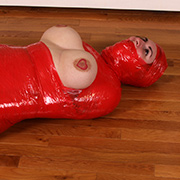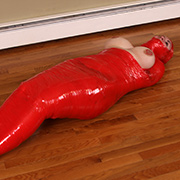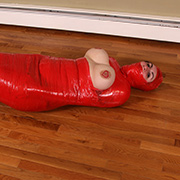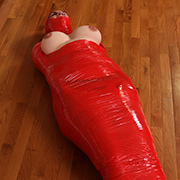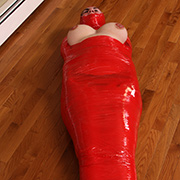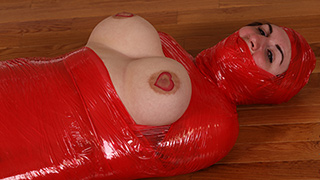 After finding my ample stack of plastic wrap Alex was quick to volunteer to be wrapped up. She admitted that seeing other girls mummified she was skeptical that such a flimsy material could hold someone. Before she could think better of it Alex was nearly naked and the first layer was being wrapped around her body. Four layers later and Alex's tune was starting to change. I figured an hour would be a good amount of time for her to escape. The loss of all mobility apparently was a bit of a surprise for her. Even her fingers seemed welded to her sides. I'm sure Alex will figure it out eventually. It is only flimsy plastic wrap after all.

Kajira vs. Her Anticipation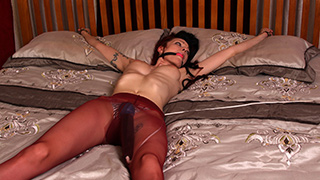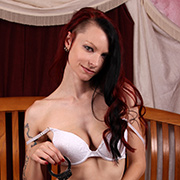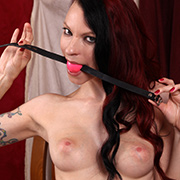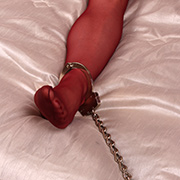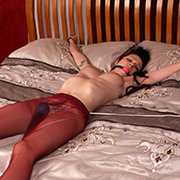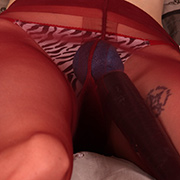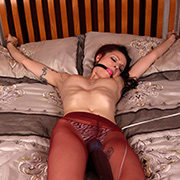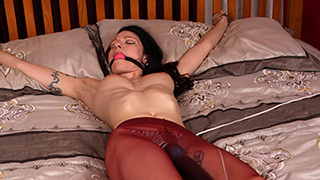 Knowing it would be awhile before her boyfriend would be home Kajira thought it prudent to offer some incentive. The truth was it had been a while since she felt herself in handcuffs and couldn't wait anymore. Ulterior motives aside she sets up the camera, removes her bra, and gags herself nice and tight. With her escape key taped to the headboard she cuffs herself in a spreadeagle. She makes sure her magicwand is stuffed inside her pantyhose. Not that she needed another reason, but it had been awhile since her last orgasm as well. After accidentally knocking the key down one thing is for sure. Kajira will have more than enough orgasms and bondage than she can handle for a good long while.

Raven vs Her Escape Dilemma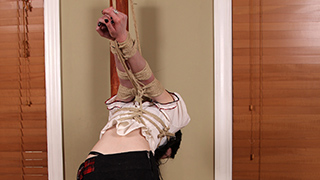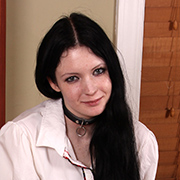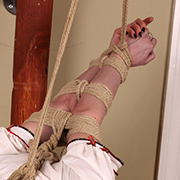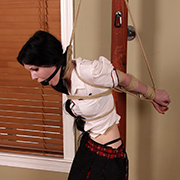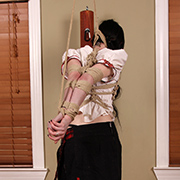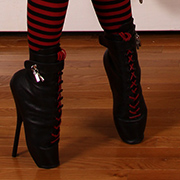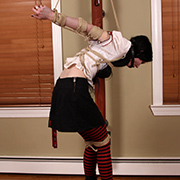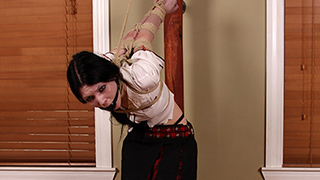 When you want to be inescapably tied up but you're an escape artist, staying bound can be a challenge. Lots of girls make the claim they can escape from almost anything but Raven can back up her claims. One she proved quickly by escaping a wrist bind she was put in. If she wanted tight and inescapable I was going to give it to her. Within minutes her elbows are crushed together. Her neck rope is fed through a ring above and down to her wrists. This leaves her in a nice strappado and a bit of a predicament. All knots are tied up near her neck so no prying fingers will be finding them soon. If all that wasn't difficult enough the ballet boots she's forced to stand in should keep her on her toes.