Rachel vs. A Leg Up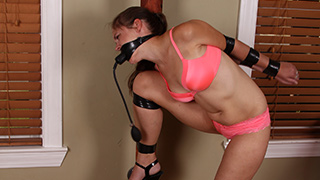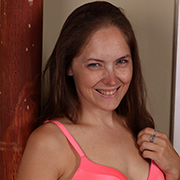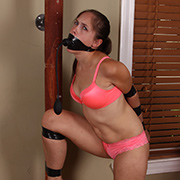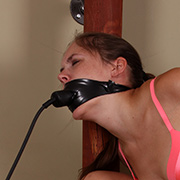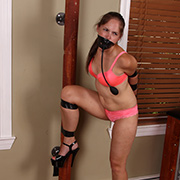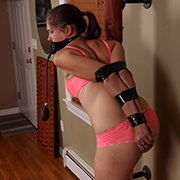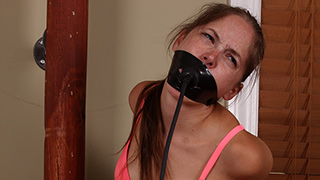 Everybody always appreciates a little help now and then so when I offered Rachel a leg up she quickly accepted. Our interpretations of the offer were vastly different as she soon finds out. Rachel starts with her elbows pressed firmly together with vinyl tape. More tape seals a pump gag in her mouth to keep the forthcoming protests at bay. Last her right leg us taped up high on a pole forcing her to balance in one 5" heel. The real question isn't how long before her leg tires out but how many pumps of her gag will keep Rachel silent.

Sky vs. Her Conditioning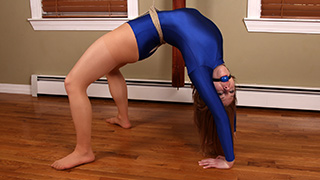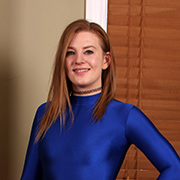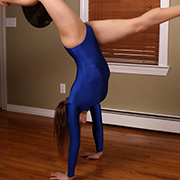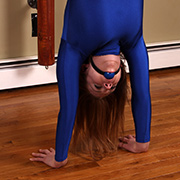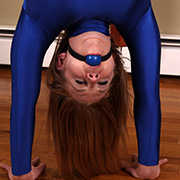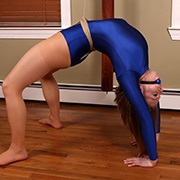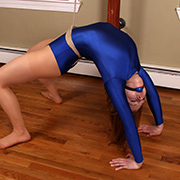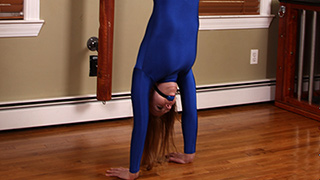 After discovering that Sky has been lax in her gymnastics conditioning there was only one course of action. Changing into her leotard and pantyhose I had her start with a bridge. With her body arched a crotch rope is tied in place and tied off to a suspension ring. A quick tie on her wrists makes sure she'll be holding the position for a while. With her arms shaking within a minute Sky immediately regretted not keeping up with her training. Eventually, it's time to change positions with her in a handstand and her legs tied above forcing her onto her hands. Her arms weak from the bridge it was a challenge from the first second. One thing is for sure, she won't be skimping on her training anymore. Maybe she'll keep the ballgag as part of her routine.

Michal vs. The Strapless Gag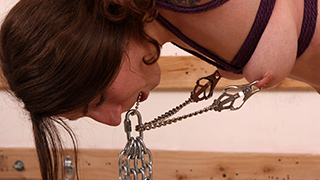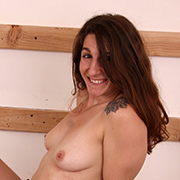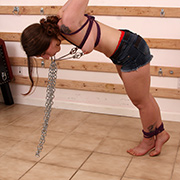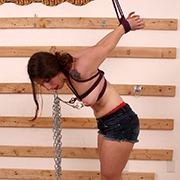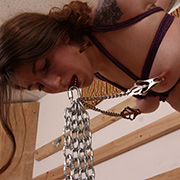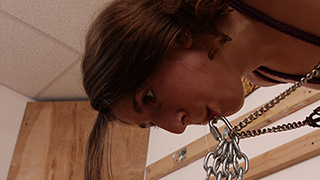 With her strappado pulling her up onto her toes, Michal wasn't exactly starting from a comfortable position. Adding clover clamps to her nipples certainly didn't make it any easier. Before she could complain I attached her nipple clamps do a ballgag ball and a couple pounds of chain attached to it. Holding it near her mouth she's given three seconds to accept and keep it in her mouth or get an unpleasant yank on her nipple clamps. Choosing the first option she greedily grabbed the ball. The fate of her nipples rests in her ability to keep it in her mouth. Given the stakes, the rest of her bondage doesn't seem so bad now.

Rose vs. The Fast One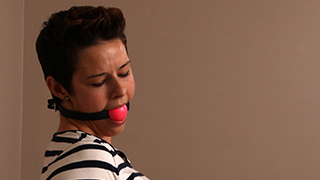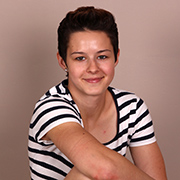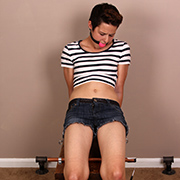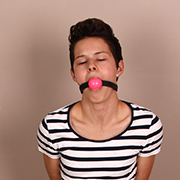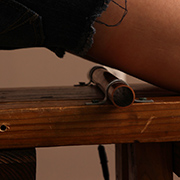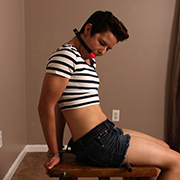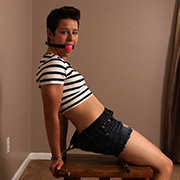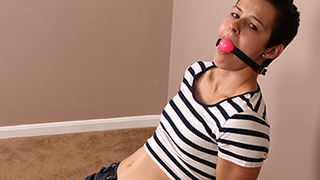 It all started as an innocent test of endurance. The goal was to see how long she could prop herself up with a little electricity as incentive. Of course whenever a subject is put into a predicament they will find a way to cheat if they can. Some are honest, others not so much. Using the edge of her jeans Rose found a way to avoid the shocks but was a bit too obvious about her discovery. A chain link attacked her shorts put a quick stop to that. Sure it made her predicament that much harder to deal with, but that's the price you pay for cheating. Now the real endurance testing can begin.

SB Challenge: Hannah's Timer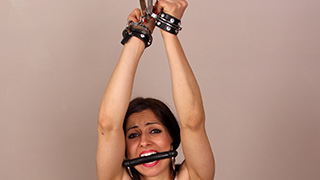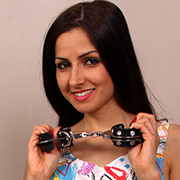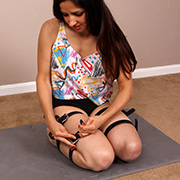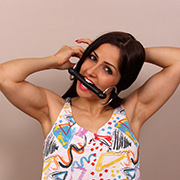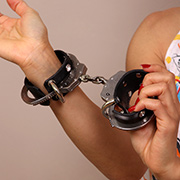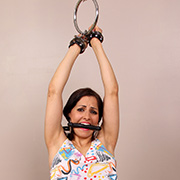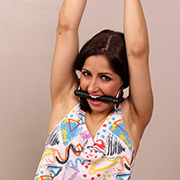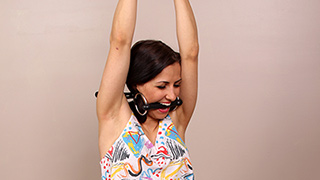 With all her toys laid out for her challenge, Hannah starts with tightly securing her legs into a frogtie. Once notched tight her continues to her bit-gag making sure it is well secured. Before she reaches the point of no return Hannah sets a 10-minute timer to let her know when she can escape. Grabbing onto the suspension ring above her she pulls herself onto her knees while trying to stay balanced. Taping her release key to the ring she handcuffs herself leaving her in a most uncomfortable position. So uncomfortable that after only 5 minutes she decides she can't take it and reaches for the key, accidentally knocking it to the floor. Panicked she tries to find a way free but she's done her job all too well. Hannah will need to get incredibly creative if she's going to figure a way out of this one.